Many thanks to Tami Veldura for donating an ebook copy of her forthcoming re-released swashbuckling m/m romance, Blood in the Water (An Act of Piracy #1) (2nd ed), for a lucky commenter to win! Tami will release Blood in the Water on December 19.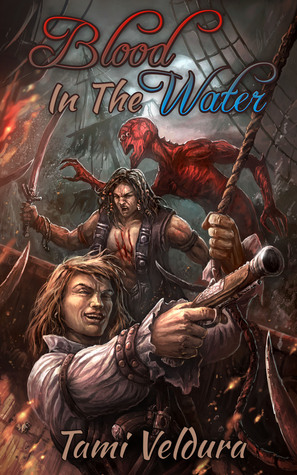 Kyros Vindex, treasure-hunter, has a problem. He's carrying a torch for a fellow pirate with the sexual awareness of a teaspoon. Rumors say the man has killed hundreds. He's determined to knock some sense into the work-a-holic that captains the Midnight Sun, but damned if he knows how.

Eric Deumont has more pressing concerns than the treasure-obsessed Kyros. There's a creature inked into his chest that no witch in the seas will lay hands on for all the gold in the world. He knows it gives the Midnight Sun a cursed reputation and that doesn't make living any easier. He has heard stories of spirits trapped for lifetimes inside spelled puzzle jars. Eric tracked down three of the pieces for such a jar with a lead number four. The fifth is still out there.

Even then, the spirit of vengeance that lives in Eric's skin has no intention of giving up such easy access to the mortal realm. It craves blood and the light of the moon allows it to wreak unchecked havoc. Cursed is an insult. This is madness.
Excerpt (scroll down)
About Tami
Tami Veldura is a writer, reader, lover and artist. She currently resides in San Marcos, CA. She writes science fiction, fantasy, steampunk, and GLBTQ fiction. You can find out more about Tami at her website, Goodreads, Twitter, and Tumblr.
Contest Rules
To enter, leave a comment stating that you are entering the contest. Contest closes 7 pm CST, Thursday, December 18.
By entering the contest, you're confirming that you are at least 18 years old.
If you haven't commented before, your comment will not be visible until after I moderate it. Please do not leave a second comment because your first doesn't show up! The blog gnomes will decide your comments are spam and then only ritual dust bunny sacrifice will salvage your entry…
If your comment is actually an advertisement or if your CommentLuv link turns it into an advertisement, your comment will be deleted. (Most of you do not need to worry – this refers to some pretty clever comment spam.)
Winners will be selected by random number.
You must leave a valid email address in the "Email" portion of the comment form.
Please make sure that your spam filter allows email from stumblingoverchaos.com!
If a winner doesn't respond to my congratulations email within 48 hours, I will select another winner.
If you win, please respect the author's intellectual property and don't make copies of the ebook for anyone else.
This contest is open worldwide!
---
"I bet she's plotting to annoy me even as she sleeps." -Chaos
"…zzzzzzzzzzzzzzzzzz…" -Mayhem