Insomnia Girl here. What the heck, I'm not going to fall asleep anytime soon, so I might as well post my Monday morning post a wee bit early.
I'm not done organizing my pictures from a big dyeing adventure Saturday evening, but you can read about it at Wound Too Tight. All I'll say right now is that Deb is an incredibly gracious, generous, and all around damn fun hostess! 🙂
Janna's knitting a bib for no reason other than to see her cat Simon in it. Go, Janna!!
Craftlilly Jennifer is having another contest! It runs through midnight, PST, Wednesday, July 26. Anne is having a blogiversary contest – what would your superpower be if you had one?
SRP update:
Quicksilver and Shadow by Charles de Lint, 357 pages. This is another book of de Lint's early short stories. You might remember I wasn't that keen on its predecessor, A Handful of Coppers, when I read it recently. Fortunately, in Quicksilver and Shadows, de Lint is much more accomplished. I would still limit my recommendation of this book to diehard de Lint fans, but you will find it to be much more pleasant going.
A Circle of Cats by Charles de Lint, 44 pages. This delightful children's book about a girl who is always searching for fairies in the woods but never finding them is a prequel to Seven Wild Sisters.
Congratulations to American cyclist Floyd Landis, for winning the Tour de France against amazing physical odds!
This sign in the 50th and France neighborhood amused me no end: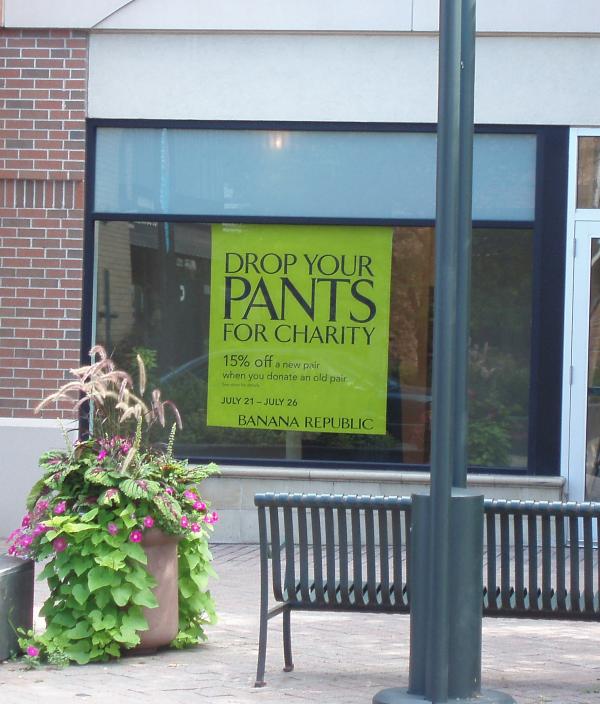 Why was I as far from home as 50th and France? I met movie maven Renee of A Good Yarn Friday afternoon to catch a matinee of Leonard Cohen: I'm Your Man. Leonard Cohen is a remarkable singer, songwriter, and poet who has been making music for a long time – he's in his 70s – and has influenced an awful lot of artists. The 1991 tribute cd I'm Your Fan contained covers by R.E.M., the Pixies, John Cale, and Nick Cave and the Bad Seeds. The 1995 tribute cd Tower of Song contained covers by Bono (U-2), Sting and the Chieftans, Tori Amos, Willie Nelson, Peter Gabriel, and more. Even if you haven't heard of Leonard, you might have heard his songs "Bird on the Wire" or "Hallelujah" (perhaps as covered by Rufus Wainright on the Shrek soundtrack, by Jeff Buckley, by Allison Crowe…). Probably the best concert I've ever been to was Leonard at the State Theater in Minneapolis on June 22, 1993.
You might have guess that I was pretty excited to see this movie. And I was disappointed overall. Most of the movie focused on the Leonard Cohen Tribute Concert in Sydney, Australia, in 2003. The concert footage was intercut with interviews with Leonard Cohen and with artists talking about how Leonard had influenced their lives and work – most notable were the interviews with Bono and Edge of U-2 and with Nick Cave. The concert footage was the weak point in the film, and since it was most of the film… However, I would suffer through that part of the film again to see the glorious few minutes of Leonard singing his song "Tower of Song" with U-2 backing him!
I have a few more pictures from my early morning purple mouse photo shoot (I wasn't kidding about chopping off ears, was I?!). Check out the phantom paw in the first picture, and please forgive the blurry second picture…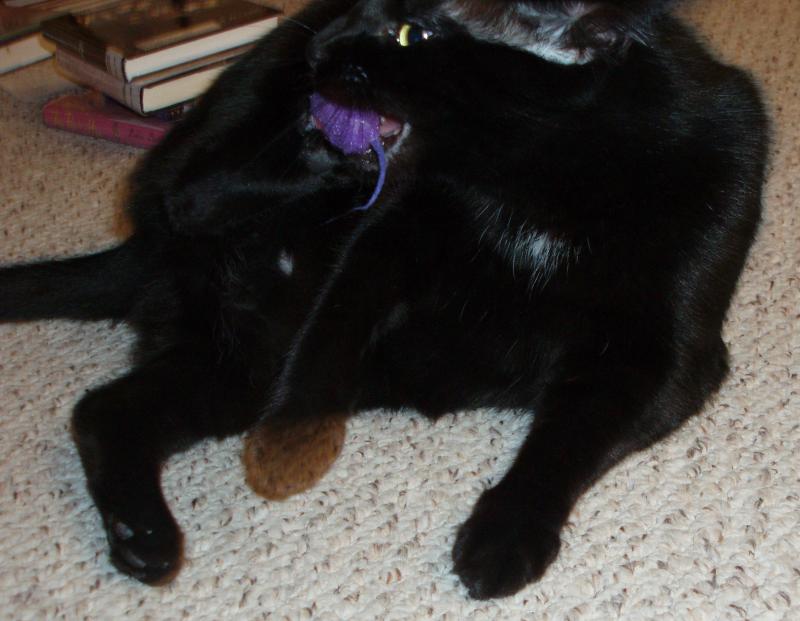 "Mousie, mousie, roly poly mousie. Mousie, mousie, crunch him up, yum!"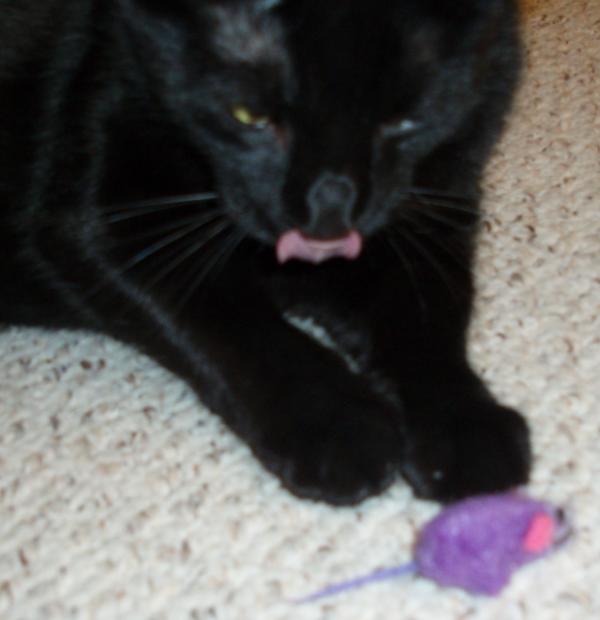 "Doesn't he look scrumptious, my SPM?!"