You may have had some difficulty connecting to my blog over the past several days. My blog hosting provider has had a very rough few days. Please keep your fingers crossed that everything is back to normal and thanks for hanging in there.
We went up to the cabin Saturday morning and my brother immediately finished hooking up the toilet, giving us complete indoor plumbling facilities!! (Pause for a moment to consider what using the biff on a humid 96F day would be like – see why we were excited?) We then got the air conditioner installed – ahhhh… My brother and I worked on stuff outside, taking many frequent indoor water breaks. My sister-in-law was supposed to be taking it easy inside, but she managed to get most of the cabin decorated and vacuumed. Not surprisingly, she was a bit tired and sore on Sunday when we headed back to the Twin Cities around noon. But she's doing great! 🙂
I am spectacularly behind on bloglines again – I usually catch up on the weekend, but going to the cabin prevented that. Sooner or later I'll get caught up!
Knittymama is having a contest – tell her your biggest "I can't believe I did that" knitting story in her comments and you could win two skeins of plum Misti Alpaca laceweight! The contest deadline has been extended to Friday, July 21.
SRP Update
Please Do Feed the Cat by Marian Babson, 192 pages. A cozy little English village mystery set in "Brimful Coffers," where many mystery writers live and discover mysteries in their midst.
A Handful of Coppers by Charles de Lint, 332 pages. This is a collection of de Lint's very earliest work and is a bit heavier on the sword and sorcery than I generally enjoy. I would not recommend this unless you are a diehard de Lint fan or unless you are interested in a few of the stories that combine Arthurian legend with some bits of the Mabinogen.
No Good Deeds by Laura Lippman, 343 pages. Chicago has V.I., Santa Teresa\Barbara has Kinsey, and Baltimore has Tess Monaghan. The latest Tess Monaghan novel is another enjoyable, suspenseful read.
That brings me up to 22 fiction books completed, for a total of 6809 pages since the beginning of July. Still eight fiction and two non-fiction to read by the beginning of September.
Knitting
I finished knitting my bag for the Knit Sock Kit Swap. Whew! I still have a few ends to weave in and then I should probably line it. But no pictures of it until it's received by my swappee.
I also finished another bib… Really, I don't have a problem. What makes you think that?! Tell me if you could resist not only the baby's parents going on about how great these bibs are, but also the baby's grandfather?! Yeah, you'd be cranking out bibs, too. Hopefully my friends now have enough bibs to get them through! Although I do have another color I want to knit… Anyway, the most recent bib was knit top down from Sugar'n'Cream, color Jewel – very Project Spectrum!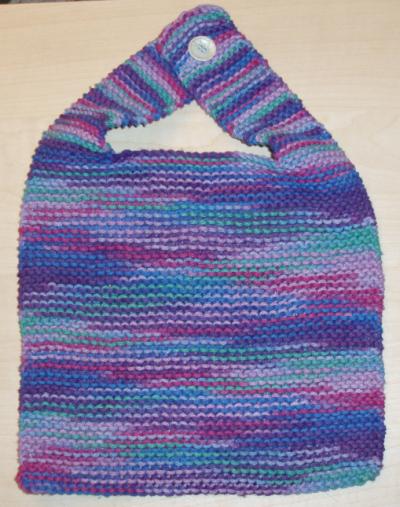 Apologies to Chaos. I tried one last time to have him model, but it didn't go so well… At least his fangs didn't break the skin, right?! Which probably means that I got off easily.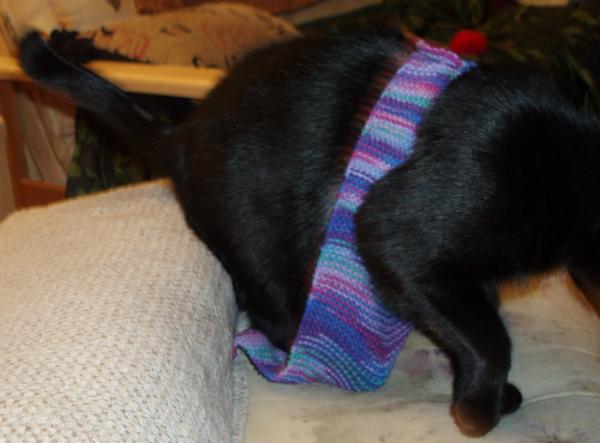 "Run away! Run away!"