---
---
Congrats to Courtney S, who won The Healing and the Dying (Tooth & Claw #2) by L.A. Witt! The Healing and the Dying is being released today by Samhain Publishing.
---
---
Many thanks to Mary Calmes, Andrew Grey, and Amy Lane for donating an ebook copy two three ebook copies of their forthcoming m/m romance anthology, Three Fates, for lucky commenters to win! Three Fates will be released by Dreamspinner Press on July 27. (Chris: The comments hit 100, so they added another copy!) (Chris: The comments hit 125, so they added a third copy!)

For time immemorial, the goddesses of fate have decided which human threads will shine and which will be cut short. But even the fates have off days.

Fate Delivers a Prince by Andrew Grey: Finding love shouldn't be that difficult for a diplomat's son, except Cheyenne is part of a grand tradition of werewolves, and a werewolf with a skin condition needs more help than most mortals. When Chay meets the prince of his dreams, it takes Clotho's intervention to keep him from letting go.

Jump by Mary Calmes: When two lovers die, their threads of life are collected instead of scattered, as one of them was the brother of a god. Can the fates reunite two lovers whose threads should have twined together for eternity? Or will Cassidy allow Raza's interest to pass his pale, mortal self by?

Believed You Were Lucky by Amy Lane: The gods' meddling isn't always welcome. It's given Lief good luck but poor fortune, and Hacon a family curse he's lived in fear of all his life. But when Lief's good luck saves Hake's life, Hake has to reevaluate everything he's ever believed about luck, life, and love.
Excerpt (scroll down and expand)
About Mary
Mary Calmes currently lives in Honolulu, Hawaii, with her husband and two children and hopes to eventually move off the rock to a place where her children can experience fall and even winter. She graduated from the University of the Pacific (ironic) in Stockton, California, with a bachelor's degree in English literature. Due to the fact that it is English lit and not English grammar, do not ask her to point out a clause for you, as it will so not happen. She loves writing, becoming immersed in the process, and falling into the work. She can even tell you what her characters smell like. She also buys way too many books on Amazon. You can find out more about Mary and her books at her website and blog.
About Andrew
Andrew grew up in western Michigan with a father who loved to tell stories and a mother who loved to read them. Since then he has lived throughout the country and traveled throughout the world. He has a master's degree from the University of Wisconsin-Milwaukee and works in information systems for a large corporation. Andrew's hobbies include collecting antiques, gardening, and leaving his dirty dishes anywhere but in the sink (particularly when writing). He considers himself blessed with an accepting family, fantastic friends, and the world's most supportive and loving partner. Andrew currently lives in beautiful, historic Carlisle, Pennsylvania. You can find out more about Andrew and his books at his website and his blog.
About Amy
Amy Lane knits, mothers four children, and writes like she's got a slave-driver with a whip and a cattle-prod standing behind her chair. She, her brood, and her beloved mate, Mack, live in a crumbling mortgage in Citrus Heights, California, which is riddled with spiders, cats, a really gassy dog, and more than its share of fancy and weirdness. Feel free to visit her at her blog and her website, where she will ride the buzz of receiving your e-mail until her head swells and she can no longer leave the house.
Contest Rules
To enter, leave a comment stating that you are entering the contest. Contest closes 7 pm CDT, Thursday, July 26.
By entering the contest, you're confirming that you are at least 18 years old.
If you haven't commented before, your comment will not be visible until after I moderate it. Please do not leave a second comment because your first doesn't show up! The blog gnomes will decide your comments are spam and then only ritual dust bunny sacrifice will salvage your entry…
If your comment is actually an advertisement or if your CommentLuv link turns it into an advertisement, your comment will be deleted. (Most of you do not need to worry – this refers to some pretty clever comment spam.)
Winners will be selected by random number.
You must leave a valid email address in the "Email" portion of the comment form.
Please make sure that your spam filter allows email from stumblingoverchaos.com!
I am not able to reliably contact people with aol.com and netscape.com email addresses – please use a different email address if at all possible!
If a winner doesn't respond to my congratulations email within 48 hours, I will select another winner.
If you win, please respect the author's intellectual property and don't make copies of the ebook for anyone else.
This contest is open worldwide!
---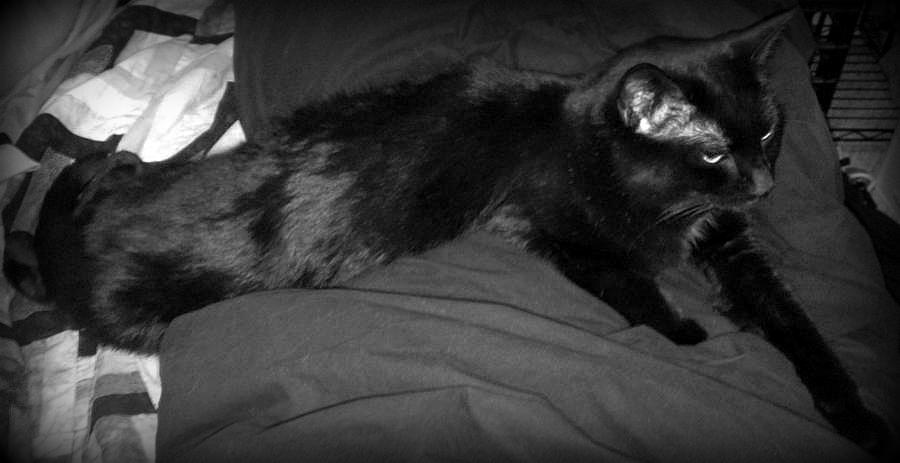 *twist stretch twist* -Mayhem
Makes my spine twinge when she does that! 😮