Congrats to Lily, who won the copy of Miles and the Magic Flute by Heidi Cullinan!
---
Many thanks to P. D. Singer for donating a pdf copy of her recently released m/m romance, Fall Down the Mountain, for a lucky commenter to win!
Ski patrol Mark McAvoy dug Ulf's body out of the avalanche; the dead man haunts his dreams. Mark needs someone to wake him from the nightmares as much as he wants someone to share his days. He gave up the fleeting encounters with vacationing skiers who don't remember his name later, but he's aghast at the well-meaning friends who are trying to round up potential boyfriends.

Chef Allan Tengerdie cooks dinner for seventy skiers every day, delivers it to their condos, and eats his own meals alone. A chance invitation to a pot-luck at Mark's home is his perfect opportunity to captivate a hungry, lonely man. Mark's ready to be there for him, even after he gets hurt on the slopes, until another man's shadow falls across them.

That man is dead, and now the grand jury wants Mark to explain his role in the avalanche that killed him.
In What Order Should You Read the Mountain Books?
"If you're just coming to the Mountains, Fall Down is a perfectly good place to start." – P. D.
About P. D.
Honest, I'm not the interesting bit – the stories are. If you need a bit of bio – here's what I put up on my publisher's website:

P.D. Singer's consolation for a blown identity as an international spy is to proofread top-secret documents, conduct clandestine experiments in ethanol chemistry, and write m/m stories. Based now in Colorado, she camps, hikes, and skis at every opportunity, giving her a new way to come in from the cold. She has been known to wrestle skunks for the last marshmallow and win. She regrets taking up raising Poison Dart Frogs because the tanks are so dangerous to clean, but regrets nothing about her propensity to tell tall tales.

Of course, I put that up before I found out that poison dart frogs are only poisonous if they've been eating fire ants, because they recycle the poison.

That I would have to post the disclaimer after finding out I made an error, which I try not to do, basically tells you everything you need to know about me.
You can find out more about P. D. at her blog, LiveJournal, Facebook, or author page at Torquere Press.
Contest Rules
To enter, leave a comment stating that you are entering the contest. Contest closes 7 pm CDT, Tuesday, July 6.
If you haven't commented before, your comment will not be visible until after I moderate it. Please do not leave a second comment because your first doesn't show up! The blog gnomes will decide your comments are spam and then only ritual dust bunny sacrifice will salvage your entry…
If your comment is actually an advertisement or if your CommentLuv link turns it into an advertisement, your comment will be deleted. (Most of you do not need to worry – this refers to some pretty clever comment spam.)
Winners will be selected by random number.
You must leave a valid email address in the "Email" portion of the comment form.
Please make sure that your spam filter allows email from stumblingoverchaos.com!
If a winner doesn't respond to my congratulations email within 48 hours, I will select another winner.
If you win, please respect the author's intellectual property and don't make copies of the ebook for anyone else.
This contest is open worldwide!
---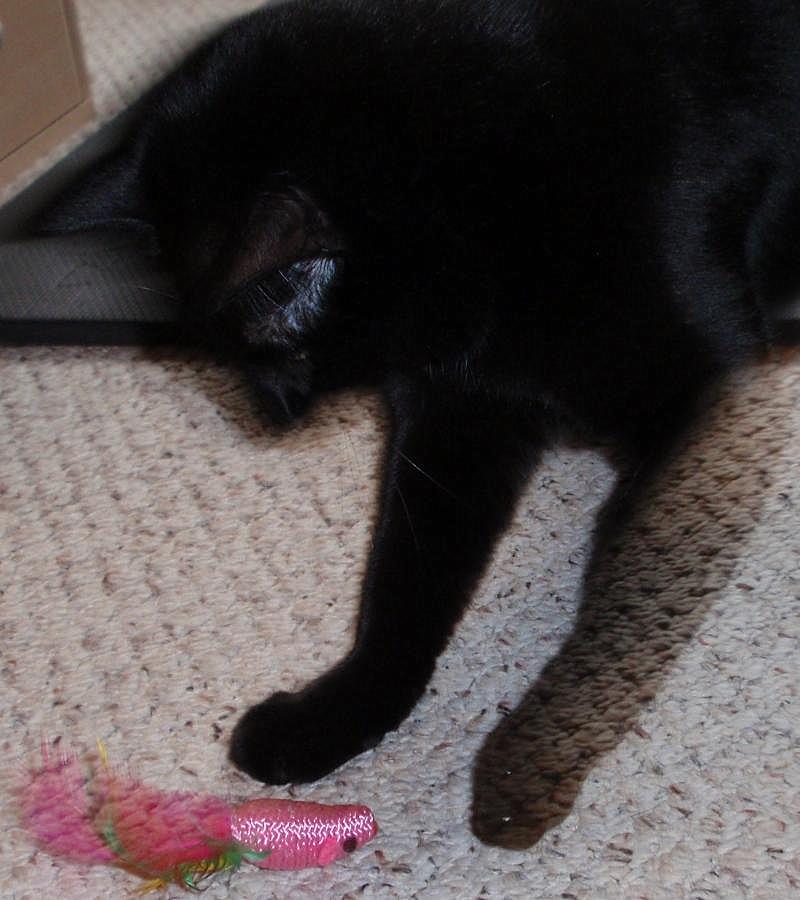 "Her name was Lola. She was a Pink Feathery Butt Mouse!" -Mayhem