Congrats to Barbara, who won the copy of Life After Joe by Harper Fox! (And congrats to Harper on the official release of Life After Joe yesterday!)
---
Many thanks to Kim Dare for donating an ebook copy of her forthcoming kinky m/m romance, Gay Friendly (G-A-Y, Book 9) for a lucky reader to win! Gay Friendly will be released on July 5 by Total-E-Bound. Kim is donating all her royalties for this book to Ty Hafan Children's Hospice – read on for details.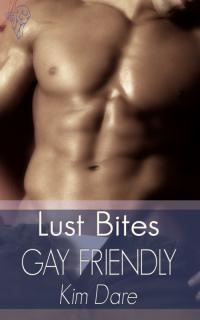 Ellis thought a gay friendly hotel sounded nice. He didn't realise just how friendly the men there would be…

Ellis is gay and out – technically at least. Unfortunately the only other gay man he's acquainted with is his cousin Harry. When he suddenly gets the chance to visit a gay friendly hotel with his cousin, in exchange for paying his share of the petrol money, he assumes the impromptu holiday will be a nice gentle way to ease his way into gay society before he starts university in September.

Dominant Mitchell Thompson has fond memories of the hotel where he came out almost two decades ago. He returns there every year, and always finds it to be exactly the same unashamedly kinky hook-up party it has always been. When he stumbles across a sweet little novice who's obviously way out of his depth at the resort, his trip down memory lane suddenly becomes far more interesting.

Gay Friendly is the ninth book in the G-A-Y collection, but since they are linked solely by theme, all the books can also be read as standalone titles. Additionally, the plot of the book, has nothing to do with the great work Ty Hafan does.
Excerpt (scroll down)
A Word from Kim:
100% of all the royalties I receive for the book, primary and secondary sales over the full duration of the contract, will be donated to Ty Hafan Children's Hospice.

That means everyone who buys the book direct from the TEB website will be donating 70p (just over $1 US) to a really fantastic cause.

Here's a bit about the charity (taken from their website):

Ty Hafan offers comfort, care and support for life-limited children and young people and is dedicated to improving the quality of life of their whole family.

Ty Hafan was established in 1999 to provide respite, palliative and end of life care to the children in Wales who suffer from life-limiting conditions. Life limiting conditions are those which mean that the child or young person is not expected to reach nineteen years of age.

Children suffer from various conditions, such as Duchenne Muscular Dystrophy, Cystic Fibrosis and Celebral Palsy. Some children are diagnosed at birth; others receive no diagnosis or at some point treatment is abandoned. Children and their families might receive our support for many years or just for a few days at the end of life. Either way, Ty Hafan provides love, care and support for the children and their families absolutely free of charge.

Ty Hafan is a registered charity and was established entirely from public donations. It now costs £2.5 million a year to run the hospice and all but 17% (Government funding) is raised through the generosity of our donors and supporters.
Contest Rules
To enter, leave a comment stating that you are entering the contest. Contest closes 7 pm CDT, Monday, July 5.
If you haven't commented before, your comment will not be visible until after I moderate it. Please do not leave a second comment because your first doesn't show up! The blog gnomes will decide your comments are spam and then only ritual dust bunny sacrifice will salvage your entry…
If your comment is actually an advertisement or if your CommentLuv link turns it into an advertisement, your comment will be deleted. (Most of you do not need to worry – this refers to some pretty clever comment spam.)
Winners will be selected by random number.
You must leave a valid email address in the "Email" portion of the comment form.
Please make sure that your spam filter allows email from stumblingoverchaos.com!
If a winner doesn't respond to my congratulations email within 48 hours, I will select another winner.
If you win, please respect the author's intellectual property and don't make copies of the ebook for anyone else.
This contest is open worldwide!
---
…Mayhem, captured mid-leap…