To celebrate Worldwide Knit in Public Day, the Twin Cities' Knitters (TCKnit) are going to gather (with bag lunches) at the Lake Harriet Rose Garden in Minneapolis on Saturday June 9, 2007, from 11 am – 2 pm. I'm a maybe – vacation prep will be eating my brain at that point!
Karrie is having a contest – if you know anything at all about drum carders, please go share that information with her! If you don't know anything about drum carders (like me, for example), leave a comment about one of your knitting must-haves. Contest is open until June 9.
Jennifer is having a contest to help her spend her birthday money. Leave her a comment or send her an email recommending an etsy seller that you think she might like and you could win a skein of Duet sock yarn. Contest closes at midnight on her birthday, June 13.
Congrats to Amy, Heather, and Susan, who won Project Spectrum Red/Black/Metallic mix cds! Thanks to everyone who played along. I'll have another contest at the end of July for Project Spectrum Purple/Orange/Brown mix cds.
Pao and MrsPao sent me a lovely surprise package a week or two ago. Gluten-free goodies (including one of my very favorite treats, dark chocolate covered rice cakes – don't knock them until you try them!), a cute little wooden vase, a lovely skein of Lisa Souza sock yarn, a sheep magnet, a felted mouse bookmark (that might be a challenge to keep away from Mayhem), a gorgeous black cat card, and an extremely noisy cat toy that babbles. A piece of packing tape toned it down enough that all three of us stopped jumping when it babbled (which I know has amused Pao mightily). Thank you both!
And then Peeve surprised me with a late birthday present. It's getting close to my half birthday, so maybe it's an early half birthday present… More gluten free goodies and two stunning skeins of very special yarn, dyed by the late Marta (and the skein on the right will coordinate very nicely with another skein that Peeve gave me during her visit). Thank you so much!!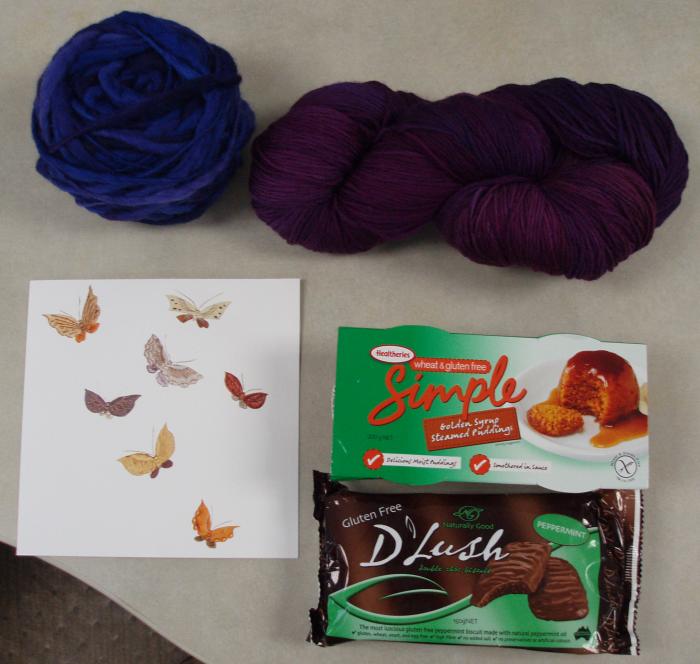 So after I posted the picture of Mayhem's fluffy tummy (complete with white bikini "smile"), there was some muttering in the comments about equal time for Chaos' tummy. Well… funny thing about Chaos' tummy. I suspect that he's supposed to have a large white patch, very similar to that of his mother. However, he just has undercoat and a line of scraggly white hairs, leaving several of his poor little boy kitty nipples exposed. Inbreeding is a tragic thing…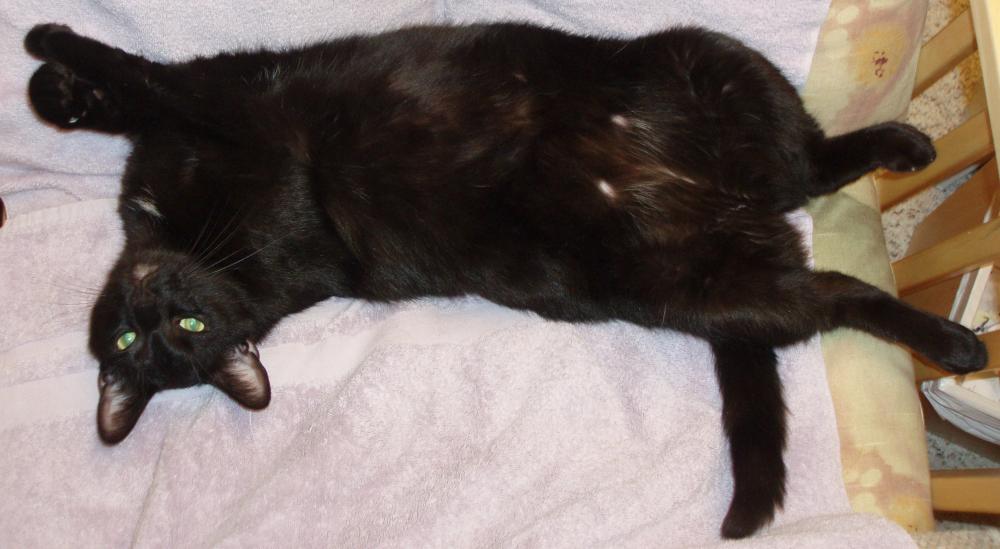 "I can't believe you just told them about the inbreeding. Do they really need to know that my father is probably my uncle, too?!" -Chaos