Project Spectrum
Last year, Anjo the Crafty Modster made and gave away awesome mix cds for each month/color combination of Project Spectrum. Alas, Anjo hasn't posted since October (I hope she's ok!), so Heather made the first two PS mixes this year and I will be making the second two.
The colors for June-July are red, black, and metallics – each song or artist will have one of these colors in title or name. If you are interested in receiving a copy of the cd, please send email to my contest email address by 6 pm CDT, June 1. Three winners will be randomly selected. Only entries sent to my contest email address will be included in the drawing! You will not receive a confirmation email back. You do not need to be participating in Project Spectrum to win a cd.
Curious about what music will be on the cd? Some of the artists include Okkervil River, the Builders & the Butchers, the Mountain Goats, Blue Skies for Black Hearts, Joseph Arthur, the Sad Little Stars, Pete Yorn, Joseph Plunkett & the Weight, Thin White Rope, and Radiohead. Hey, I have notoriously eclectic and obscure taste. 🙂
Knitting: Java Jacket Pattern
To avoid having cold, soggy fingers when drinking iced coffee drinks in the summer, I knitted some java jackets from leftover Cascade Fixation. I have one at home, one in the car, one in my purse – you get the idea!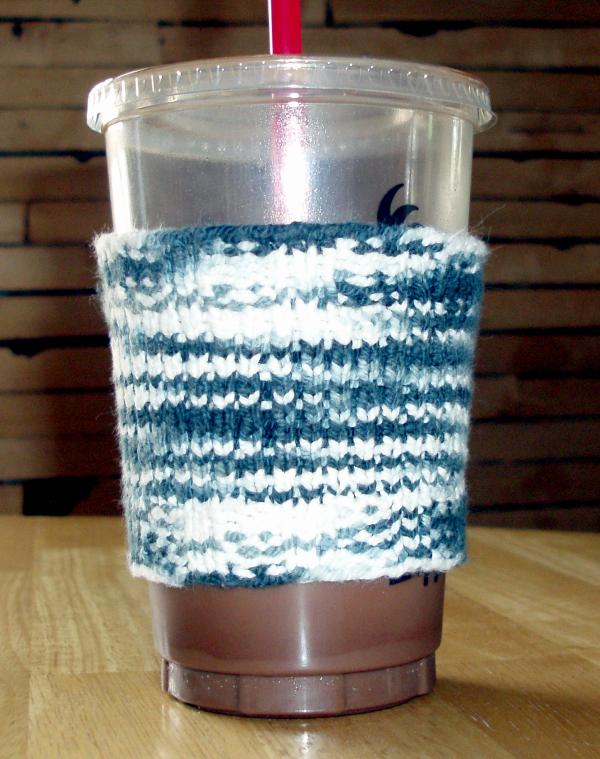 It's a quick pattern for those of you who drink iced coffee or 20-ounce bottles of soda. For cans of soda or beer bottles, I would recommend casting on fewer stitches.
Materials
Cascade Fixation or Elann Esprit
US size 4 dpns/long circular/two circulars, depending on your preferred method (or size to get an approximate gauge of 5 st/in)
Beginning of round (BoR) marker
Darning needle
Cast on 36 stitches for seed stitch border or 37 stitches for ribbing. Join by knitting the first and last stitch together and place BoR marker before this stitch: 35 stitches (seed stitch) or 36 stitches (ribbing) remain.
Knit 6 rounds of seed stitch or 2×2 ribbing. Knit 20 rounds plain. Knit 6 rounds of seed stitch or 2×2 ribbing. Bind off and weave in ends. My bind off edge is a bit tighter than my cast off edge, which works well with a tapered cup. If you are planning to use these on cans or other non-tapered beverage containers, make sure you bind off loosely.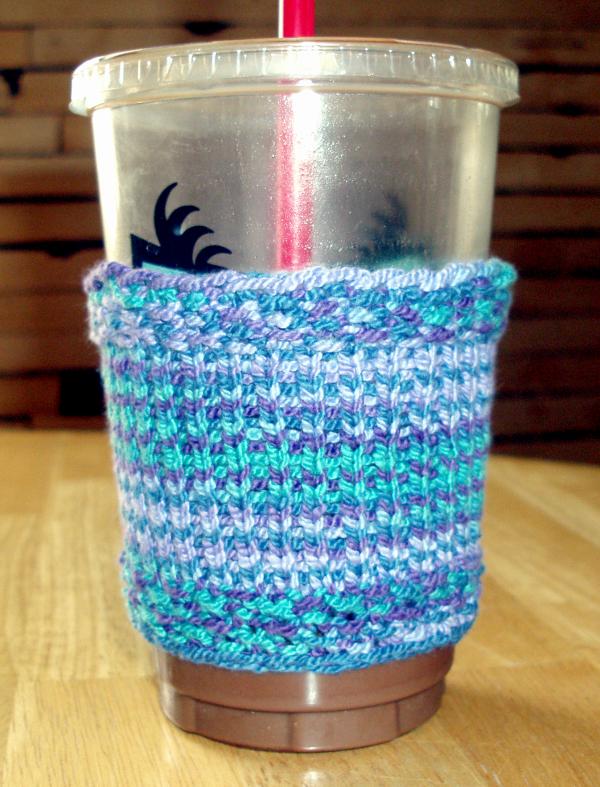 For a change, the cats were completely uninterested in all of this.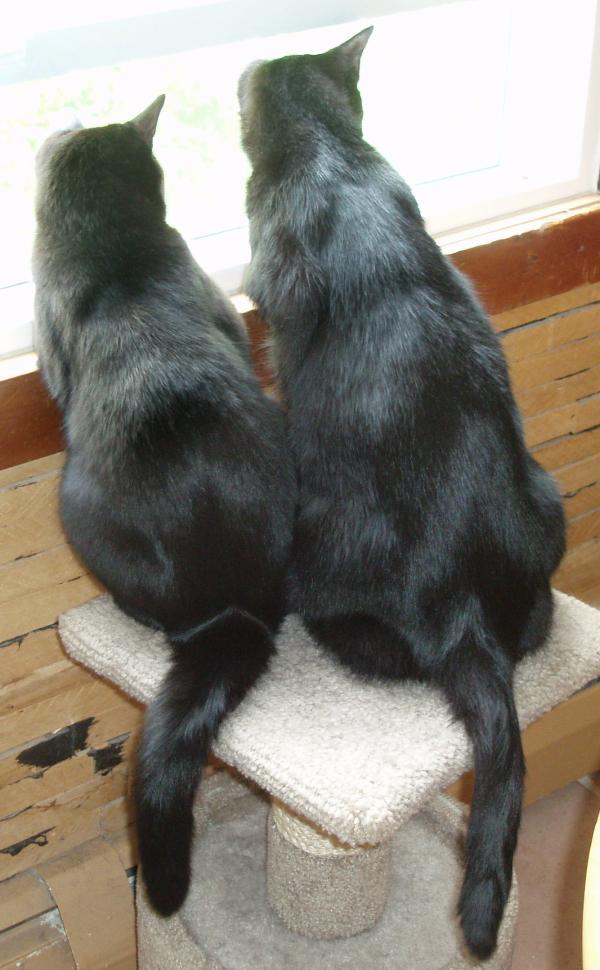 "Birds!" -Mayhem
"Darned screen. We could so get those birds… although since we are on the third floor, maybe the screen is a good thing." -Chaos