SRM was found last night at 9:27 pm CST when the stove was pulled out. Chaos snatched SRM up and carried it away, growling at May when she tried to examine it. No further information is available at this time.
Adam has opened a new store called Yarn Nerd.
Reading Update
Born in Death by J.D. Robb (aka Nora Roberts). The latest Lieutenant Eve Dallas and Roarke (mmmm, Roarke) novel proved to be a good read – Dallas and Roarke continued their coach training for Mavis and Leonardo's upcoming baby… and there might have been a murder or two…
Mistral's Kiss by Laurell K. Hamilton. The latest Meredith Gentry (Faerie-American Princess) novel covered only about four hours! At that pace, it could take ten years to get through a week…
Copper River by William Kent Krueger picks up right about where the previous Cork O'Connor mystery, Mercy Falls, left off. Copper River finds O'Connor in Michigan's Upper Peninsula and eventually ties up the loose ends from Mercy Falls.
Stripped by Brian Freeman. Hard to believe that this is only Freeman's second novel! Stripped is as solid a thriller as Immoral was, but I liked it better because it didn't have the strange court procedural section. In Stripped (set in Las Vegas, not Duluth) Detectives Jonathan Stride and Serena Dial try to solve a string of murders that seem based in events of 4o years before.
Knitting Update
I made excellent progress on the refined raglan over the weekend, but I'll spare you another in-progress black blob photo. Yesterday evening, I needed something very simple to knit, as I was starting to make silly mistakes on the raglan. So I pulled out one of my sock yarn bins and found the perfect yarn for February-March Project Spectrum (the colors white, grey, and blue) – Meilenweit Fun & Stripes, color 614: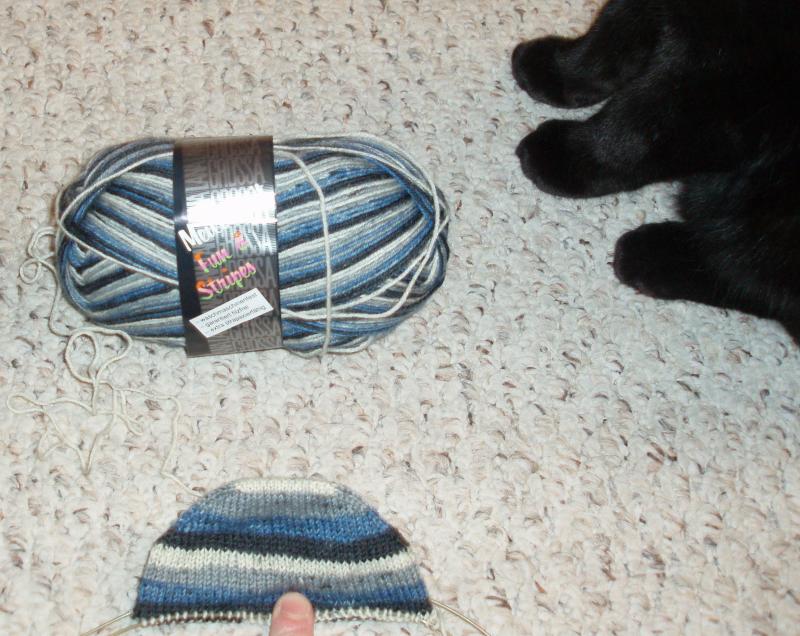 "See how good I'm being, Mom? I can to resist temptation!" -M
"Mostly…" -M
"Although maybe not when the temptation is so very tempting!" -M