Paula's participating in the 2009 North Central Alabama Race for the Cure and is looking for donations. Every $5.00 you donate will get you an entry in a raffle for some sock yarn after she reaches her $250 goal.
Author Barbara Bretton is giving away two skeins of Elann Peruvian Baby Lace Merino in Irish Moss if you send her an email before the the evening of June 3 (aka today, so hurry up).
Author Jeaniene Frost is giving away four copies of the The Mammoth Book of Paranormal Romance, which is a great collection! Send her an email (info's in the post) before 11:59 pm EDT, June 4, for your chance to win. (If I didn't already own this book, I'd be all over this contest myself.)
Jen's friend is about to go through her fifth birth, but first cesarean – leave some cheering comments for Jen's friend (and vote in the baby name poll) for your chance to win a gorgeous skein of Yarn Pirate sock yarn.
For your chance to win a copy of the superhero novel Black and White by Jackie Kessler and Caitlin Kittredge (reviewed below), stop by and comment at Deadline Dames.
Leave a comment at Fantasy & Sci-Fi Lovin' Giveaways by June 12 for your chance to win one of several short story collections. These aren't paranormals, for those who worry about such things. 😉
If you'd like to win a copy of the Blood Ties dvds (based on Tanya Huff's Books of Blood series), you'll need to do a tiny bit of research and send an email by June 15.
For your chance to win an advance reading copy of the young adult book Ghost Huntress (Book 1: The Awakening), leave a comment at J. Kaye's Book Blog before June 27. Remember, winners will not be notified – you'll have to keep an eye on that blog to see if you've won. Another contest of interest over at J. Kaye's includes one for the audio cds of The Bourne Deception. (And thanks to J. Kaye for including me in the new book blog discovery post last week!)
Largehearted Boy's giving away an eight-volume Buddha graphic novel series – leave a comment before midnight CDT, June 5, for your chance to win.
If you'd like the chance to win a signed copy of the new collection Tails of Love, which is a charity anthology to benefit needy animals and which features stories where animals play a key role in romance, leave a comment at Anna's Book Blog before June 11.
The Suvudu free reads (all scifi or fantasy) for June have been posted. Smart Bitches have some links to romance ebook deals/promotions.
Head over to SciFiGuy.ca to see what urban fantasy, fantasy, paranormal, and scifi books are coming out the month.
Sydney found a new to me book holder.
Looks like BeBook's going to have a wireless ebook reader available for sale by the end of this month (for $199).
Apparently Google's planning to sell ebooks by the end of this year.
Woot! I won a copy of Pride and Prejudice and Zombies over at Historic Fibers for my zombie haiku (#2 in this post). Thanks, Julia!
Reading Update


True Confessions (set in Idaho),

See Jane Score (not set in Idaho!),

Truly Madly Yours (set in Idaho),

Daisy's Back in Town (not set in Idaho), and

It Must Be Love (set in Idaho) by Rachel Gibson. One more to go and I will have read all of Gibson's books in a shockingly short time. Important Note: If you find yourself in a Rachel Gibson romance, please be aware that condoms always seem to break and prepare yourself accordingly.


Night and Day (Jesse Stone) by Robert B. Parker. Finally! I swear, if a critical bit of series progression hadn't happened in this one, I wouldn't ever pick up another book in this series. I barely nerved myself up to read this one.
Traveling Light by Diana Rubino. ebook. This was a time travel romance that takes place briefly in the present, but primarily in fifteenth-century England. Review posted at Fang-tastic Books.


Satisfaction Guaranteed by Lucy Monroe. Scorching hot and very good contemporary romance about people working for a super secret antiterrorism agency. Very scorching. Very hot.


Ready and

Willing by Lucy Monroe. More scorchers from Monroe. Can you guess what the name is of the next book in the series? 😉


Come Up and See Me Sometime by Lucy Monroe. This was written a few years earlier than the other books of hers I've read. Let's just say her writing has improved a great deal in the past several years. In fact, I spent so much time rolling my eyes while I read this one, I think I strained something.


Demon Can't Help It by Kathy Love. Favorite line: "Oddly, I find it reassuring you haven't put anyone's soul in a house pet before." (The guy on the cover of this totally creeps me out for some reason.)


Crouching Vampire, Hidden Fang: A Dark Ones Novel by Katie MacAlister. Noticed a doozie of a typo on the "Also By" page – MacAlister's book Zen and the Art of Vampires got turned into Zen and the Art of Dragons. Whoops. This book continues the story of Pia and Kristoff that began in Zen and the… and ended on a cliffhanger in that book. This book is still a bit all over the place, plus I spent way too much time wanting to slap Pia, Kristoff, and plenty of other characters. However, at least this one didn't end on a cliffhanger – just with an open question or two. (Oh, and I have no idea what the cover art has to do with the book!)


Black and White by Jackie Kessler and Caitlin Kittredge. Please note that I received this as a review copy/prize, so you'll get a slightly longer reviewette than usual.
We have lots of metaphors related to white and black, good and evil. The line between good and evil is supposedly black and white. Good guys wear white hats and bad guys wear black hats. Good is light, bad is darkness. Black and White plays with those crisp delineations, showing us that things are never that clear, even when superheroes (or "extrahumans" as they're called in 2112) are involved.
Black and White is told alternately from the perspective of two extrahumans, Jet and Iridium. The narrative weaves back and forth between the story's present and five to ten years in the past, when Jet and Iridium were roommates at the Academy. Jet's a Shadow power, yet completely focused on following the rules and being a model hero. Iridium, a Light power, is much more independent and much less interested in rules. Both had fathers who were considered insane or "rabid", leading many to expect similar behavior from Jet and Iridium.
What starts out as a seemingly simple comic bookesque tale of good versus evil slowly develops into an involving tale about shades of grey, friendship, and betrayal. (In fact, in some respects, it reminded me of Soon I Will Be Invincible by Austin Grossman, which I also thoroughly enjoyed.)
---
Hmm. Mayhem seems to be having trouble selecting a book, as she stands on what are apparently her discards and contemplates The S3x Lives of Cannibals.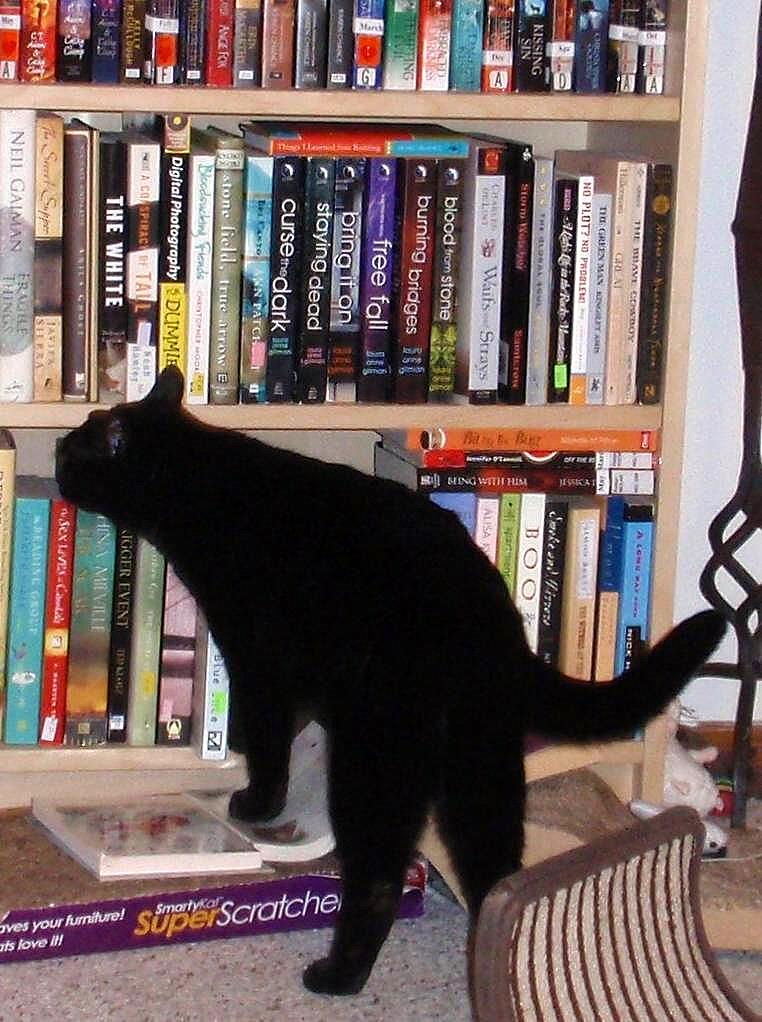 "What to read, what to read… Mom, what are cannibals? What is s3x? Are there any black kitties in this book? I'm sure it's not worth reading if there aren't black kitties in it." -Mayhem