Reading update: Slow week reading here! Dead Wrong by J.A. Jance. In the latest Sheriff Joanna Brady mystery (Arizona), she's coping with a staff shortage, murder, and being 9.5 months pregnant.
Last night I went to the Triple Rock Social Club to see one of my very favorite bands, the Mountain Goats. (This post's cryptic title is from their song "If You See Light.") It was very, very traumatic for me, staying up that late and being out and about! Fortunately, I had good parking "carma" and then snagged a prime spot to watch the show when I got inside. They basically played their new album Get Lonely in order, with a few detours (Heart's "Barracuda" was the best!), then played some of their older stuff. (And Leah, the new stuff was mostly excellent live – it had a lot more zing than on the cd.) It was a great show, especially considering it was the first stop of their tour! But damn, did I feel old – I was probably one of the 10 oldest people there… This was the first time I've been to a show at a bar since the Minneapolis smoking ban went into effect last year – I know it's been controversial, but it was amazing to not need a shower after a show and also not to wake up with a "hangover" from second-hand smoke.
Largehearted Boy is having a Get Lonely contest! Could the timing be more perfect?! 🙂
Time for a decent picture of Mayhem – she's purring and making happy paws because I'm looking at her, the sweetie. She definitely has the stealth tabby thing going, as well as maybe being a "smoke" (check out section 2 in that link). Her eyes are actually a sort of gold amber, not the green that they've appeared in photos.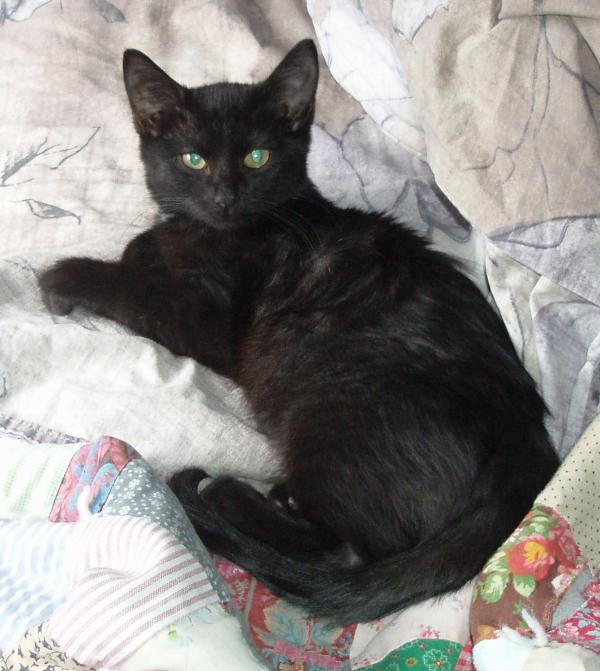 *rumbling*
I think Chaos and May are playing now. I'm hoping that's what it is! Either that, or she's running for her life much of the time. I caught Chaos giving her a bath this morning. Awwwww… (No, there isn't a picture – it was 5:30 am…)

"Ha ha! I got Mom's spot and that big kitty isn't anywhere around!"
"But why am I feeling so nervous? It's as if someone's watching me…