---
---
Congrats to Inka, who won Riley's Regret (Lost Shifters #11) by Stephani Hecht! Riley's Regret will be released by eXtasy Books on May 15.
---
---
Blogger seems to be spectacularly messed up at the moment. Links to posts on Blogger may not work or, if they do work, you may not be able to comment on the posts. Check Blogger Status for updates.

---
---
Contests
Bookity
Ebookity
Think, Do, Make, Learn
Listening
Eyre linked to a song I shared with her a while ago ("We All Need More Kindness in This World" by Guy Davis), and it reminded me of some other songs that have good messages:
Cookity
Crafty
Cool
Cool or Wha…?
Wha…?
LOL
Teh Cute
Reading Update

Private Dicks by Katie Allen. ebook. reread. Very good m/m romantic suspense about a former cop, now working as a PI, who finally comes out to his straight investigative partner. There's just something about Rhodes and Wash – this is the third time I've read the book. 🙂

Hide Out (Private Dicks #2) by Katie Allen. ebook. reread. This excellent m/m romantic suspense is about a cop who's guarding one of the characters from Private Dicks for seven months until he can testify in a trial. Really, why aren't there more witness protection books that include remodeling the safe house? 🙂

Bad Case of Loving You by Laney Cairo. ebook. reread. Very good kinky m/m romance about a resident and the doctor supervising him at the hospital. They just can't seem to keep their hands off each other…

Infinity Pools (Postcards from Paradise #2) by LA Witt. ebook. Very good m/m romance finishing up the story started in Getting Off the Ground about a jilted groom who meets another guy when bad weather delays his flight… the flight that was supposed to be taking him on his honeymoon, instead of on a now solo vacation.

Saturday Night, Live (Alphabet Soup #1.5) by CB Conwy. free ebook short. Steamy short m/m encounter between the owner of the construction company and a guy who shows up on his doorstep demanding to be spanked.

I Like You (Alphabet Soup #2) by CB Conwy. ebook short. Steamy short kinky m/m romance continuing the story of Andy and CK from Alphabet Soup.

Ermine & Bougainvillea (Ermine #1) by ID Locke. ebook. Very good kinky paranormal m/m romance about a gay stoat shifter being chased by homophobic coyote shifters who escapes into a thorny thicket and meets a sexy dryad… There is vine sex…

Claiming Rights (Ermine #2) by ID Locke. ebook short. Very good short kinky paranormal m/m romance following up on the stoat shifter and the dryad after they've been together for a while.

Sharing Paul (Portals #3) by Jade Archer. ebook. Very good paranormal m/m romance about a jaguar shifter with a secret – two men live inside his body – who rescues a human being beaten to death by thugs in the park.

Ink Illusions by Val Kovalin. ebook. Good m/m romance about a gay man helping a female friend raise her daughter. Then the daughter's father gets out of prison and things get complicated.

Chocolate Bites (Of Cocoa and Men #2) by Vic Winter. ebook short. Ok short paranormal m/m romance following up on the baker and the werewolf from the first book. Alas, this story just didn't have the magic of the original.

Wolf Moon by Ethan Stone. ebook. Ok paranormal m/m romance about an orphaned college student who doesn't know that he's a werewolf until he's drawn into a world he didn't realize existed. While the storyline had a great deal of promise, the writing was simplistic and repetitive – basically, the writing got in the way of the story.
---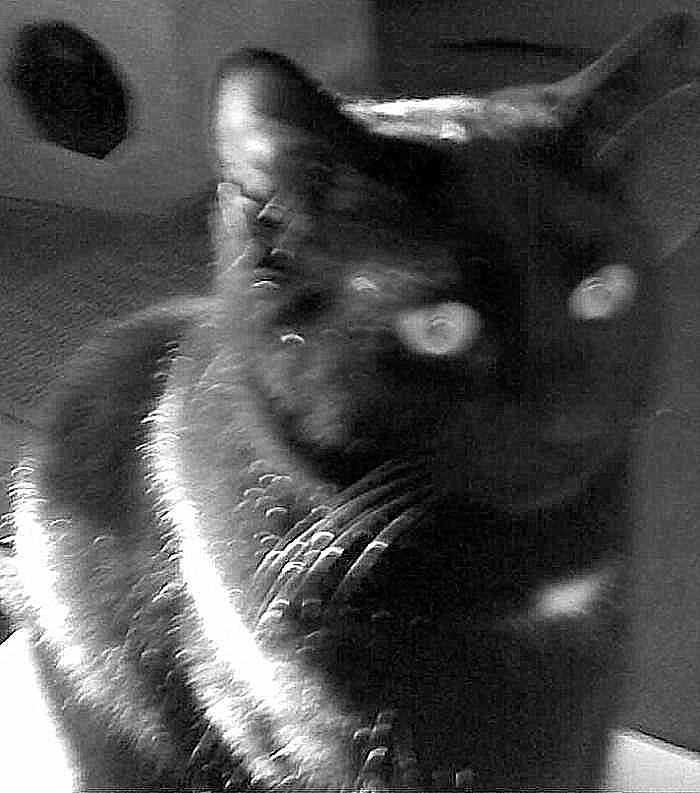 "I feel weird… all blurry or something." -Mayhem