Congrats to Jane, who won Not Anymore by Em Woods! Not Anymore will be released by Total-E-Bound on September 27.
---
Contests
Bookity
Ebookity
Learn, Make, Do, Think
Linkity Peeps
Cool
Huh
LOL
Teh Cute
Reading Update
Seriously, was this my week to read about mysterious guys or what?! You'll see. 🙂

Ruthless Pursuit (Lost Shifters, Book 6) by Stephani Hecht. ebook. Good paranormal m/m romance continuing the story of the search to find the Lost (Feline) Shifters, who were abducted when they were young and raised by humans. This installment is about trying to capture the criminally inclined Andrew.

Man and Wolf by Kate Roman. ebook. Decent paranormal m/m romance about a vet who meets and immediately connects with a mysterious guy who brings in his poisoned dog. I enjoyed this one, although an entire storyline of menace never really played out to be anything. Plus the sex-to-story ratio was a bit skewed.

Touch of a Wolf by Jez Morrow. ebook. Very good paranormal m/m romance about a grad student who just caught his boyfriend cheating and moved out. He has an uncharacteristic sexual encounter in an alley with a mysterious guy he runs into on the street – who later shows up on his fire escape – and his life is changed, possibly forever.

Wicked Cool by Val Kovalin. ebook short. Very good short m/m romance about a guy with a junk removal business who becomes very intrigued by a mysterious property manager he meets while on a job. Can he deal with the unknown, or will all the secrets drive them apart?

His Gift by Clare London. ebook short. Very good short m/m romance about a guy who wakes up injured in a rainy ditch, with no memory of how he got there. He manages to make it to an old house, where he meets a handsome, mysterious man and his life takes on a dream-like quality.

Bound by Blood (Soul Mates, Book 1) by Jourdan Lane. ebook. Very good paranormal m/m romance about a bartender with a vampire phobia who slowly realizes that not only is the hot guy he's been ogling a vampire, he's the Master vampire of the city… (I can definitely tell that Lane was influenced by Anne Rice's early Vampire Chronicles and LKH's early Anita Blake books. It works.)

Ethan's Choice (Kindred Spirits, Book 1) by Jude Mason & Jenna Byrnes. ebook. Decent paranormal m/m romance about an analytical guy who's considering buying the seaside inn he's vacationing at. But why are the current owners selling it after only six months? And could the hunky handyman possibly be gay?

Almost Home by Nicole Gordon. ebook short. Intriguing short m/m story about two guys who've been friends for years, while one has been going through some rough things that just ended with his father's death. Sadly, this book simply stops, with no resolution of any sort. However, I did leave a question for Nicole Gordon on her blog and she's working on a sequel.

What They Say About Love by Alexi Silversmith. ebook short. Very good short m/m romance about a guy who breaks up with his girlfriend instead of proposing to her as he'd intended. He decides to go out and pick up a guy to explore a side of himself he's kept under wraps since college…

The First Real Thing by Cat Grant. ebook. Good m/m romance about a male escort who picks up the wrong guy in a bar and finds himself in an actual relationship… with a guy who doesn't know what he does for a living.

Not Anymore by Em Woods. ebook short. Good m/m romance about a guy who's on vacation in Hawaii with his sister and her boyfriend when his attraction to a guy who approaches him on the beach outs him to his family. Things get really complicated when his nasty ex shows up and then the identity of the guy from the beach is revealed. Despite a few niggles, this was an enjoyable read and I'll definitely look for future books from Em Woods.

Vince by J.M. Snyder. ebook. Pretty good young adult m/m story about two guys who've been best friends since they were little… until, when they're 14, one confesses he's in love with the other and gets laughter in return.

Just the Right Notes by Sean Michael. ebook. Good kinky m/m romance about an architect and a composer who periodically escape to their cabin for a weekend of D/s play. Will that be enough to keep them grounded when their lives go into crisis?

Prisoner of the State by Alex Morgan. ebook short. So-so short kinky m/m about a police chief who abducts a guy he pulled over for speeding and keeps the guy in his basement as a sex slave. This would've been better if it had been fleshed out more – it read more like a story outline at points.
---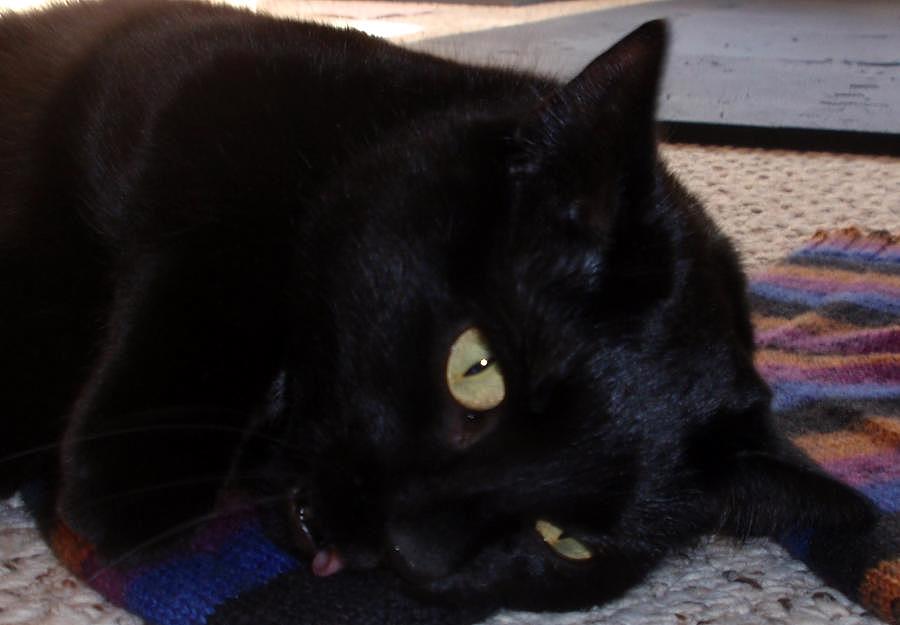 "This sock, it has a flavor! It tastes… woolly." -Mayhem