Mark Super International Pajama Day on your calendar – it's Super Bowl Sunday (February 4). All you need to do is stay in your pajamas all day and relax. Ahhh….
Debra is having a National Delurking Week comment contest. Leave her a comment by midnight, January 16, and you could win some sock yarn, stitch markers, and chocolate.
Anne is celebrating her one-year blogiversary at the beginning of February. Send her an email by midnight, February 2, and you could win one of many lovely fibery prizes.
Lucia is having a contest in which you submit a picture of yourself knitting socks in public. The contest is open until the end of January and you could win some mysterious sock yarn. For every entry received, Lucia will donate $1.00 to MSF.
I got home Friday from an absolutely hellish week at work (I can't remember the last time I worked five days in a row) to discover a wonderful package from Tink! (Let me just straighten things out for the knitters – even though her tagline is "I Tink, therefore I am," she's not a knitter; it's short for Tinkerbell.)
Tink sent me a lovely black cat travel mug. She also sent an extremely appropriate bowl for Chaos and Mayhem, along with some sparkly mice and a bottle of catnip-flavored bubble blowing stuff.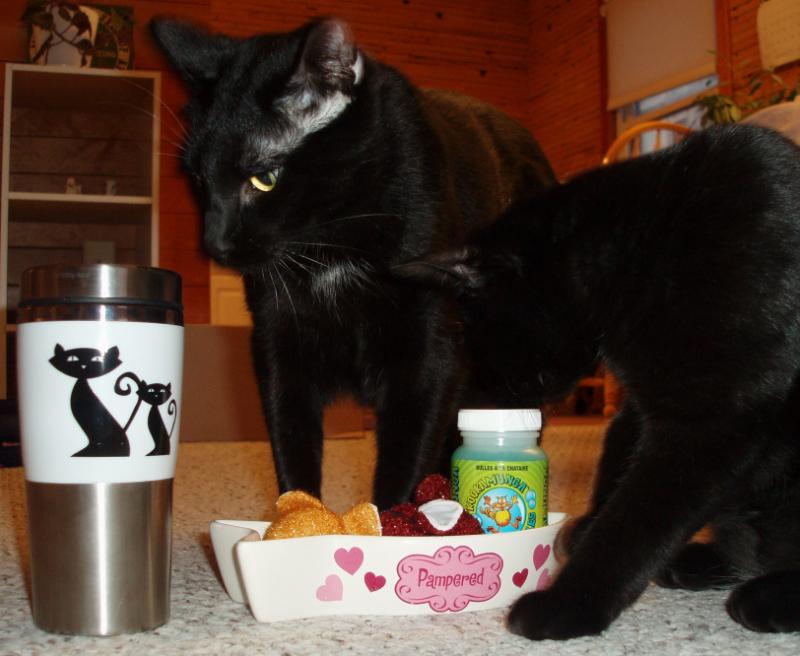 "Is she mocking my tail with this??!! And who's she calling pampered, anyway?!" -C
*sniff sniff sniff* -M
Um, please ignore that tail sticking out of the litterbox on the right side of the following picture. I just noticed that… Whoops!
"This mouse is pretty cool! It jingles and sparkles and is easy to carry by its tail!!" -M
"Hey!!! Give a guy some privacy back here!!!!" -C
I'm particularly fond of the travel mug because it's quite similar to my favorite coffee mug.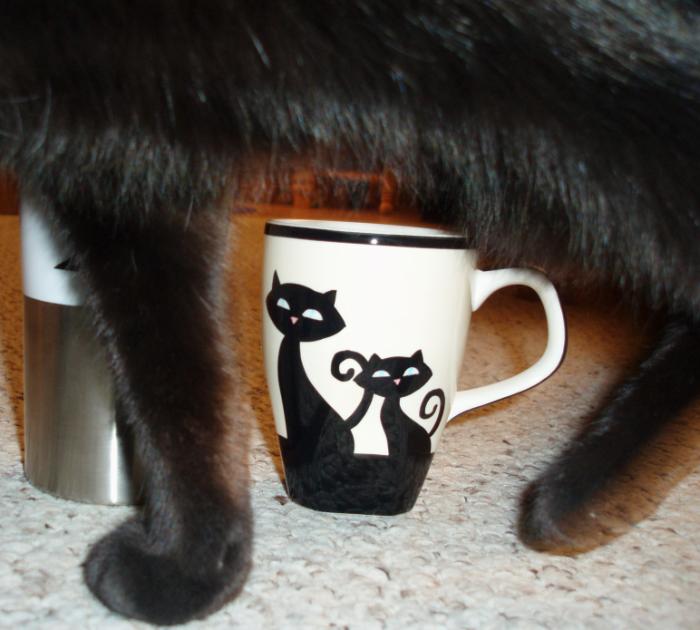 "Dum de dum de dum de dum…" -C
Ok, this may be a better comparison shot:
"I'm still not convinced that my tail isn't being mocked…" -C