Many thanks to Kate McMurray for donating an ebook copy of her forthcoming paranormal m/m romance, Show and Tell, for a lucky commenter to win! Show and Tell will be released on January 8 by Loose Id.
One of the few joys in Dan's life is the TV show Junk Shop, a reality show about antiques hosted by the handsome and charismatic Malcolm Tell. Then an old music box turns up, and Dan's sister encourages him to try to get on the show and meet the object of his affection. He does, and his life changes completely.

When Dan and Malcolm first meet, they have a sudden vision of a couple from the past. Is it a glimpse at a past life or something else entirely? They agree to work together to figure out what is going on, and they stumble upon a forgotten Celtic myth that may explain everything. If the myth is true, then Dan and Malcolm could be a pair of lovers who have been reincarnated over and over again over two thousand years. That seems impossible, but it's hard to deny that something very strange is happening.

As Dan and Malcolm work to find the truth, they fall for each other hard. But searching for who they really are puts them both in grave danger, and they find themselves racing against time to keep their happily ever after.
Other Books
About Kate
Kate McMurray is a nonfiction editor by day. Among other things, Kate is crafty (mostly knitting and sewing, but she also wields power tools), she plays the violin, she has an English degree, and she is maybe a little obsessed with baseball. She lives in Brooklyn, NY. You can find out more about Kate at her website, on Facebook, and on Twitter.
Contest Rules
To enter, leave a comment below stating that you are entering the contest. Contest closes 7 pm CST, Monday, January 7.
By entering the contest, you're confirming that you are at least 18 years old.
If you haven't commented before, your comment will not be visible until after I moderate it. Please do not leave a second comment because your first doesn't show up! The blog gnomes will decide your comments are spam and then only luck and counterintuitive espionage will salvage your entry…
If your comment is actually an advertisement or if your CommentLuv link turns it into an advertisement, your comment will be deleted. (Most of you do not need to worry – this refers to some pretty clever comment spam.)
Winner will be selected by random number.
You must leave a valid email address in the "Email" portion of the comment form.
Please make sure that your spam filter allows email from stumblingoverchaos.com!
If a winner doesn't respond to my congratulations email within 48 hours, I will select another winner.
If you win, please respect the author's intellectual property and don't make copies of the ebook for anyone else.
This contest is open worldwide!
---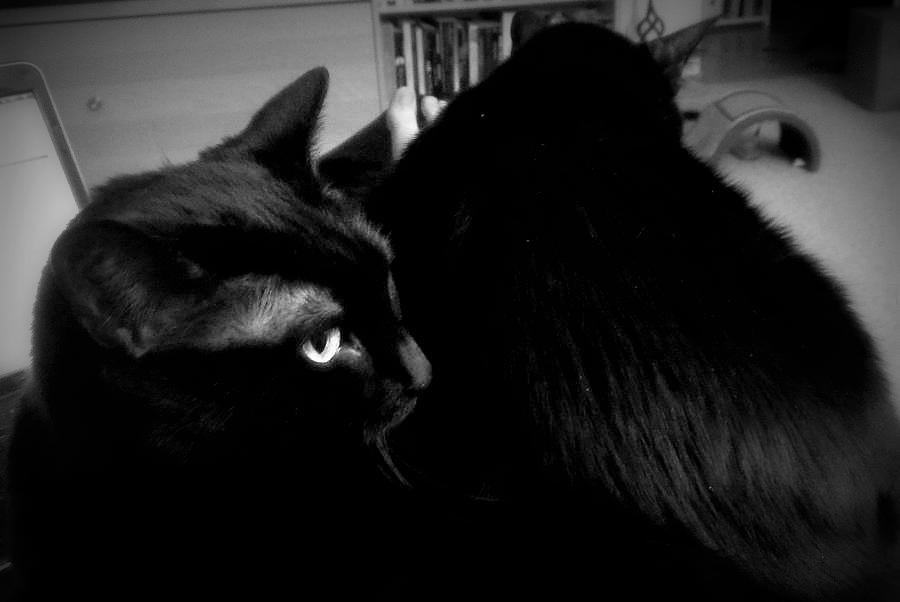 "Hmph. I was on Mom's lap first, big kitty!" -Mayhem
"Tough." -Chaos