This was not the weekend my brother, SIL, and I had planned. On Friday night, my brother and SIL were driving up to the cabin. They stopped at a Dairy Queen for supper and were sitting on the tailgate of their pickup, eating their burgers and enjoying a lovely summer evening when a minivan backed up without looking and trapped my SIL's leg against the truck tailgate. Initially, it seemed likely that she had a broken leg, but so far it's "just" severely bruised. She'll have more tests this week to see if there's nerve, ligament, or tendon damage.
So I spent my weekend at my brother and SIL's house, helping them out. I got a little knitting done – this bib was knit from the Fiesta Ombre Peaches'n'Cream that Frarochivia gifted me with. Isn't it wild?! I love it. (And I decided to spare Chaos, so didn't entrap him to model it.)
I also read Cherry Cheesecake Murder by Joanna Fluke, 342 pages. The latest in this somewhat silly series set in the fictional town of Lake Eden, Minnesota, again features cookie baker Hannah Swensen, her giant orange tomcat Moishe, more romantic entanglement for Hannah, and lots of recipes. I'm a sucker for those Minnesota mysteries. 🙂
Anyway, this is going to be a week or so of craziness, with unpredictable blogging, erratic bloglines reading (I'll probably never catch up!), and lots of family time. Send healing thoughts my SIL's way, if you have a few to spare! Thanks.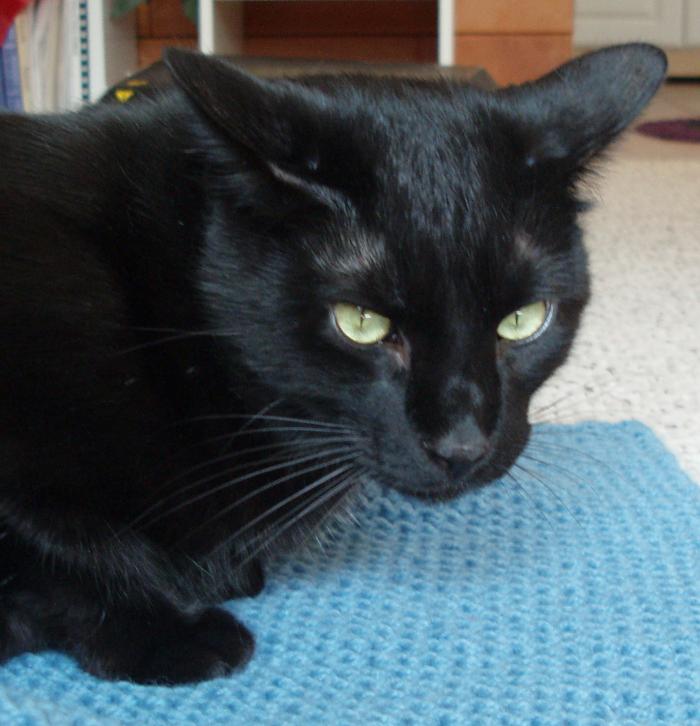 "I hope you get better soon, Jess! Even though I sometimes hiss and spit at you when you come to visit, I know you took good care of me when I was a tiny kitten."