---
---
Congrats to Suze, who won Domestic Relations by K-Lee Klein! Domestic Relations is being released today by Less Than Three Press.
Congrats to Andrea and LC, who won Steamroller by Mary Calmes! Steamroller is being released by Dreamspinner Press today.
---
---
Many thanks to RJ Scott for donating an ebook copy of the forthcoming m/m romance anthology, Hearts of England, for a lucky commenter to win! Hearts of England will be released by Silver Publishing on September 15.
From the wilds of the Brontes' bleak moors, to soft summer nights in Stratford upon Avon, and chance meetings in a cosy tea shop, join us for a delightful journey through the romances of England.

Six stories full of desire, of men loving men, written by English authors known for their passionate tales of love, lust, and rekindling romances.

The Cameraman's Tale – Chris Quinton
Mark is a researcher for a paranormal reality TV show. A cameraman on the show encountered a ghost and needs his help. Mark must break the cycle of injury and death before filming begins, or others will be at risk. Featuring Mark and Jack from the story: The Psychic's Tale.

By Design – Lisa Worrall
Robbie Cooper gets more than he bargains for when Shane Donald walks into his shop, photograph in hand, asking Robbie to tattoo the likeness on his skin. There's something about the photograph and the way Shane talks about the man in the picture that ignites a spark deep inside Robbie, and he longs to know more. But will he like what he hears, and will he be able to control his instant attraction to his client?

Child of Storm – RJ Scott
Ben Hyland is excited to be showing Cory Vasilyev Yorkshire. Cory scouts locations for film studios and needs the right inspiration for a new film version of Wuthering Heights. Problem is Ben wants to share his passion for the story and for the wild moors but Cory just wants to go home. Until he doesn't.

A Good Feeling – S.A. Meade
Jamie never expected to meet the love of his life in a tea shop. He never expected his lover, Connor, to be an Army Officer about to return to Afghanistan for one last deployment. After twelve short weeks together, Jamie has to face uncertainty and worry. Worry that Connor may not make it back alive, uncertainty that Connor will want him to be at the base, waiting, when he returns. Will the good feelings he always had about their future together survive their separation?

This Morning – Sue Brown
When Neil takes his son to school he doesn't expect Alex to tell him that he doesn't want to go to South Africa on a year-long trip with him and his husband. Neil has to make a choice between his son and his husband. He only hopes that Baz understands his son must come first, otherwise he faces the prospect of his love walking out of his life forever.

William's Heart – Meredith Russell
Jude is confident, happy, and views his world through the lens of a camera. Brody is a writer. Haunted, and searching for inspiration in Stratford-upon-Avon. In Jude, Brody finds something his heart has longed for—acceptance for who he is.
Excerpt (scroll down and select tab)
Contest Rules
To enter, leave a comment stating that you are entering the contest. Contest closes 7 pm CDT, Friday, September 14.
By entering the contest, you're confirming that you are at least 18 years old.
If you haven't commented before, your comment will not be visible until after I moderate it. Please do not leave a second comment because your first doesn't show up! The blog gnomes will decide your comments are spam and then only ritual dust bunny sacrifice will salvage your entry…
If your comment is actually an advertisement or if your CommentLuv link turns it into an advertisement, your comment will be deleted. (Most of you do not need to worry – this refers to some pretty clever comment spam.)
Winners will be selected by random number.
You must leave a valid email address in the "Email" portion of the comment form.
Please make sure that your spam filter allows email from stumblingoverchaos.com!
If a winner doesn't respond to my congratulations email within 48 hours, I will select another winner.
If you win, please respect the author's intellectual property and don't make copies of the ebook for anyone else.
This contest is open worldwide!
---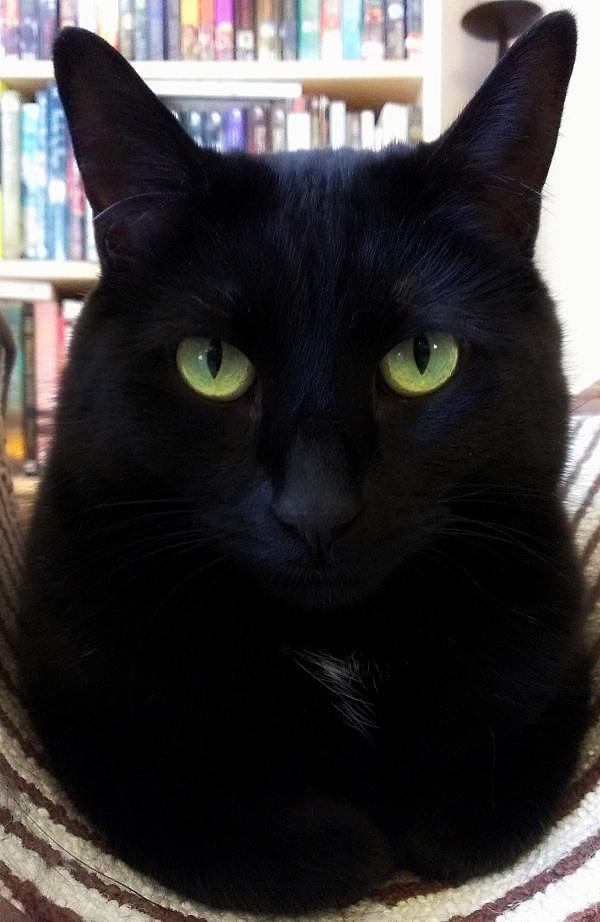 *testing kitty mind control powers of cuteness and intensity* -Mayhem