---
---
Congrats to ShellBell, who won Waking Up Naked by Kim Dare! Waking Up Naked is being released today by Resplendence Publishing.
---
---
Many thanks to Kaje Harper for donating an ebook copy of her forthcoming m/m romance, The Rebuilding Year, for a lucky commenter to win! The Rebuilding Year will be released by Samhain Publishing on March 6.
Losing nearly everything leaves room for the one thing they can't live without.

A few excruciating minutes pinned in a burning building cost Ryan Ward his job as a firefighter, the easy camaraderie of his coworkers, his girlfriend, and damn near cost him his left leg. Giving up, though, isn't an option. Compared to the alternative, choosing a new profession, going back to school, and renting a room from the college groundskeeper are simple.

Until he realizes he's falling in love with his housemate, and things take a turn for the complicated.

John Barrett knows about loss. After moving twice to stay in touch with his kids, he could only watch as his ex-wife whisked them away to California. Offering Ryan a room seems better than rattling around the empty house, but as casual friendship moves to something more, and a firestorm of emotions ignites, the big old house feels like tight quarters.

It's nothing they can't learn to navigate, though. But when dead bodies start turning up on campus – and one of the guys is a suspect – their first taste of real love could go up in smoke.

Product Warnings
Contains two hot men wrestling with a shift in their sexuality, as well as a few positions probably listed in the Gay Kama Sutra. But it's not all about the hot and sweaty – especially when your previously straight life knocks on the door and comes back to visit.
Excerpt (scroll down and select tab)
Other Books
About Kaje
I live in Minnesota (where the two seasons are snow removal and road-repair, and the mosquito is the state bird, and where sometimes in winter it is so beautiful you can't breathe for gazing at it). I have been writing for longer than I care to admit, and currently am focused on writing m/m romance. I have an interview on the BookWenches site that is more biographical, for those who are interested.

My first professionally published book, Life Lessons, came out from MLR Press in May 2011. This was the first thing I had submitted anywhere and I was thrilled when it was accepted. And now I have other work in print, both free and professionally published. This writing thing is addictive. So read, comment, tell me what you like and what you don't, and help me make the upcoming books even better.

You can find out more about Kaje and her books on her blog and at Goodreads.
Contest Rules
To enter, leave a comment stating that you are entering the contest. Contest closes 7 pm CST, Monday, March 5.
By entering the contest, you're confirming that you are at least 18 years old.
If you haven't commented before, your comment will not be visible until after I moderate it. Please do not leave a second comment because your first doesn't show up! The blog gnomes will decide your comments are spam and then only ritual dust bunny sacrifice will salvage your entry…
If your comment is actually an advertisement or if your CommentLuv link turns it into an advertisement, your comment will be deleted. (Most of you do not need to worry – this refers to some pretty clever comment spam.)
Winners will be selected by random number.
You must leave a valid email address in the "Email" portion of the comment form.
Please make sure that your spam filter allows email from stumblingoverchaos.com!
If you have an email account with AOL or Netscape, I may not be able to send email to you.
If a winner doesn't respond to my congratulations email within 48 hours, I will select another winner.
If you win, please respect the author's intellectual property and don't make copies of the ebook for anyone else.
This contest is open worldwide!
---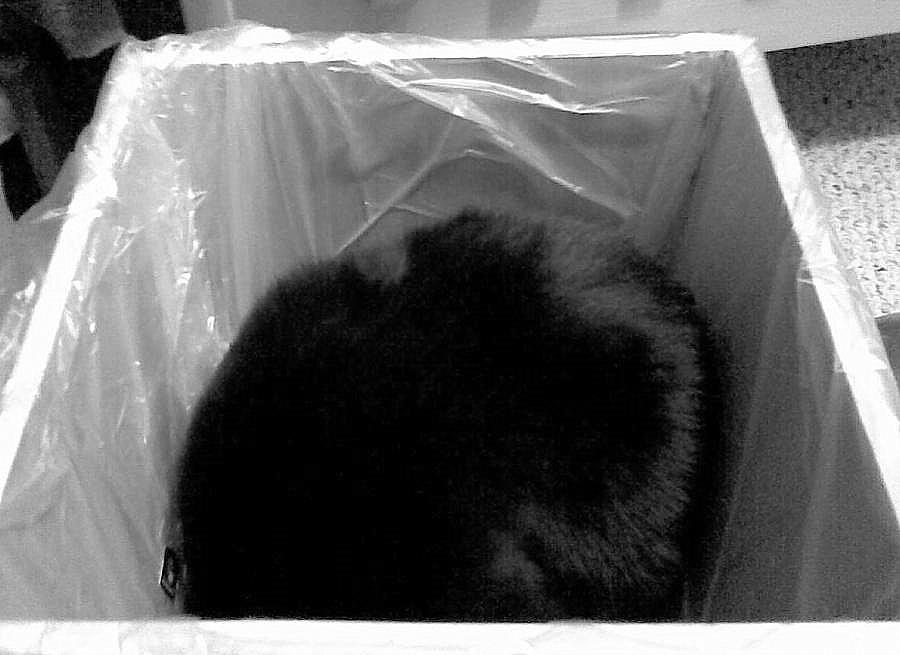 *rummaging* "Why does Mom throw away all this great stuff?! Crumpled post-its are the best thing ever!!" -Mayhem