Many thanks to Jade Archer for donating an ebook copy of her forthcoming paranormal m/m romance, Devon's Revenge (Portals #2), for a lucky commenter to win! Devon's Revenge will be released on April 11 by Total-E-Bound.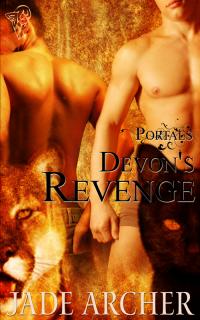 Devon never wanted to be free. He never wanted to leave the safety of the harem. Forced out of the only home he's ever known, he's cold, hungry and…angry for the first time in his life. Revenge needs to be very sweet.

Faced with an impossible choice, Devon threw away his only chance of returning to his Master and the sheltered life of a pleasure slave. Now, abandoned and abused, Devon is struggling to find his way alone in a strange new world – Earth. Being a stray certainly isn't easy, and replacing his Master is proving almost impossible. Then he meets Nate.

Nate isn't looking for a mate. He certainly didn't expect to find him in a club about to go down on another man! But something about Devon calls to him like no one ever has before. Now if he can just make sure Devon isn't the most dangerous kind of shifter – the kind that would do anything to return to their master – perhaps they can work on exploring the mutual attraction that's simmering between them, ready to explode.

Unfortunately, there are more challenges still ahead for Devon. More for Nate and Devon to face than learning secrets and earning trust with a new mate. There are enemies moving in. Some they never knew existed, and some that still haunt Devon's nightmares. And they're ready and waiting to take any chance of a happily ever after away forever.

Reader Advisory: This book is best read in sequence as part of a series.
Excerpt (scroll down and expand)
Contact series
Portals series
Sandpipers series
The Nu Hayven Chronicles
About Jade
Jade was born in 2010 after a prolonged pregnancy and labour of over thirty-four years!

Yes, she is a pseudonym. A work of my fevered imagination, which never seems to grow tired of inventing new characters. And this one's a whopper. One that seems to have taken over my life to the point I'm no longer sure where she ends and I begin! Still, it seems to be working for us.

I've decided she's about twenty-four. Enjoys long walks in the country, because she doesn't have five kids and a husband to care for. Eats as much chocolate as she wants, because she never has to worry about putting on weight (must be all those long walks!). And can often be found planning her next whirlwind world tour or endlessly typing away (without any interruptions) on another hot and steamy erotic romance. It might be space pirates; it might be shifters or a lonely vampire with a thing for the girl next door, one thing's for sure, she loves variety and can't wait to meet the next characters destined to fall in love.

You can visit Jade at her website.
Contest Rules
To enter, leave a comment stating that you are entering the contest. Contest closes 7 pm CDT, Monday, April 11.
By entering the contest, you're confirming that you are at least 18 years old.
If you haven't commented before, your comment will not be visible until after I moderate it. Please do not leave a second comment because your first doesn't show up! The blog gnomes will decide your comments are spam and then only ritual dust bunny sacrifice will salvage your entry…
If your comment is actually an advertisement or if your CommentLuv link turns it into an advertisement, your comment will be deleted. (Most of you do not need to worry – this refers to some pretty clever comment spam.)
Winners will be selected by random number.
You must leave a valid email address in the "Email" portion of the comment form.
Please make sure that your spam filter allows email from stumblingoverchaos.com!
If a winner doesn't respond to my congratulations email within 48 hours, I will select another winner.
If you win, please respect the author's intellectual property and don't make copies of the ebook for anyone else.
This contest is open worldwide!
---
"I can't believe it! Look at those two cute kitty boys up there! Mmm… cute kitty boys." -Mayhem