Congrats to Lily, who won the copy of Mobry's Dick by K.Z. Snow, which is being released today from Loose Id. (Congrats, K.Z.!)
---
It's been ages since I did a random update on my life and stray thoughts.
When last we spoke, I was worried whether the new refrigerator would arrive before the old refrigerator died.
The new refrigerator was delivered on April 29 by two guys who were unnaturally cheerful about carrying refrigerators up and down three flights of stairs at 7:30 am.
The new refrigerator is more spacious despite being smaller (I know!) and is quieter.
The kitties remain deeply suspicious of it.
On Saturday, I finally wandered over to the hardware store and picked up a patch for the screen.
I'm sure the kitties are sad about that.
Knitting? Um, what? Ok, fine. I'm nearly done with the foot of the second of my SIL's birthday socks.
Yes, her birthday was two months ago.
Give me a break – it's nearly 80F, so she's not going to be wearing wool socks for months!
I'm trying to figure out what the three sickly trees in front of our building are.
I know that they are not ashes, elms, oaks, maples, boxelders, lindens, any sort of evergreen, sycamores, gingkos, hophornbeams, cottonwoods, or aspens.
You'd think I'd get a bit further than that with a forestry degree, wouldn't you?
Quit laughing, Mel. (We have the same undergraduate degree.)
Hmm. Apparently I'll be leaving both

cat carriers

portable kitty caves out for a while. I hate to discourage this sort of behavior: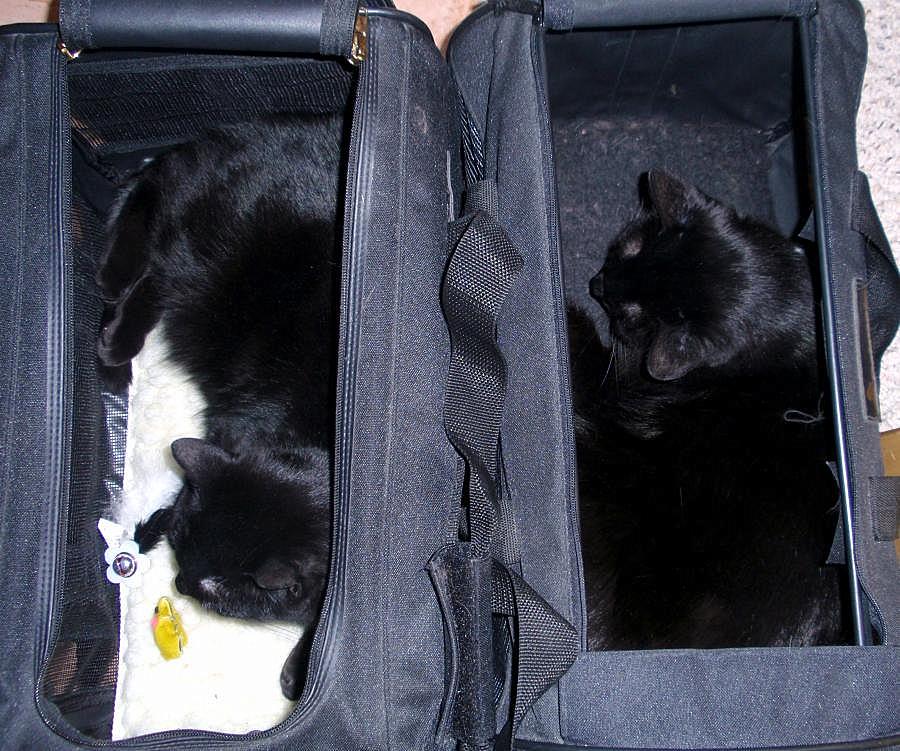 *….zzzzzz….* -Mayhem
*….zzzzzz….* -Chaos