Thanks to K. Z. Snow for donating an ebook copy of her forthcoming m/m romance, Mobry's Dick, for a lucky reader to win! This book will be released by Loose Id on May 18.
Late-19th-century illusionist Alain Mobry, a short, homely man with a clubfoot, is known primarily for his elaborate clockwork automata. But his private life is even more complex than his mechanisms. Mobry is a homosexual and a member of the Green Carnation Club, a secret gathering place for gay men of the theater. He's also dabbled in "real" magick. There are hints of it in an illusion called the Fountain of Youth – in which a beautiful youth called Puck, never seen in public, emerges from a diorama and disappears back into it – and in a profane automaton Alain has devised specifically to entertain the Green Carnation's members. He would like his creation to be for one man in particular, a fellow magician with whom he's infatuated. But he never gets the chance to offer his gift…

Over 100 years later, a peculiar item turns up at an outdoor flea market. It looks something like a blunt-nosed artillery shell to Cameron Waters, the young real estate broker who buys the piece out of curiosity. It looks like the legendary automaton known as Mobry's Dick to Paul Patrillo, a graduate student who's been researching the history of stage magic. It looks like a blessing as well as a curse when it brings the two men together.

While Cameron inches his way out of the closet and Paul struggles to free himself from a sugar daddy who'll stop at nothing to get what he wants, the unlikely pair grow closer as they tackle the mystery of Mobry's Dick – with some surprising and nearly tragic results.

NOTE: This novel-length e-book is primarily a contemporary but does have a number of historical chapters. It also contains explicit scenes of m/m sex.
M/M Romances Also Available or Soon To Be Released
Electric Melty Tingles – tba from Loose Id
Fugly – tba from Liquid Silver
About K. Z.
K. Z. Snow has published close to thirty shorts, novellas, and novels in a variety of genres and with a variety of publishers, including Ellora's Cave, Cerridwen Press, Loose Id, Liquid Silver Books, Dreamspinner Press, Changeling Press, Samhain Publishing (under a different name), and Double Dragon Publishing. At the urging of two headstrong characters, she began writing m/m romance about three years ago and fell in love with it. Her work has since been exclusively in that genre.

K. Z. lives with her boyfriend of nine years in rural Wisconsin, where she still loves all creatures great and small… except wood ticks, mosquitoes, and chicken-killing raccoons.
You can visit KZ at her blog, where you'll find more information about all of her books, including her m/f and menage titles.
Contest Rules
To enter, leave a comment stating that you are entering the contest. Contest closes 7 pm CDT, Monday, May 17.
If you haven't commented before, your comment will not be visible until after I moderate it. Please do not leave a second comment because your first doesn't show up! The blog gnomes will decide your comments are spam and then only luck and ritual dust bunny sacrifice will salvage your entry…
If your comment is actually an advertisement or if your CommentLuv link turns it into an advertisement, your comment will be deleted. (Most of you do not need to worry – this refers to some pretty clever comment spam.)
Winners will be selected by random number.
You must leave a valid email address in the "Email" portion of the comment form.
Please make sure that your spam filter allows email from stumblingoverchaos.com!
If a winner doesn't respond to my congratulations email within 48 hours, I will select another winner.
If you win, please respect the author's intellectual property and don't make copies of the ebook for anyone else.
This contest is open worldwide!
---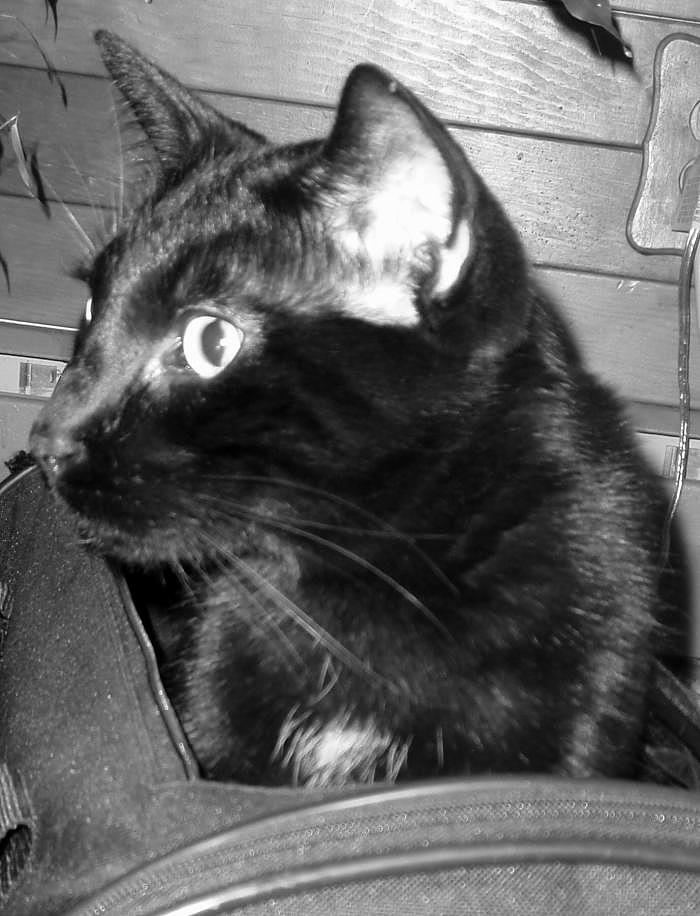 "Why are  you calling me a stealth tabby, Mom?! I am a black kitty!!" -Chaos