I knew something was up when May got on top of a cupboard and started chittering at the corner behind the microwave. Then Chaos got on top of the microwave, leapt at the corner, and fell behind the microwave stand.
Oh oh. I don't remember there being a tarry blob up in the corner like that…
Oh oh. That's not a tarry blob at all…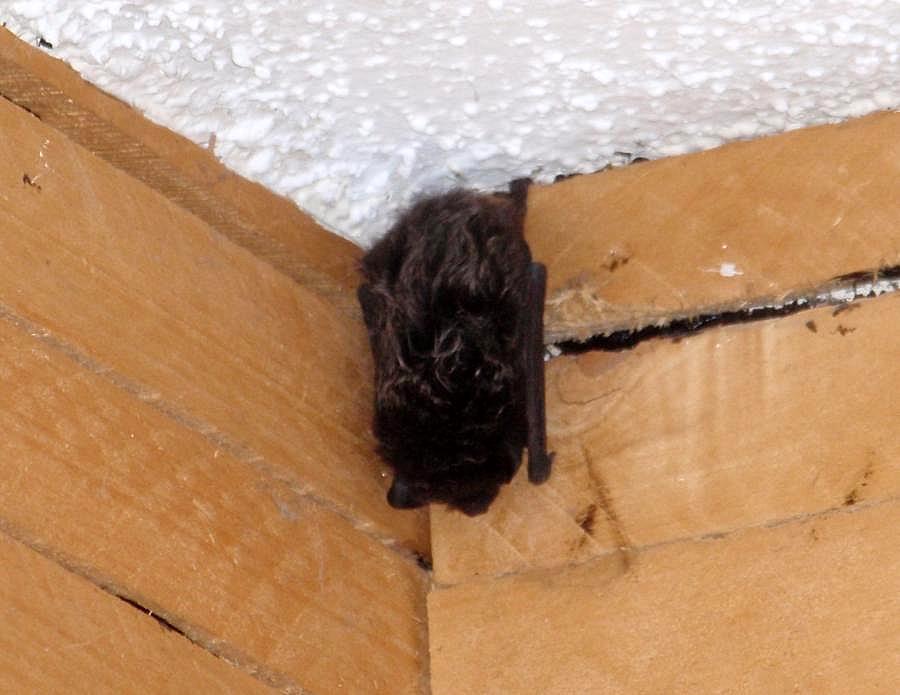 It's a bat!
Remember back in January of 2009 when a squirrel ripped a hole in my kitchen screen? I haven't been able to figure out how to get the @!*#)@(*!! screen out to take it in for repair. And, since the kitties were taking care of any bugs that wandered through the hole, I haven't been that concerned about that hole.
Until now. I'm going to get some thread and darn that hole so nothing larger than a bug can get in.
Anyway, back to the excitement. I sat down with my laptop and panicked via email to some people. (Many thanks to the calming online presences of Carolyn Crane, Bronwyn Green, Tam, and Lily, and to Jeanne who laughed her head off on the phone after everything was over.) Then I googled an article about how to get a bat out of your house.
Based on that information, I locked the kitties in the bathroom and closed my bedroom door. Armed with leather gloves and a towel, I put the towel over the bat and attempted to wrap him up. He got away and started to fly around as I hit the floor shrieking. When I looked up again, he wasn't flying anymore and I didn't know where he was.
*whimper*
By the time I figured out that the bat was in the ficus, he had taken off and started flying laps again. I crouched on the floor, trying to keep an eye on him in the living room mirror. Finally he hit the living room window and landed on the air conditioner, where I was able to drop the towel over him. (I'm glad that the article I read about removing bats warned me that he would squeak and chitter!!) Took the towel outside, tossed it on the step, and off he flew.
Whew!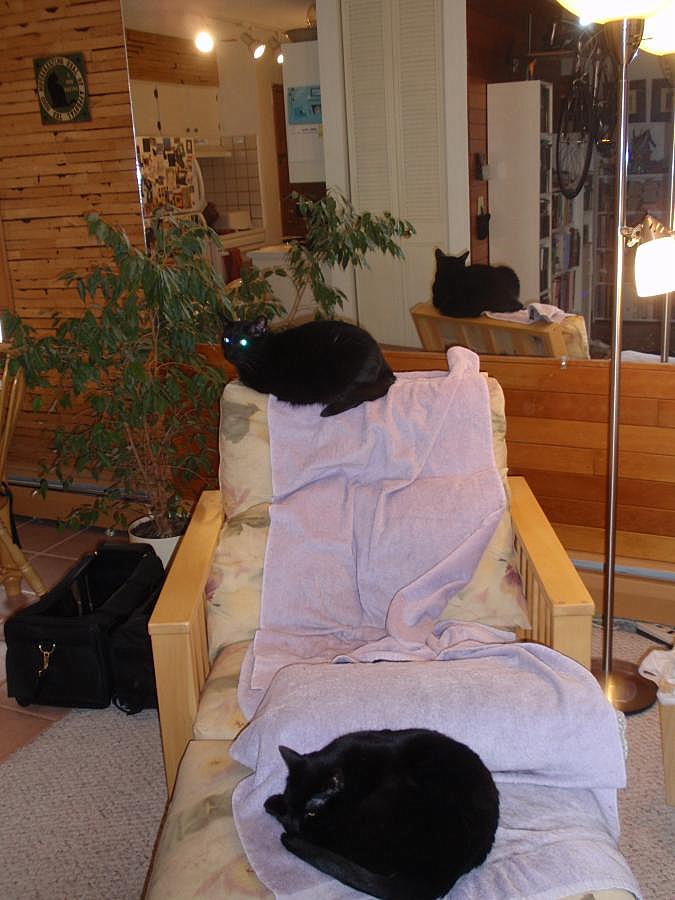 "My eyes are locked and loaded, just in case!" -Chaos
"Mom, that bug was really big and cool! You were mean to take it away." -Mayhem