Lynne is celebrating her third blogiversary with a contest! Leave her a comment (by midnight, August 24) about why you started blogging and you could win some lovely sock yarn.
Reading Update
Careful What You Wish For by Lucy Finn. A light romance about a single mom who finds a genie in the Diaper Genie… Of course the genie is sexy. Duh. 😉
The Ghost Orchid by Carol Goodman. If you haven't read one of Goodman's novels, lucky you! You have them to anticipate. This one's about a medium and some mysterious events related to a seance in 1893, which come to light more than a century later when resident artists stay at the same house. Goodman blurs past and present, reality and dream, until you're not exactly sure which is which.
The Scent of Shadows: The First Sign of the Zodiac and The Taste of Night: The Second Sign of the Zodiac by Vicki Pettersson. This series, set in Las Vegas, is about superheroes named after signs of the Zodiac, Shadow battling Light as is the way of superheroes. 🙂 It's very involving and well-written overall, although I think there's a major logic flaw…
Knitting Update
Friday afternoon I started another pair of socks – the 9-to-5 Socks. The name particularly amused me, since I was home early from work, resting for a bit more switch work that night – only midnight to 3 am this time! Woo-hoo! (Although rumor has it we have one more night of this stuff, sometime this week…)
I'm knitting these from Wool2Dye4 Supersock, as dyed by me in May.
Initially, May was more interested in the cord on my sock bag…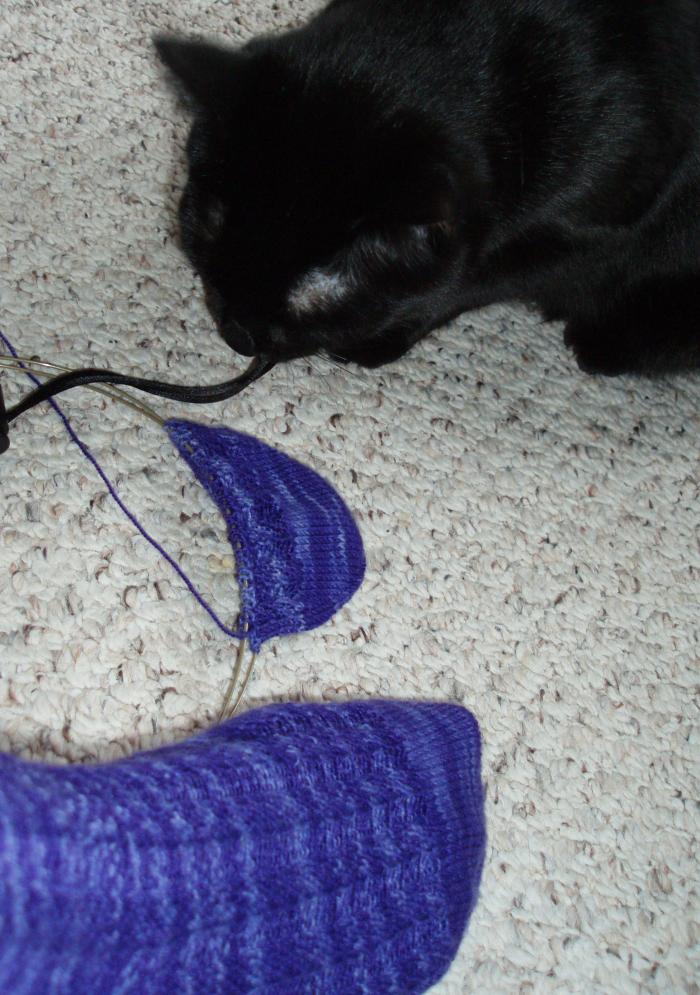 "Mmmm… rattail cord… Funny, I would've thought that rat tails had more flavor." -Mayhem
"But oh, Addi cords are ever so much chewier!!" -Mayhem
*off-camera snatching away of Addis*