Danielle needs participants for an online survey. If you have a four-year degree from a US college, you can take the survey and perhaps win a prize! (If you don't have a four-year degree from a US college, you can leave her a comment that you would've taken the survey, had you been eligible.)
The yarn I dyed on Saturday with Jeanne and Deb is finally dry! Deb even took a few pictures of the process – way to go, Deb!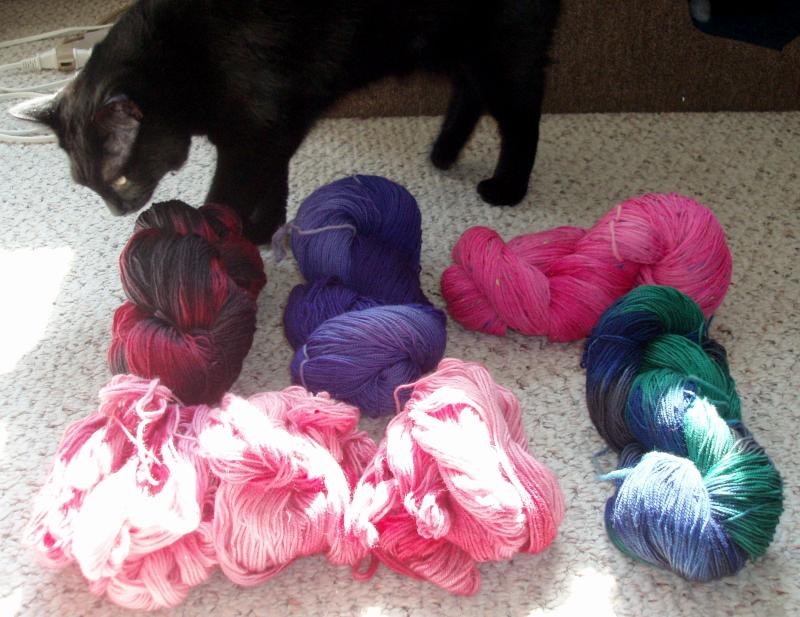 "Hmm, which flavor looks the best?" -Mayhem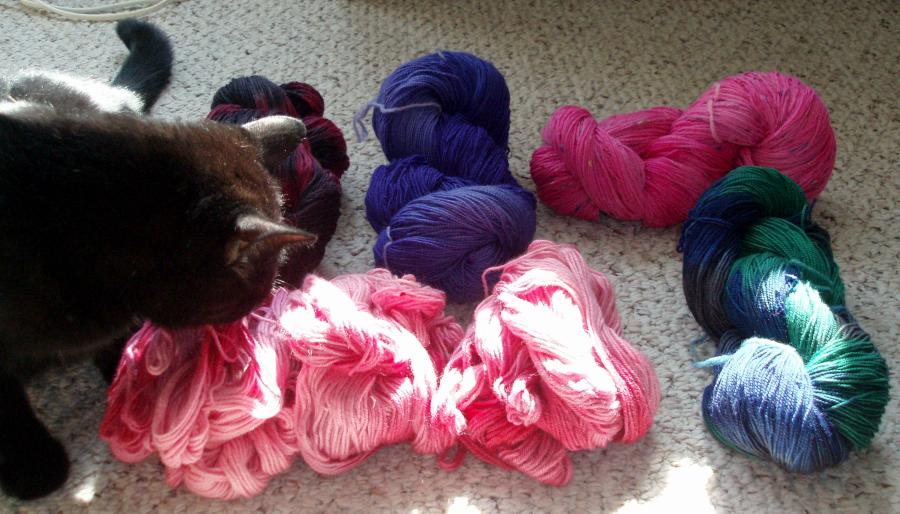 "I have selected my victim!" -Mayhem
At that point, it seemed prudent to collect my yarn and whisk it off for reskeining. The "tasty" looking yarn is rather tangled, so it'll be a project for another day. From the left, the base yarns are the KnitPicks superwash/nylon blend, two skeins of Wool2Dye4 (similar twist to Louet GEMS Pearl), and the KnitPicks superwash/nylon/speckled stuff blend. I was pleasantly surprised at how much better the KnitPicks superwash blends are than their previous non-superwash "bare" sock yarn. (Oh, and that pink skein is destined to be a contest prize, should I come up with a good idea for a contest.)
"Hey, where did that yummy yarn go?! Well, this skein looks like it might be good… if Mom doesn't snatch it away like she usually does." -Mayhem
(I did.)
"MOOOOOOOOOOOOOOOOOOOOOMMMMMMMM!" -Mayhem
Tuesday I finally bought a container for my dyes – I had them crammed into a plastic shoebox that wouldn't stay closed because it was overstuffed. This is a scrapbooking box from Target – the other side also opens (for carrying paper) and will be perfect for my color card and color wheel… when I find the very, very safe place I put them.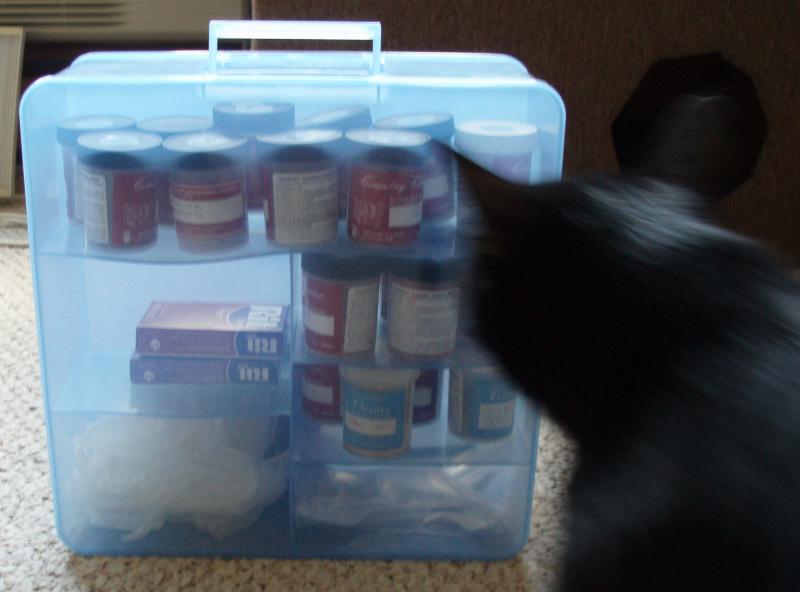 "Well, what fun is that, having all those little rollable jars shut away?" -Chaos