After a promising start to taking a lot of vacation pictures, my picture taking became quite a bit more erratic. I'll muddle along as best I can. After all, if you were desperately into cohesive narrative, you probably wouldn't be here in the first place, right? 😉
Some views from Michaele's place – see the really large REI in the second picture? I got a pair of Keens there…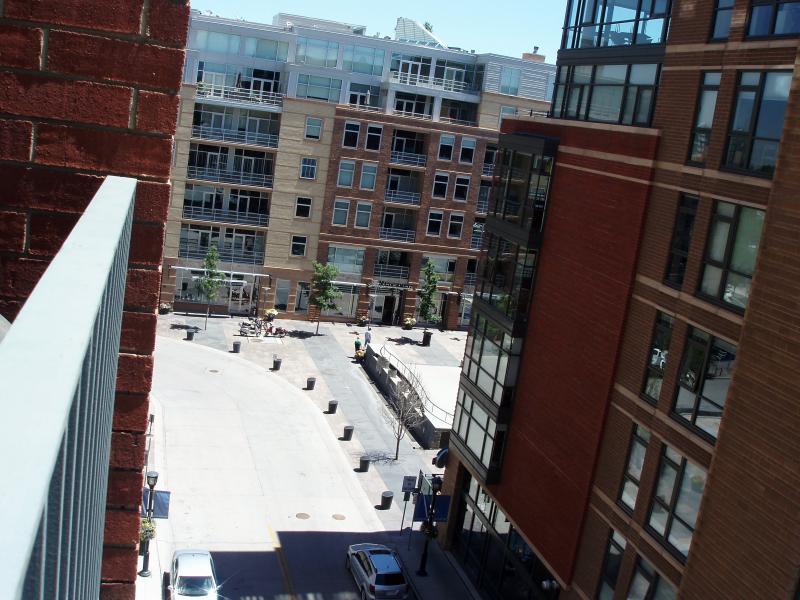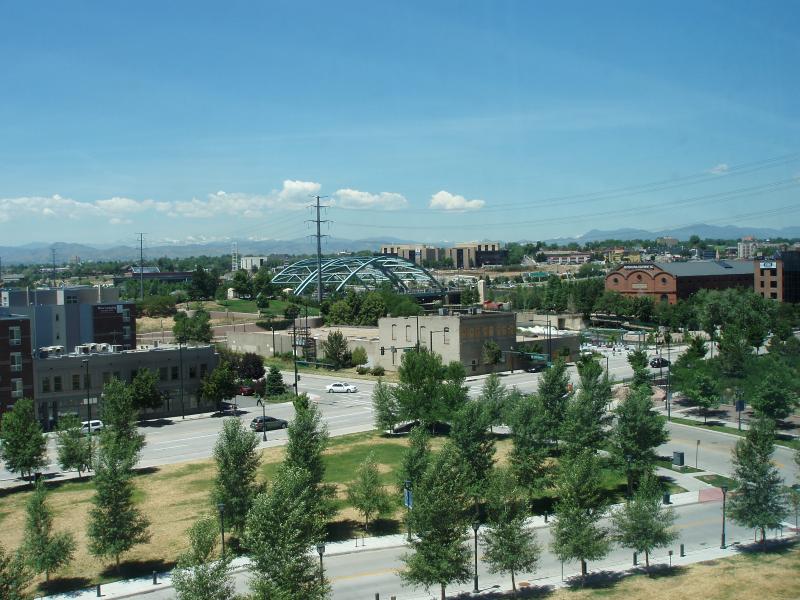 The day after the party (Wednesday, June 13), I rambled around downtown Denver in the morning. You've already seen my best pictures from that day in the Things to do in Denver when you're alive post. Then Michaele and I stopped at Fancy Tiger (where the horndribbles are plentiful), Colorful Yarns, and A Knitted Peace on our way to Buca to celebrate Stacey's birthday in the Pope Room.
I cannot sufficiently emphasize the freakiness of the Pope Room! You might remember my picture of the Pope under glass on a spinner… The womens' room at Buca was massively entertaining, but I restrained myself from spending the entire evening in there taking pictures.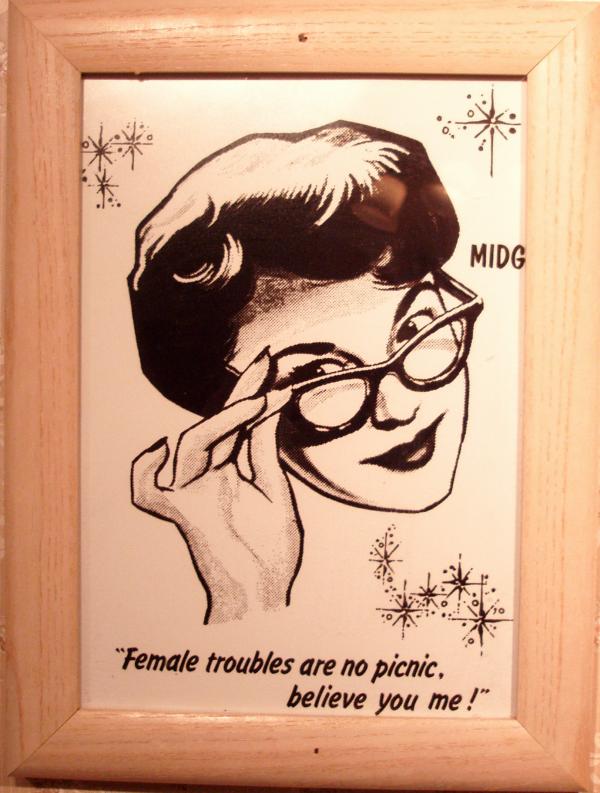 After Buca, we went back to Colorful Yarns and knit for a while with some of the folks from Stacey's party. (Yes, yes, of course I made purchases at our various stops, but you'll have to wait for the purchases post, since everything's been so muddled together now!)
Thursday the 14th, Michaele and I headed up to Boulder for a bit of morning hiking along the Flatirons. Then we wandered along Pearl Street, dining and exploring shops. You'll have to completely imagine this part, since I apparently didn't take a single picture of our idyllic day. We camped at a table outside the Bookend Cafe, next to the Boulder Bookstore, enjoying excellent people watching, conversation, and a bit of knitting. In the evening, Anne joined us for knitting and conversation before we headed back to Denver.
Friday the 15th, I wandered up to Estes Park, checked into our cabin, and headed across the street to a thrift shop while I waited for everyone else to arrive. I think I was meant to go to that shop. What do you think?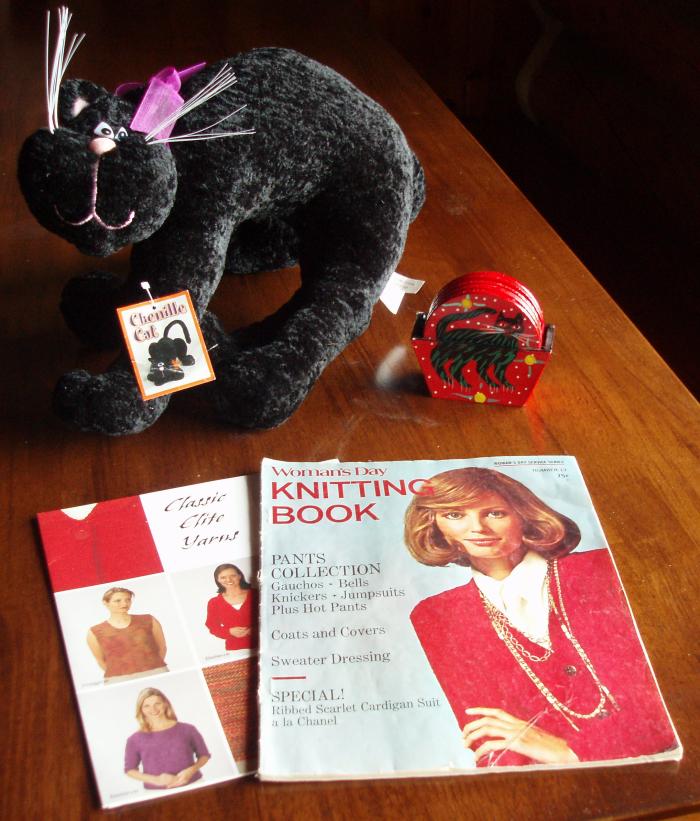 The chenille black cat, black cat coasters, knitting pattern and booklet, and eight vintage Estes Park postcards (not pictured, because they were ready to be mailed) set me back a whopping $2.15.
Ok, more on Estes later – this has gone on long enough!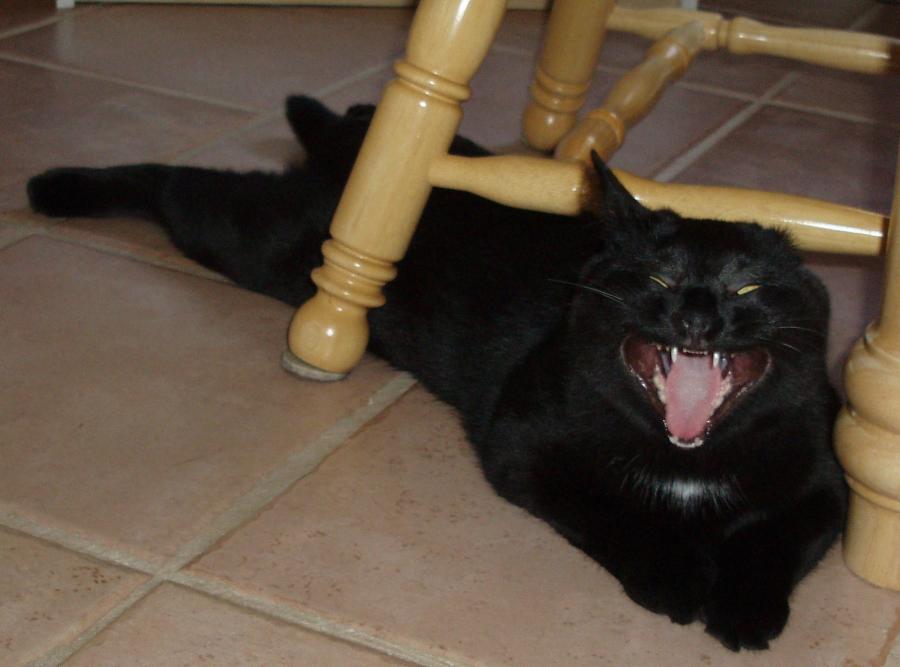 "Look, Mom, no cavities (or paper)!" -Mayhem