…but I'm not holding my breath. Blue's not a good look for me. 😉
Want to win a copy of The Mammoth Book of Paranormal Romance? Leave a comment letting author Meljean Brook know what your favorite short story is.
Leave a comment at Largehearted Boy by midnight CDT, April 24, for your chance to win a copy of the Wilco dvds Ashes of American Flags and I Am Trying To Break Your Heart, plus "an assortment of surprise books and cds."
Nicole's giving away books 3-6 of J.R. Ward's Black Dagger Brotherhood to someone who doesn't mind covering media mail postage. I recommend this series to any vampire romance aficionados.
Leave a comment at Darque Reviews by the morning of April 28 for your chance to win copies of Jocelynn Drake's books Nightwalker and Dayhunter.
A Braille ebook reader – very cool!
Arrrr – I'm sure you've all been waiting for The Guide to Pirate Parenting, right? Especially Deb. Deb lurves pirates. Probably you should all go and leave your very best piratey comments for her right now. I'll wait. (No need to thank me, Deb. Really.)
The Top 10 Lies of the Romance Novel Hero/Heroine. *snort*
Listen to Alan Rickman reading Sonnet 130.
Listen to Neil Gaiman read his lovely book The Blueberry Girl, which I think is a wonderful book to give to the parents of daughters.
Reading Update


The Darkest Pleasure (Lords of the Underworld, Book 3) by Gena Showalter. And now I wait until the fourth book comes out in a few months… Is it out yet? No? How about now?


Soul Song,

The Last Twilight, and

The Wild Road (Dirk & Steele, Books 6-8) by Marjorie M. Liu. The Wild Road was a reread and I have to say I got a lot more out of it after reading the preceding books! I'm really enjoying this well-done series about the paranormal detective agency of Dirk & Steele and again, I wait for the next book. *taps foot*


Bone Crossed (Mercy Thompson, Book 4) by Patricia Briggs. This continues to be an excellent urban fantasy/paranormal romance series about coyote shifter Mercy and the other paranormal denizens of the Tri-Cities area (most of whom seem to have grudges against Mercy).


Everlasting Bad Boys by Shelly Laurentson, Cynthia Eden, and Noelle Mack. I couldn't get into the dragon story by Shelly Laurentson, so I didn't read it. The witch'n'demon story by Cynthia Eden was ok. The story by Noelle Mack about a man made of electricity was so punny, it was a bit painful.


You're So Vein (The Others, Book 7) by Christine Warren. Speaking of punny… fortunately, the punniness here doesn't extend beyond the title. If you've been keeping up with Christine Warren's Others, this is a solid addition to the series. And you'd be right that this one focuses on vampires. 🙂


Caught (Gemini Men) by Jami Alden. This is the first in what will be three scorching hot romantic suspense novels about the three Taggert brothers who run Gemini, a security and private investigation agency.


Succubus Dreams (Georgina Kincaid, Book 3) by Richelle Mead. This continues to be a good series about Seattle succubus and bookstore manager, Georgina Kincaid. I got very sniffly at the end.


Don of the Dead (Pepper Martin Mysteries, Book 1) by Casey Daniels. Fashionista Pepper Martin sees dead people. Dead people who can't rest easily because they have unfinished business they need resolved. A good start to an intriguing series, with the requisite two elusive love interests – one a cop, one not.


You Don't Know Jack by Erin McCarthy. This is one of McCarthy's fun contemporary romances, with absolutely no paranormality in sight.
Private Lies by Amy Eastlake. This romantic suspense ebook was a freebie download. Choppy, some plot holes, and definitely could've used some editing and formatting… but I did get sucked into the story about a CIA operative, hackers, and terrorists.
Black Cat by Cat Johnson. Freebie download paranormal romance ebook short story that was kinda cute in a steamy sort of way.
Enforcer and Reluctant (Cascadia Wolves, Books 1-2) by Lauren Dane. Very steamy ebook series about a pack of werewolves in Washington State.
---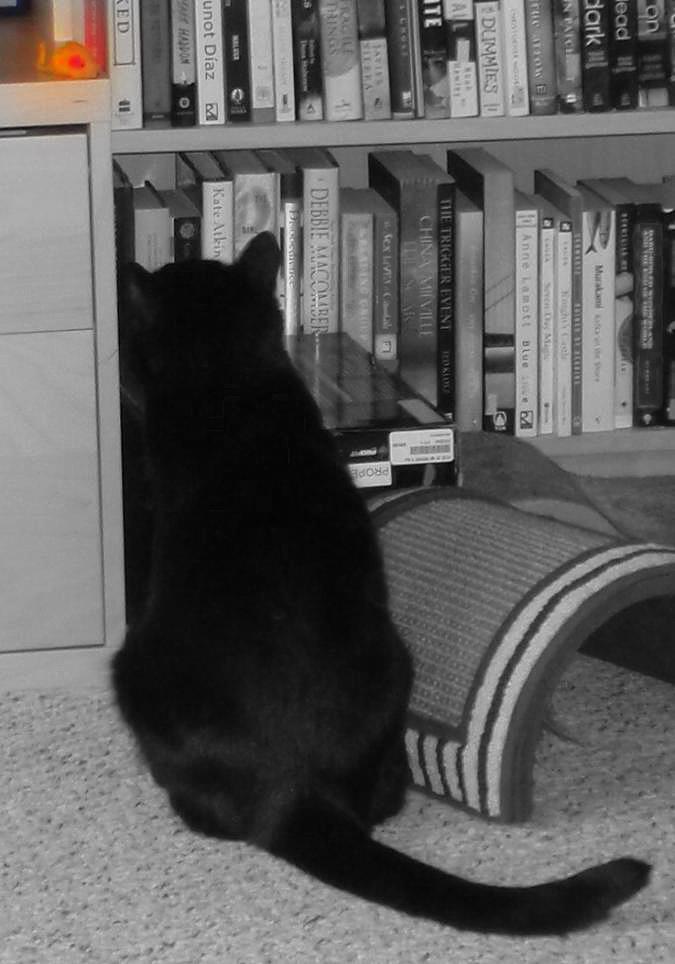 *mouse mouse mouse mouse mouse mouse mouse* -Mayhem