Now and again I've taken some grief about knitting bibs for baby gifts (let's ignore the fact that using the cats as models for the bibs might contribute to that, shall we?), but I finally have proof that a knitting parent who received a few bibs as a gift was inspired to knit more bibs! Really, what better evidence could there be? (Yes, you have seen the bibs in the linked post before…)
Saturday was gorgeous here – sunny and +60F. Most of the snow has melted. Unfortunately, it melted so fast that the ground is still frozen, so you end up with scenes like this: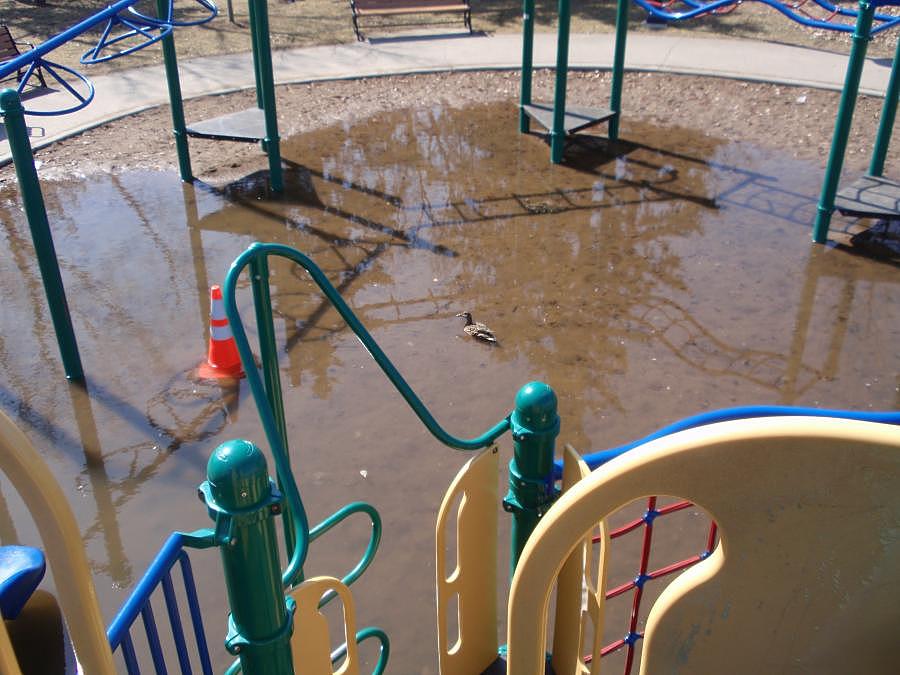 Yes, that is a mallard swimming around the playground. I totally wouldn't recommend going down the slides, which each had eight inches of water at the bottom (and a fine layer of mud immediately below that). We shall not even speak of the snow that's predicted for tonight and tomorrow.
Reading Update
Tall Tales and Wedding Veils by Jane Graves. Definitely recommended for CursingMama and anyone else who enjoys a well-done contemporary romance. It even had me sniffling near the end.
Happy Hour at Casa Dracula and Midnight Brunch (Casa Dracula, Books 1-2) by Marta Acosta. Funny, snarky, and delightful. I wouldn't actually classify this as paranormal romance – they have more of a chicklit sort of feel. Definitely recommended. (I will neither confirm nor deny that I got a little sniffly near  the end of Midnight Brunch.)
Riding on Instinct by Jaci Burton. I won an advance reading copy of this book at Nalini Singh's blog last month. This is the third book in Burton's "er0tic romance" series about the Wild Riders, a group of bikers based in Dallas who work undercover for the government. In this book, the Riders are supporting a federal agent who's working as a stripper in New Orleans, trying to find a rogue agent involved with Colombian drug runners. Burton can definitely write, but I need a little more story to support all the steam!
Kiss of a Dark Moon (Moon Chasers, Book 2) by Sharie Kohler. Um, the best part of this book was the Nathan Kamp cover. It's a paranormal romance about evil werewolves and the people who hunt them. So-so writing, but there's a big oversight a few pages from the end of the book that pretty much ruined it for me.
Mortal Sins (World of the Lupi, Book 5) by Eileen Wilks. This continues to be a well-written series, more urban or paranormal fantasy than romance. The main characters are FBI Agent Lily Yu and werewolf prince, Rule Turner. The series is complex and compelling. Recommended – and read it order, dammit. 😉
"A Dream of Stone & Shadow" by Marjorie M. Liu, from Dark Dreamers. A nice Dirk & Steele short story.
Date with a Devil by Anne Stuart, Cherry Adair, and Muriel Jensen. A merely ok collection of romance short stories.
Night Secrets by Cherry Adair. More T-FLAC wizards. Yum.
Dead Sexy and A Body To Die For (Harlequin Blaze) by Kimberly Raye. Hee hee – hunky vampire cowboy bikers who survive more on s3x than on blood! (Come on, you know I'm a sucker for the silliness of some of this stuff, right?) Usually I complain about people on the cover having tattoos that they don't have in the book, but in both of these, it's the opposite. Very rare.
Thai Die: A Needlework Mystery by Monica Ferris. Betsy Devonshire and friends are back, solving mysteries out of Betsy's Excelsior, Minnesota, knitting and needlework shop. This was an ok addition to the series.
---
Things are going to continue to be cloudy and cool and rainy (maybe some snow on Wednesday) for the next several days, so I think Chaos has decided to hibernate. Wish I could join him.
*…zzzzzzz…" -Chaos