Many thanks to Piper Vaughn for donating an ebook copy of her forthcoming m/m romance, Hook, Line, & Sinker (Hard Hats #2), for a lucky commenter to win! Hook, Line, & Sinker will be released by Dreamspinner Press on November 19.
When they were teens, Castor McCormick was the bane of Blake Kowalski's existence. Their mutual animosity led to summers filled with rivalry. Now, nearly two decades later, Cas is moving back into the neighborhood to live in his grandmother'' old house. Blake tells himself he isn't interested in seeing how snarky little Cas grew up, but when his mother dupes him into visiting his former nemesis, he finds out "pretty" can evolve into "sexy as hell" on the right man.

Cas didn't think he wanted to see Blake again. No one has ever pushed his buttons like the arrogant boy he remembers from their youth. Turns out, the adult version of Blake still gets him hot under the collar – and everywhere else. With Blake on leave from work to nurse an injured leg and Cas taking time to move and unpack, they form a tentative friendship that turns into a sexual affair neither man can deny. But when Cas's job sends him out of state to deal with a difficult client, their new relationship will be tested, and if they fail, Blake's broken leg might not be the only thing to end up scarred.
About Piper
Piper Vaughn wrote her first love story at eleven and never looked back. Since then, she's known that writing in some form was exactly what she wanted to do. A reader at the core, Piper loves nothing more than getting lost in a great book – fantasy, young adult, romance, she loves them all (and has a thousand book library to prove it!). She grew up in Chicago, in an ethnically diverse neighborhood, and loves to put faces and characters of every ethnicity in her stories, so her fictional worlds are as colorful as the real one. Above all, she believes that everyone needs a little true love in their life…even if it's only in a book. You can find out more about Piper at her website, Facebook, Twitter, and joint blog with M.J O'Shea.
Contest Rules
To enter, leave a comment stating that you are entering the contest. Contest closes 7 pm CST, Monday, November 17.
By entering the contest, you're confirming that you are at least 18 years old.
If you haven't commented before, your comment will not be visible until after I moderate it. Please do not leave a second comment because your first doesn't show up! The blog gnomes will decide your comments are spam and then only ritual dust bunny sacrifice will salvage your entry…
If your comment is actually an advertisement or if your CommentLuv link turns it into an advertisement, your comment will be deleted. (Most of you do not need to worry – this refers to some pretty clever comment spam.)
Winners will be selected by random number.
You must leave a valid email address in the "Email" portion of the comment form.
Please make sure that your spam filter allows email from stumblingoverchaos.com!
If a winner doesn't respond to my congratulations email within 48 hours, I will select another winner.
If you win, please respect the author's intellectual property and don't make copies of the ebook for anyone else.
This contest is open worldwide!
---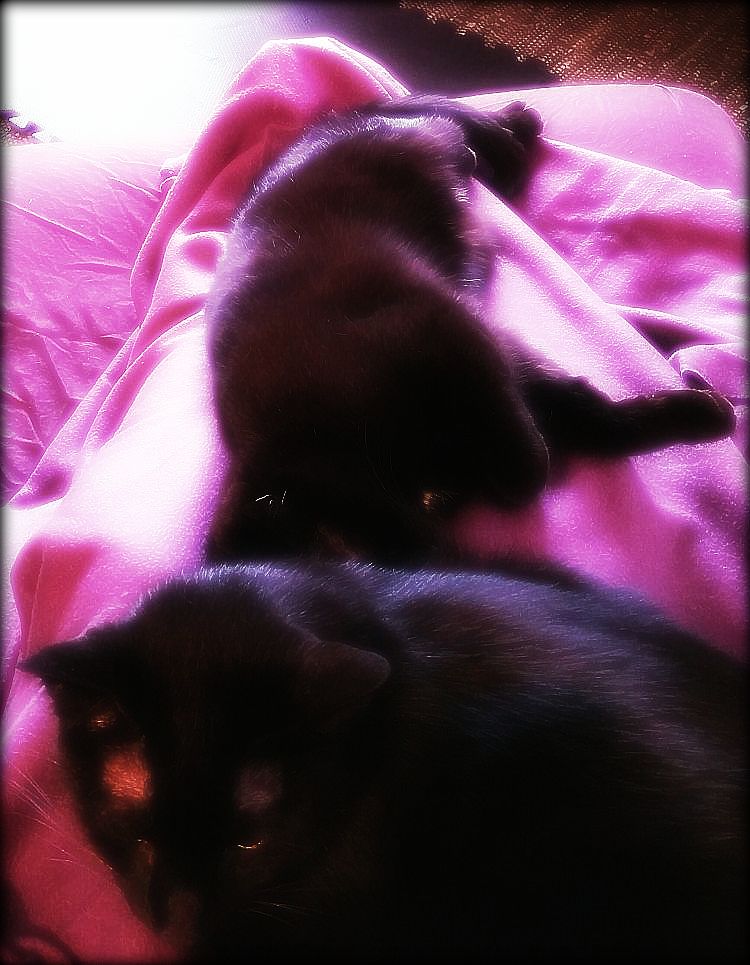 "Hmph. Mayhem is hogging all the space on Mom's legs. It's not fair." -Chaos

"…zzzzzzzzzzzzzzzzzzzzzzzzzzzz…" -Mayhem