---
---
Congrats to Maya, who won Twenty Thousand Leagues Under the Sea by Jules Verne & Marie Sexton! Twenty Thousand Leagues Under the Sea was released yesterday by Total-E-Bound.
Congrats to Cornelia, who won The Bacchi by Belinda McBride! The Bacchi is being released today by Loose Id.
---
---
Many thanks to Devon Rhodes for donating an ebook copy of the forthcoming m/m romance anthology Unconventional At Best, which contains stories from Devon, Carol Lynne, Amber Kell, T.A. Chase, Jambrea Jo Jones, and Stephani Hecht, for a lucky commenter to win! Unconventional At Best will be released on August 6 by Total-E-Bound. (Edited to add: Thanks to Stephani Hecht for donating a second ebook!)
A New Normal by Carol Lynne
You never forget your first love, but what if your first love never forgot you…and orchestrated an unconventional reunion?
Less than a year after the death of his wife, musician Charlie Foster agreed to perform at a convention in Albuquerque, New Mexico. He thought getting away from New York for a few days would be good for him, but he didn't expect to see the first person he'd ever fallen in love with.

Jake Pierson gave his heart to Charlie when he was barely fifteen years old. As best friends, Jake believed he and Charlie would be together forever, but when Charlie took the easier path in life, Jake was left to deal with a future without the man he loved.

Jake knew tricking Charlie into performing at a conference he'd helped organise was low-handed, but he had a promise to keep and a future to build.

Convention Confusion by Amber Kell
Dressing up as a girl can sometimes win you the man of your dreams.
Billy Ferris has adored Jennvian Fellows comics since he read the first edition. When the chance to meet the illustrator comes up he accepts his friends help to dress as his favourite character, space pirate female Kixie.

Little does he know that Jenn not only prefers men but is looking for the mate of his dreams to take back to his home world. Will Billy be able to show his true self and capture the man of his not-so-pure dreams.

Ninja Cupcakes by T.A. Chase
Ethan's special talents and cupcakes bring him the love of his life.
Ethan Gallagher loves to bake, and his cupcakes are known throughout his area as being the best. When he agrees to do the desserts for a sci-fi convention his brother is putting on, Ethan gets a chance to realise his biggest fantasy.

One of the panelists is Callum MacLaughlin, a man Ethan's been lusting after since they'd met four years ago. Ethan discovers Callum will be there, and he decides it's time to make his move on the astrophysicist.

With the help of some special cupcakes, Ethan makes not only his dream come true, but the hopes of his brother and his best friend as well.

Operation: Get Spencer by Jambrea Jo Jones
Even if superpowers were real—Benjamin still might not get his man.
Benjamin and Spencer are spending the day at Comi-Con. Spencer is a comic geek and Benjamin would follow him anywhere. The only problem?

Spencer thinks Benjamin is straight and Benjamin just realized he is in love with his best friend. Is a day enough for Benjamin to convince Spencer that his love is more powerful than a locomotive and that it hit him faster than a speeding bullet? Tune in to find out if Benjamin saves the day.

Fan-Tastic by Stephani Hecht
Everybody knows the best lovers are geeks.
It's time again for the annual Comic Book and Horror Convention. Normally, Deke liked to avoid these things. While he may be a well-known actor, he wasn't hunky or a beefcake and he was always overlooked. In fact, most people like to call him 'the geek of geeks'. But, the producers of his popular TV series don't care and they order Deke to go. So, while he knows he won't have any fun he has no choice but to attend.

Blake harboured a crush on Deke even before the other man became famous. When he finds out that Deke will be at the convention, Blake knows he has to attend as well. Since he is trying to promote his own comic, Blake decides that he can mix a little business with his fun.

To Blake's dismay, not only does Deke not remember him, but the actor refuses to believe that Blake could have any romantic feelings for a geek. Blake decides that he can't let this opportunity slip through his fingers, though. He may have given up on Deke all those years ago, but not this time. Will Blake be able to convince Deke to give him a chance? Or will the final credits roll before they find love?

Rough Awakening by Devon Rhodes
When Mario sets out to find a roommate for the convention, little does he know he'll end up finding much more.
Is there anything worse than learning you have to share a hotel room with your ex-boyfriend and his new love? Mario has to scramble to find someone else to share with and ends up reconnecting with a sexy acquaintance…in more ways than one.

Jordan remembers Mario from two conventions ago and goes along with his need to find a roommate. Sparks fly between them from their first phone call and everything looks more than promising for a very memorable convention.

But when two tops tango, which one is guaranteed the lead? It ends up being a rough awakening for one of these alpha athletes…
Contest Rules
To enter, leave a comment stating that you are entering the contest. Contest closes 7 pm CDT, Monday, August 6 Sunday, August 5.
By entering the contest, you're confirming that you are at least 18 years old.
If you haven't commented before, your comment will not be visible until after I moderate it. Please do not leave a second comment because your first doesn't show up! The blog gnomes will decide your comments are spam and then only ritual dust bunny sacrifice will salvage your entry…
If your comment is actually an advertisement or if your CommentLuv link turns it into an advertisement, your comment will be deleted. (Most of you do not need to worry – this refers to some pretty clever comment spam.)
Winners will be selected by random number.
You must leave a valid email address in the "Email" portion of the comment form.
Please make sure that your spam filter allows email from stumblingoverchaos.com!
I am not able to reliably contact people with aol.com and netscape.com email addresses – please use a different email address if at all possible!
If a winner doesn't respond to my congratulations email within 48 hours, I will select another winner.
If you win, please respect the author's intellectual property and don't make copies of the ebook for anyone else.
This contest is open worldwide!
---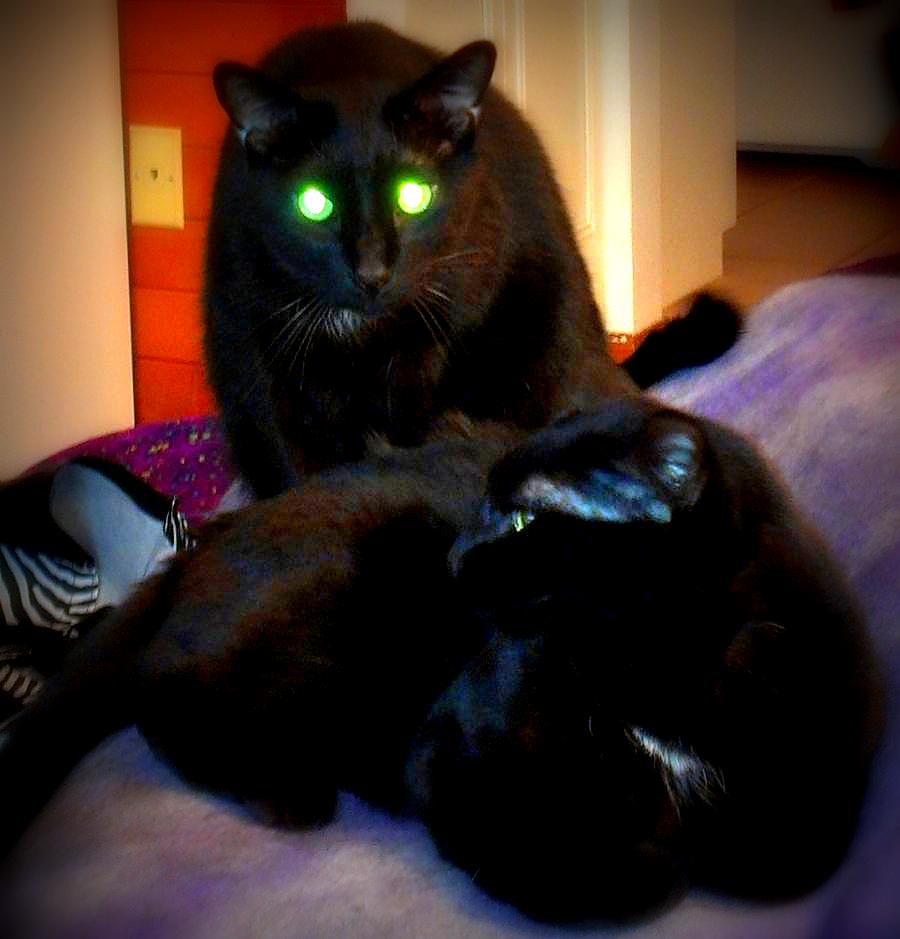 "Target acquired. Lasers activating in 5…4…3…" -Chaos
"Don't be silly, big kitty. I think you can wait 10 more minutes for dinner!!" -Mayhem