Many thanks to Elizabeth Noble for donating an ebook copy of her forthcoming scifi m/m romance, Strays, for a lucky commenter to win! Strays will be released by Dreamspinner Press on September 7.
Kyle Anderson grew up with the lie that he was one of the last humans born. Then Kyle's quiet, lonely life as a research assistant and student is shattered when he discovers the government has been lying to the world for more than twenty years. Now on the run from authorities who would kill for his silence, Kyle is taken in by Daniel Shanks, a member of a militia group dedicated to discovering the truth.

Daniel has seen death and violence in this new, radically changed society, and the closer he gets to Kyle, the harder his fears ride him. They will need to stop listening to the lies told by the government and start facing the lies they've been telling themselves, because the only place strays like them may be safe in this uncertain world is in each other's hearts.
Also by Elizabeth
About Elizabeth
Elizabeth Noble started telling stories before she actually knew how to write and her family was very happy when she learned to put words on a page. Those words turned into fan fiction that turned into a genuine love of M/M romance fiction. Being able to share her works with Dreamspinner is really a dream come true. She has a real love for all things sci-fi, futuristic, supernatural and a bit of an unnatural interest in a super-volcano in Wyoming.

Elizabeth has three grown children and is now happily owned by three mutts, a foster mutt and two cats. She lives in her native northeast Ohio. When she's not writing she's working as a veterinary nurse, so don't be surprised to see her men with a pet or three. When at work she meets all sorts of interesting characters that often find their way into some story or another.

You can find out more about Elizabeth and her books at her website, her LiveJournal, and Facebook.
Contest Rules
To enter, leave a comment stating that you are entering the contest. Contest closes 7 pm CDT, Tuesday, September 6.
By entering the contest, you're confirming that you are at least 18 years old.
If you haven't commented before, your comment will not be visible until after I moderate it. Please do not leave a second comment because your first doesn't show up! The blog gnomes will decide your comments are spam and then only ritual dust bunny sacrifice will salvage your entry…
If your comment is actually an advertisement or if your CommentLuv link turns it into an advertisement, your comment will be deleted. (Most of you do not need to worry – this refers to some pretty clever comment spam.)
Winners will be selected by random number.
You must leave a valid email address in the "Email" portion of the comment form.
Please make sure that your spam filter allows email from stumblingoverchaos.com!
If a winner doesn't respond to my congratulations email within 48 hours, I will select another winner.
If you win, please respect the author's intellectual property and don't make copies of the ebook for anyone else.
This contest is open worldwide!
---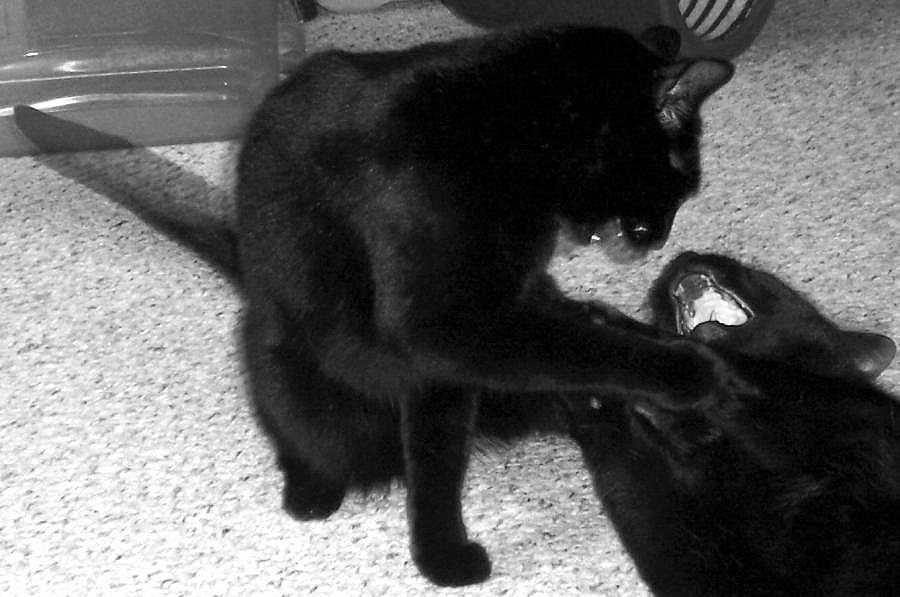 "Take that, big kitty!" *smack* -Mayhem
"I'm going to bite off your whiskers, May!" -Chaos