It's time for Jane's Fourth Annual Show Me Your Socks Contest! Check out the details and drool over the gorgeous prizes (sock yarn, of course) donated by Numma Numma. Contest closes at midnight EDT, September 28.
BrainyLady Alison's giving away a copy of Mason-Dixon Knitting Outside the Lines. For your chance to win, leave her a comment (by September 29) about what your favorite knitting book was this year.
Sarah's having her preemie hat knitting contest – sign up on her blog if you'd like to knit some preemie hats.
Yesterday's post inspired Michaele to share this link to a short video about the very cool bike racks former Talking Heads' frontman David Byrne designed for New York City. Thanks, Michaele!
On Saturday, September 27, the Smithsonian is sponsoring Museum Day – you can "enjoy free general admission for you and a guest to hundreds of museums and cultural venues nationwide." Some of the participating locations in Minnesota include the Minnesota Zoo and the Minnesota Landscape Arboretum.
If I had seen these signs, I probably would've been laughing too hard to take pictures…
Can't you just picture Mayhem in this particular lol? (Although I suspect that a kung fu mouse would make her very happy!) I thought these two lolz went well together.
Last weekend, Lifehacker's Ungeek to Live column was about how to fit reading into your life.
Ewwwwww! Clever, though.
So, what's your personal fairy? Jeanne thinks mine is the parking fairy. Can't argue there – I'm always bemused when I don't get rockstar parking, because it so often just happens. I could also make a case for the book fairy. Here's an example – when I embarked on my rereading of all the Dark-Hunter/Dream-Hunter novels project last week, I used the Minneapolis Public Library catalog to figure out how to get all the books via the minimum number of close libraries. Over two days, I stopped at four different libraries (all within four miles of me): Walker, Hosmer, Washburn, and Linden Hills. As I was driving down 50th Street from Washburn to Linden Hills for the last few books, I had the twitchy urge to stop at the Paperback Exchange (not one of my usual haunts). They had a single Dark-Hunter novel, which I purchased even though my list showed it to be at the Linden Hills Library. When I got to Linden Hills, guess which Dark-Hunter novel was not to be found? Yup. I get that little twitchy urge for both used bookstores and thrift stores and it's usually right on target.
Have a great weekend, everyone!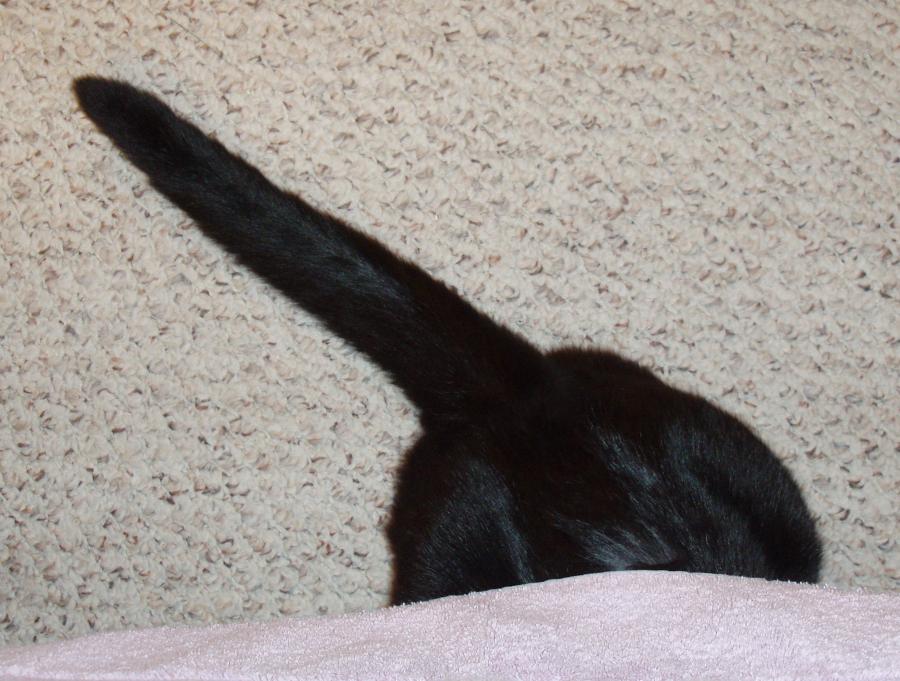 "Go away! Quit pretending you can see me!!" -Mayhem