Congrats to Lisa O, who won Call Me Sir, Boy! by Kim Dare! Call Me Sir, Boy! is being released today by All Romance Ebooks as part of its Perfect Strangers series.
---
Many thanks to Amy Lane for donating an ebook copy of her forthcoming paranormal m/m romance, Yearning (Green's Hill Werewolves, Book 1), for a lucky commenter to win! Yearning will be released by Torquere Books on Saturday, February 12, and this contest closes at 7 pm CST, February 11 – so hurry if you want to enter!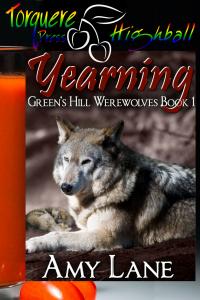 Teague's in the game for redemption, and Jack's in the game for Teague. Can they both get what they need at Green's Hill?

Jack and Teague are human 'hunters', who have been recruited to work as liaisons between the preternatural world of Green's Hill and the ignorant humans that surround it. Teagues in the game for redemption – and Jack's in the game for Teague.

Teague Sullivan is damaged and haunted – and about the loneliest man Jack has ever met. But Jack sees beyond his scars and his gruffness to kind and valiant man underneath. Unfortunately, Teague sees beneath Jack's overtures to the naive, green idealist, and although Teague loves him, he makes it clear that a scarred old dog like himself will never be good enough for a sweet young pup like Jacky.

While the argument's raging, Jack is injured in the line of duty and the two hunters are abruptly sucked into the paranormal world that they've been defending.  Teague is forced to reevaluate everything he's believed about the two of them. He may be old and damaged, but that doesn't mean he can let his Jacky go somewhere without him, does it?

(Be aware that future books in this series contain m/m/f menage.)
Other Books
About Amy
Amy Lane works an EDJ, mothers four children, and writes the occasional book. She, her brood, and her beloved mate, Mack, live in a crumbling mortgage in Citrus Heights, California, which is riddled with spiders, cats, and more than its share of fancy and weirdness. Feel free to visit her at her blog and her website, where she will ride the buzz of receiving your e-mail until her head swells and she can no longer leave the house.
Contest Rules
To enter, leave a comment stating that you are entering the contest. Contest closes 7 pm CST, Friday, February 11.
If you haven't commented before, your comment will not be visible until after I moderate it. Please do not leave a second comment because your first doesn't show up! The blog gnomes will decide your comments are spam and then only ritual dust bunny sacrifice will salvage your entry…
If your comment is actually an advertisement or if your CommentLuv link turns it into an advertisement, your comment will be deleted. (Most of you do not need to worry – this refers to some pretty clever comment spam.)
Winners will be selected by random number.
You must leave a valid email address in the "Email" portion of the comment form.
Please make sure that your spam filter allows email from stumblingoverchaos.com!
If a winner doesn't respond to my congratulations email within 48 hours, I will select another winner.
If you win, please respect the author's intellectual property and don't make copies of the ebook for anyone else.
This contest is open worldwide!
---
"Wicked? Moi?! Look at how well-mannered and refined I am!" -Chaos