Many thanks to Jessica Jarman for donating an ebook copy of her freshly released m/m romance, Nothing Serious, for a lucky commenter to win! (While this is the fourth book in Jessica's Bound series, you do not need to read the other, non-m/m books first.)
Aaron Stevens likes his life the way it is. As a surgical resident, he is perfectly content with the fact that the precious hours he has outside the hospital revolve around taking care of his mother and sister. He doesn't have the time or inclination for a serious relationship. So the fact his lover lives halfway around the world and is fine with jetting off to exotic locales a couple times a year for a few weeks of hot sex is as close to perfect as he can get.

The last thing Jack Hayes ever expected when his best friend got involved with an American was to hook up with her son. And he sure as hell never imagined it would continue for as long as it has. For years, he has been at Aaron's beck and call, satisfied with submitting to him whenever Aaron and his busy life allow. But, after a change in his family's company that has him looking for a new job, and possibly moving, Jack has begun to examine what he really wants in life and isn't sure stolen moments here and there are enough anymore.

When Jack arrives to attend Aaron's sister's wedding, keeping what he and Aaron have a secret begins to take its toll. Aaron is unwilling to come out to his family, afraid of hurting them and ruining what should be the happiest the closer he comes to losing everything.
Excerpt (scroll down)
About Jessica
Jessica Jarman is an author, blogger and rather obsessive fangirl. Having grown up in Upper Michigan and currently living in Minnesota, she's a Midwestern girl through and through. And wouldn't have it any other way.

When Jessica's not working to get words on the page, she passes the time with her amazing husband and four children, attempting to be crafty (and failing miserably), squeeing uncontrollably over my favorite shows or curling up with a good book. You can find out more about Jessica and her books at her website, blog, Facebook, Twitter, Tumblr, and Goodreads.
Contest Rules
To enter, leave a comment stating that you are entering the contest. Contest closes 7 pm CDT, Friday, October 2.
By entering the contest, you're confirming that you are at least 18 years old.
If you haven't commented before, your comment will not be visible until after I moderate it. Please do not leave a second comment because your first doesn't show up! The blog gnomes will decide your comments are spam and then only ritual dust bunny sacrifice will salvage your entry…
If your comment is actually an advertisement or if your CommentLuv link turns it into an advertisement, your comment will be deleted. (Most of you do not need to worry – this refers to some pretty clever comment spam.)
Winners will be selected by random number.
You must leave a valid email address in the "Email" portion of the comment form.
Please make sure that your spam filter allows email from stumblingoverchaos.com!
If a winner doesn't respond to my congratulations email within 48 hours, I will select another winner.
If you win, please respect the author's intellectual property and don't make copies of the ebook for anyone else.
This contest is open worldwide!
---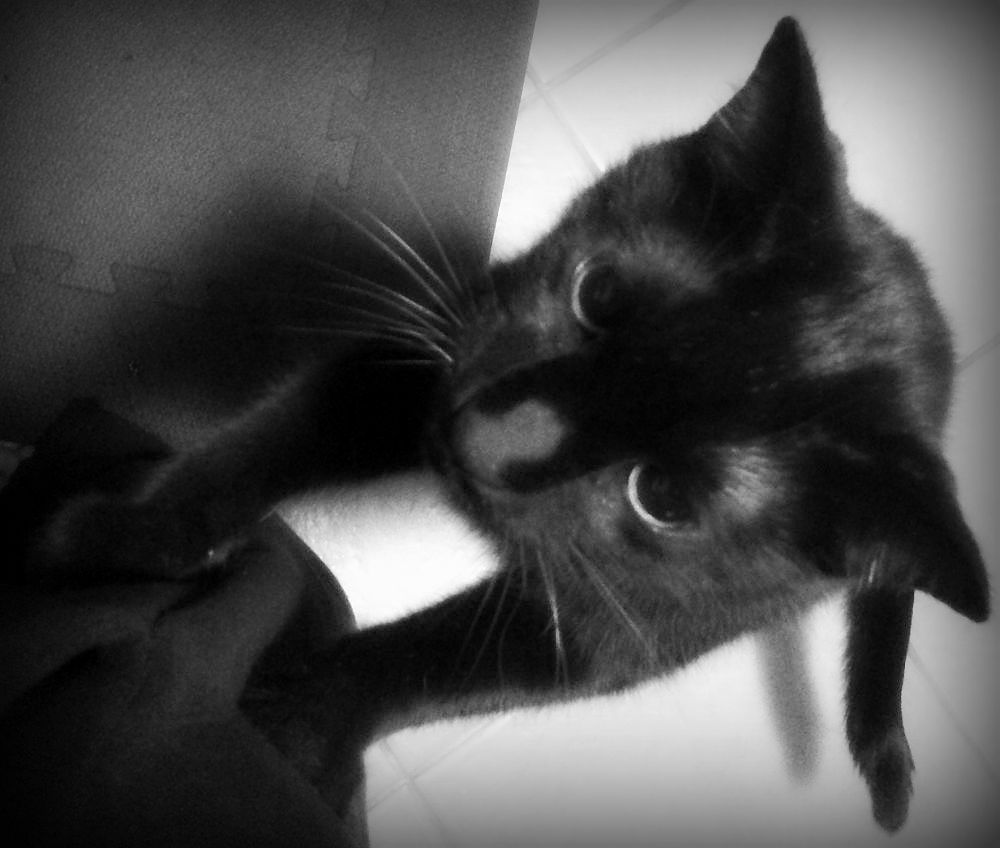 "Fud! Fud! Fud! I am starving! I haven't eaten for years!!!!" -Chaos to the catsitter