Congrats to Leni, who won Talker by Amy Lane! Talker is now available from Dreamspinner Press.
---
Many thanks to Jay Bell for donating two ebook copies of his debut m/m fantasy romance, The Cat in the Cradle – one for Chaos to give away and one for May to give away! 🙂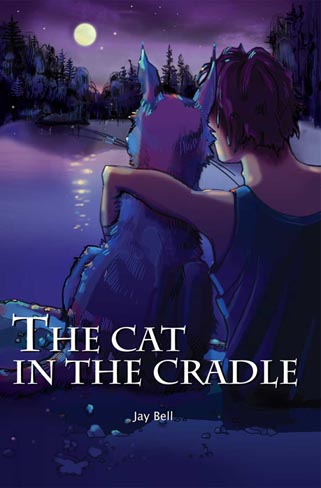 Dueling mad magicians, battling possessed beasts, and surviving endless hostile landscapes? Easy. Loving someone you weren't supposed to? That was hard.

A faceless killer terrorizes the Five Lands, one set on killing the ten Oligarchs, masters of elemental magic. It is from this murderer that Dylan, son of the Blue Oligarch, is forced to flee. Only Tyjinn, a brash and unpredictable bodyguard, stands between Dylan and certain death. Rather than play it safe, Tyjinn makes an unusual proposal; to hunt the hunter. This isn't the only unorthodox idea he puts forth as an attraction blooms between the two young men. In the midst of uncountable obstacles and unforgiving odds, can Dylan really afford to recognize his own feelings?

The Cat in the Cradle is Jay Bell's debut fantasy novel. The novel takes the reader on an exploration of the Five Lands and the different realms of the strange and fantastic Oligarchs. Each Oligarch possesses a different colored loka that enables them to wield a unique style of magic. Dylan, aided by his talking cat Kio, must prevent the lokas from falling into the hands of a power hungry killer before the Five Lands is brought to its knees.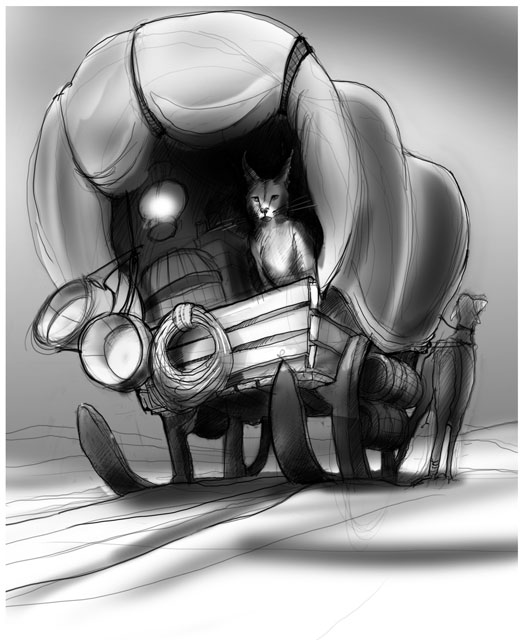 The print version of the The Cat in the Cradle features 25 original illustrations, one for each chapter. Each image was lovingly handcrafted by super-talented (and rather handsome) artist, Andreas Bell, who also provided the wraparound cover art. Due to compatibility issues, the illustrations are only included in the pdf version of the ebook. So those who purchase one of the other ebook versions don't miss out, a special illustrated companion has been released for all electronic devices. It includes all the artwork in the print version, never before seen concept art, and author's commentary. This is available for free at Smashwords in a variety of ebook formats.
About Jay
Jay Bell never gave much thought to Germany until he met a handsome foreign exchange student. At that moment, beer and pretzels became the most important thing in the world. After moving to Germany and getting married, Jay found himself unemployable enough to become a writer. Nobody seems terribly disgusted with his debut novel, and the lack of death threats has encouraged Jay to keep writing with two more books due out in the next year.

You can find out more about Jay at his website.
Contest Rules
To enter, leave a comment stating that you are entering the contest. Contest closes 7 pm CDT, Thursday, September 9.
If you haven't commented before, your comment will not be visible until after I moderate it. Please do not leave a second comment because your first doesn't show up! The blog gnomes will decide your comments are spam and then only ritual dust bunny sacrifice will salvage your entry…
If your comment is actually an advertisement or if your CommentLuv link turns it into an advertisement, your comment will be deleted. (Most of you do not need to worry – this refers to some pretty clever comment spam.)
Winners will be selected by random number.
You must leave a valid email address in the "Email" portion of the comment form.
Please make sure that your spam filter allows email from stumblingoverchaos.com!
If a winner doesn't respond to my congratulations email within 48 hours, I will select another winner.
If you win, please respect the author's intellectual property and don't make copies of the ebook for anyone else.
This contest is open worldwide!
---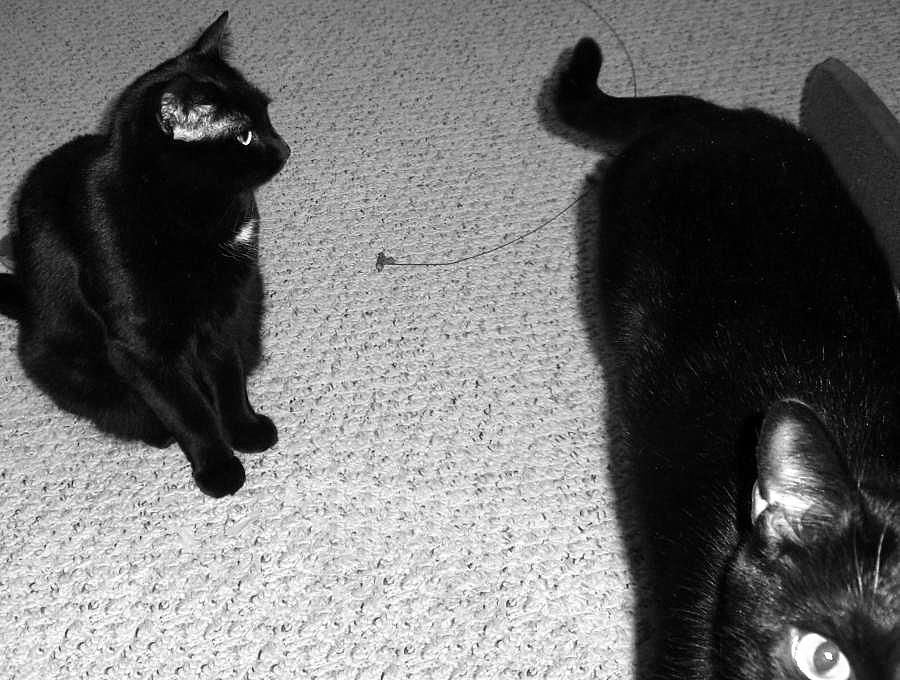 "I am deeply suspicious, Mom. What do you mean, we each have to give away a book? Are you trying to make us work?! We are cats! We do not work!" -Chaos
"Sheesh, chill out, big kitty. I think it's cool that Mom finally listened to me and is giving away a book about a kitty, with a kitty and no naughty boys on the front!" -Mayhem