You might've heard that we had some snow (5-8″) last Wednesday.
Followed by some cold – it was -5F/-20.6C when I got in my car Thursday morning.
My drive was particularly exciting Thursday morning, since I had to drive to the car dealer to get the ASC repaired.
What's ASC? Automatic Stabilization Control – the thing that kicks in when your car starts to slide on slippery roads.
Yup, roads are pretty slippery after a bunch of snow.
The drive was… memorable, in a white-knuckled sort of way.
Sure is nice to have ASC again.
Friday afternoon, my car got stuck while I was trying to get into the parking lot behind my building.
Many thanks to the two neighbors who helped push and got the car unstuck!
Sunday morning we woke up to no heat in the condo – turns out one of the pumps on the boiler went out.
Fortunately, it only took a few hours for a repair guy to get the heat going again.
Good thing, since the cats were holding me personally responsible for how cold it was: "If you loved us, Mom, it wouldn't be cold like this."
Do you wish you lived in Minneapolis yet? 😉
Sunday afternoon I learned how to use a drain auger and spent a nasty hour or so cleaning out a massive clog under the kitchen sink.
Said clog seemed to have been formed by the unholy union of cat hair (note to self – try to keep Mayhem from sleeping in the kitchen sink), coffee grounds from rinsing off the espresso maker, and primordial ooze.
However, it's for a present, so I'm not sure I'll post about it until after Christmas.
One of the things that's been sad for me since going gluten-free is not having good bread for sandwiches.
Most gf bread has an unfortunate texture or crumbles into bits when used for sandwiches unless it's toasted.
Only eating sandwiches on toast gets old really fast.
If you require a gluten-free diet (or know someone who does), I highly recommend the magazine Gluten-Free Living, which I've been reading since it was a newsletter.
Are you confused by the conflicting gluten-free diet information provided by various organizations? Gluten-Free Living examines such information scientifically to support or debunk it.
The current issue is especially good, as it's a "best of" issue.
Make sure you stop back tomorrow, when I'll kick off an ebook (by a Twin Cities author) giveaway to celebrate its release!
---
Can you figure out this picture? (Nope, you are right, she's not in the kitchen sink… at the moment.)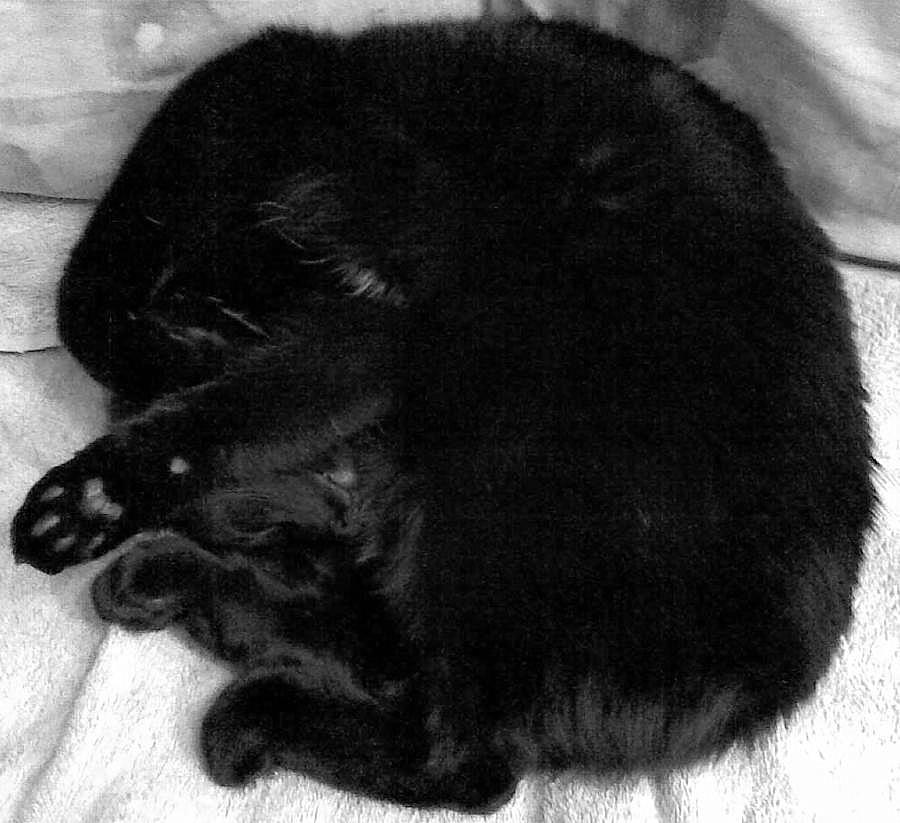 "…..zzzzzzzzzzzz….." -Mayhem