Stephania is having a blogiversary contest. Leave her a comment by midnight CDT, May 6, about what your favorite post or project of hers was and you could win sock yarn – possibly even a skein of Sweet Georgia! If you live in central Minnesota and are interested in attending Stephania's blogiversary party on May 5, let her know. Alas, I have a prior commitment on Saturday. 🙁
Frarochvia is having a contest. You can see the amazing prizes in her post of yesterday! Contest closes at 8:30 am CDT, May 11.
My dear friend Frarochvia is also having surgery today to remove some infected metal plates from her face. Please send lucky healing thoughts her way!
I sent my thoughts to her in the form of a comfort shawl. This shawl was mostly the Eyelet and Garter Shapely Shawlette, although I added an extra few rows at the bottom of the shawl and I knitted back across the wrong side instead of purling back (no time for purling – I had a deadline!). I used Brooklyn Handspun sock yarn, color Black Cherry. Yup, I was working on this at the same time I was working on the baby dress. Sneaky, huh? 😉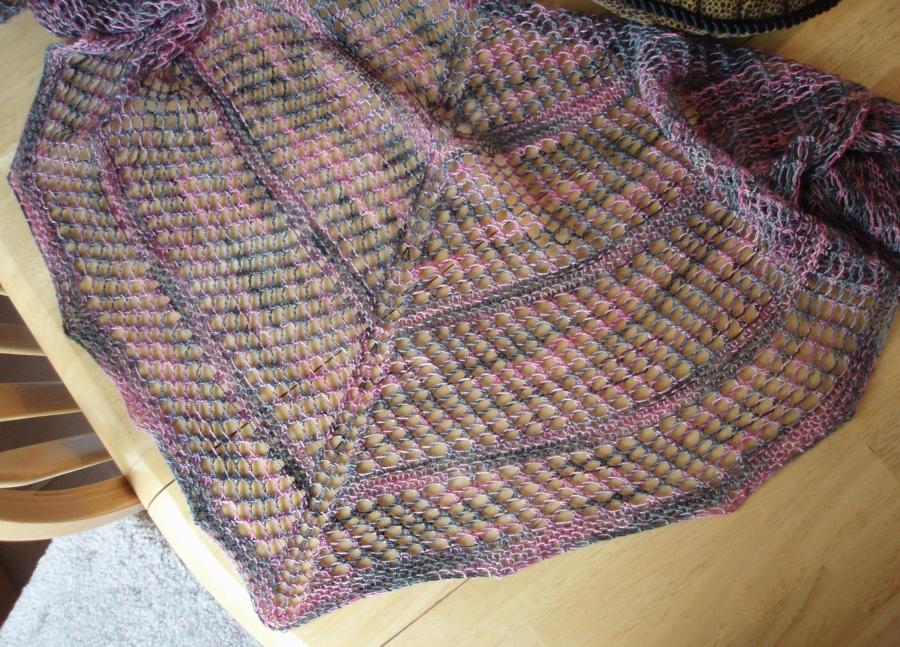 And of course, the modeled shots…
"I hope this this my good side." -Mayhem
"I wonder what Black Cherry tastes like?" *munch* -Mayhem
"No! It's a gift! Stop!!" -me