Many thanks to JL Merrow for donating an ebook copy of her forthcoming m/m romance, Lovers Leap, for a lucky commenter to win! Lovers Leap will be released by Riptide Publishing on February 29.
If they looked, would they ever leap?

Good-looking, confident, and doted on by his widowed mum, Michael is used to thinking only of himself. Getting shoved off an Isle of Wight pier by an exasperated ex ought to come as a wake-up call – but then he meets Rufus and he's right back to letting the little head take charge. Rufus is cute, keen, and gets under Michael's skin in a disturbing way.

Would-be chef Rufus can't believe his luck when a dripping wet dream of a man walks out of the sea on his birthday, especially when Michael ends up staying at the family B&B. Life is perfect – at least until Michael has to go home to the mainland.

Rufus can't leave the island for reasons he's entirely neglected to mention. And though Michael identifies as bi, breaking his mum's heart by coming out and having an actual relationship with a guy has never been his plan. With both men determined to keep their secrets, a leap of faith could land them in deep water.
Excerpt (scroll down and select tab)
Other Books
About JL
JL Merrow is that rare beast: an English person who refuses to drink tea.  Having grown up by the seaside, she also loathes fish and chips.  She read Natural Sciences at Cambridge, where she learned many things, chief amongst which was that she never wanted to see the inside of a lab ever again.  Her one regret is that she never mastered the ability of punting one-handed whilst holding a glass of champagne. She writes across genres, with a preference for contemporaries and the paranormal, and is frequently accused of humour. You can find out more about JL at her website, blog, Facebook, Goodreads, and Amazon.
Contest Rules
To enter, leave a comment stating that you are entering the contest. Contest closes 7 pm CST, Friday, February 26.
By entering the contest, you're confirming that you are at least 18 years old.
If you haven't commented before, your comment will not be visible until after I moderate it. Please do not leave a second comment because your first doesn't show up! The blog gnomes will decide your comments are spam and then only ritual dust bunny sacrifice will salvage your entry…
If your comment is actually an advertisement or if your CommentLuv link turns it into an advertisement, your comment will be deleted. (Most of you do not need to worry – this refers to some pretty clever comment spam.)
Winners will be selected by random number.
You must leave a valid email address in the "Email" portion of the comment form.
Please make sure that your spam filter allows email from stumblingoverchaos.com!
If a winner doesn't respond to my congratulations email within 48 hours, I will select another winner.
If you win, please respect the author's intellectual property and don't make copies of the ebook for anyone else.
This contest is open worldwide!
---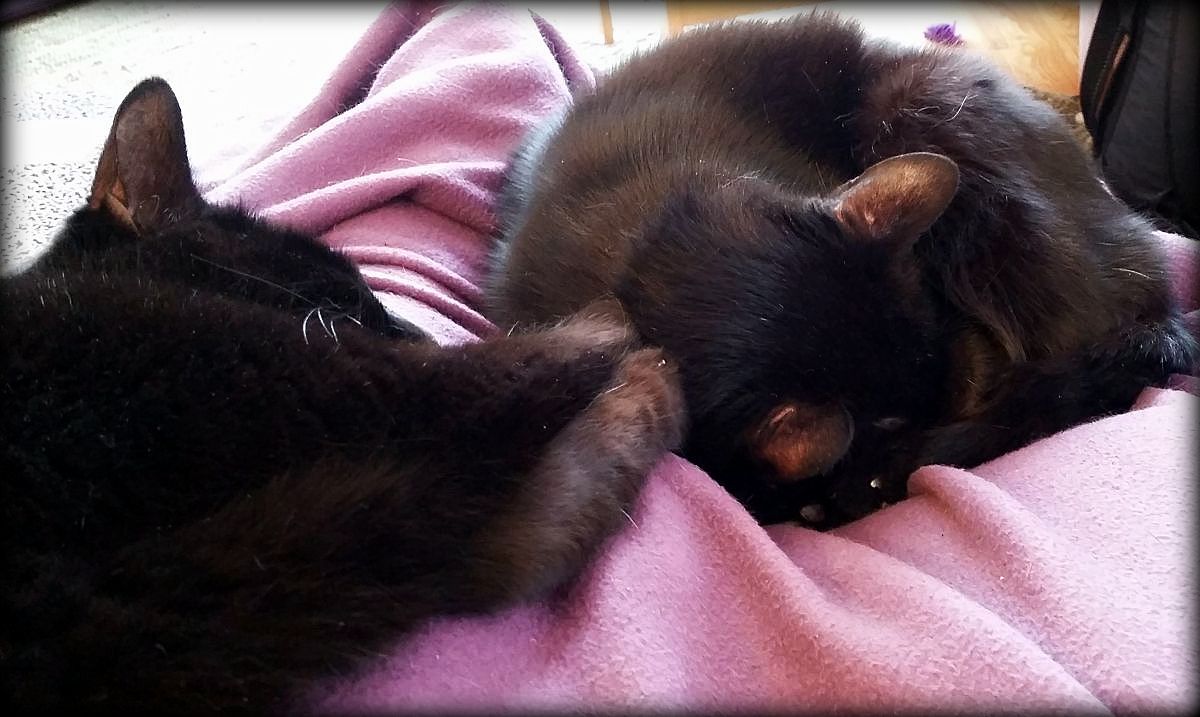 "…zzzzzzzzzzzzzzzzzzzz…" -Chaos
*making happy paws on the back of Chaos' neck* -Mayhem