Many thanks to Valentina Heart for donating an ebook copy of her recently re-released m/m fantasy romance, Owner of My Heart (Mending the Rift #2) (2nd ed), for a lucky commenter to win! (There will be one more contest later this month for the final book in the trilogy.)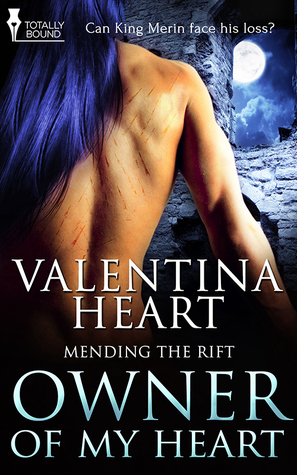 Can King Merin face his loss, save his husband and protect his kingdom, or have his enemies finally found a way to defeat him?

When an enemy Merin thought defeated takes his unborn children away from him, he's at the end of his rope and still has to find enough strength to save his husband Rin from the clutches of sorrow. Unable to find peace, Merin and Rin must deal with an aggressor who plots to ruin any chance of happiness that they might have. To make things worse, the newly united countries must prepare for a new trial – a war against a vicious invading army that's using the weakened state of the kingdom for its benefit.

How will Merin and Rin recover from their terrible loss and give their people heirs? Will the newly united countries work together as one to save Merin's kingdom – and his family – from the ongoing dangerous challenges? Can love truly push through all obstacles, or will their enemies discover their weaknesses and finally achieve victory?

Reader Advisory: This book contains a male pregnancy. It is best read in sequence as part of a series.

Publisher's Note: This book was previously released by another publisher. It has been revised and re-edited for release with Totally Bound Publishing.
Other Books
About Valentina
Valentina Heart lives at different locations in Split, at the coast of the Adriatic Sea. Like the directions of her stories her life takes a new twist with every passing year and she welcomes every single one.

As an avid reader for many years, she had a habit of mixing fiction with reality, until she realized that she could simply breathe life to her characters and make them as real as they could get. From forever romantic to deeply troubled, they bring joy to their creator as well as frustration with their naughty behavior.

Kinky imagination aside, she enjoys music and movies just as much as reading, but give her summer all year round and she'll be ready to free climb, swim, or stretch in all those mind stirring yoga positions.

You can find out more about Valentina at her website, on Goodreads, or on Facebook.
Contest Rules
To enter, leave a comment stating that you are entering the contest. Contest closes 7 pm CDT, Thursday, May 14.
By entering the contest, you're confirming that you are at least 18 years old.
If you haven't commented before, your comment will not be visible until after I moderate it. Please do not leave a second comment because your first doesn't show up! The blog gnomes will decide your comments are spam and then only ritual dust bunny sacrifice will salvage your entry…
If your comment is actually an advertisement or if your CommentLuv link turns it into an advertisement, your comment will be deleted. (Most of you do not need to worry – this refers to some pretty clever comment spam.)
Winners will be selected by random number.
You must leave a valid email address in the "Email" portion of the comment form.
Please make sure that your spam filter allows email from stumblingoverchaos.com!
If a winner doesn't respond to my congratulations email within 48 hours, I will select another winner.
If you win, please respect the author's intellectual property and don't make copies of the ebook for anyone else.
This contest is open worldwide!
---
"Clean ear, clean ear, May's going to have a clean, clean ear!" -Chaos
*purrrrrrrrr* -Mayhem