---
---
Congrats to Alder, who won the paperback copy of The Bound Series by Ava March!
---
---
Many thanks to LB Gregg for donating an ebook copy of her freshly rereleased m/m romance, Mark and Tony (Men of Smithfield #1), for a lucky commenter to win!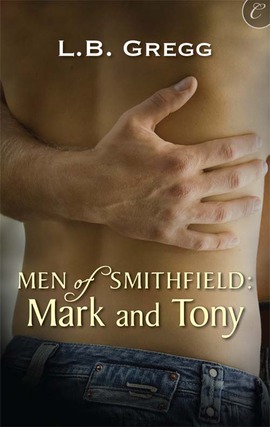 Coming home from work to find my boyfriend banging our hairy, married landlord – in our bed – was bad enough. Discovering Jamie had also cleaned out my bank accounts made it officially the worst day of my life. I think I can be forgiven for wanting revenge, even if a few little laws (and possibly Jamie's nose) got bent in the process.

Fortunately, the law is on my side in the form of my oldest friend, Tony Gervase. I've tried to deny my attraction to the sexy trooper for years. After all, he made it clear long ago that he wasn't interested in me that way. But if the hot encounter in his kitchen is any indication, he is now. At least the day is ending a whole lot better than it began…

But the morning after, the Jamie situation goes from bad to seriously messed up. The jerk's in more trouble than I could have imagined. And as it turns out, I don't know Tony as well as I thought I did either…

This book was previously published.
Books by LB
About LB Gregg
LB Gregg (Lisabea) spends her days plotting and planning and her evenings with her family – three (well above average) teenagers, a smoking hot hubbie, a fat-ass beagle, and a smelly old dachshund. For fun, LB is passionate about skiing, hiking, travel, pedicures, fine wine, good music, and playing cards. She's been known to read a bit too much.

For more info on LB, because surely one can never get too much of a good thing, you can find her at her blog, Nose in a Book, or at her website.
Contest Rules
To enter, leave a comment stating that you are entering the contest. Contest closes 7 pm CDT, Monday, August 20.
By entering the contest, you're confirming that you are at least 18 years old.
If you haven't commented before, your comment will not be visible until after I moderate it. Please do not leave a second comment because your first doesn't show up! The blog gnomes will decide your comments are spam and then only ritual dust bunny sacrifice will salvage your entry…
If your comment is actually an advertisement or if your CommentLuv link turns it into an advertisement, your comment will be deleted. (Most of you do not need to worry – this refers to some pretty clever comment spam.)
Winners will be selected by random number.
You must leave a valid email address in the "Email" portion of the comment form.
Please make sure that your spam filter allows email from stumblingoverchaos.com!
I am not able to reliably contact people with aol.com and netscape.com email addresses – please use a different email address if at all possible!
If a winner doesn't respond to my congratulations email within 48 hours, I will select another winner.
If you win, please respect the author's intellectual property and don't make copies of the ebook for anyone else.
This contest is open worldwide!
---
*crabby* -Chaos
Chaos at the vet for his eye recheck last week. The cornea scrape is healed!