Why am I laughing at myself? Well, if you remember from all my whining, last winter was bitterly cold. And gosh, my car just never seemed to warm up on my way to and from work. I resorted to wearing big ol' winter boots any time the temperature dipped below +15F. When I had my car in for its annual oil change (synthetic oil, plus I don't drive very much) last week, I asked about the heat. Turns out that the thermostat was stuck open. One new thermostat later and my car is toasty warm again. D'oh! Why didn't I take it in last winter?!
Ali's having a recipe contest and is looking for recipes containing cranberries or sweet potatoes. Write a blog post with such a recipe, or leave her a comment with a recipe or a link to a recipe by midnight CST, November 28, and you could win some gorgeous skeins of Blue Sky Alpaca yarn.
Don't forget your Black Friday Bingo card before you go shopping on the day after Thanksgiving! Actually, if you're braving the madness, make sure you do your homework first so that you actually get deals and don't just get caught up in it all.
CursingMama has some great information on how the online world makes her "real" world better.
Hmm – this could be either Chaos or May… Oh oh. Eeek! This must never happen.
If you read romances, you can find out where you fall on the Romance Apologia Scale. Hee hee – this is my favorite question from it: "Is that a naked man on the cover of your book? 1. Is it? I hadn't noticed. A friend recommended it to me." Suuuuuuuuure. Uh-huh. 😉
Reading Update
Get a Clue by Jill Shavis. Completely non-paranormal trashy romance. Heavy on the trash. So-so.
The Undead Next Door (Love at Stake, Book 4) by Kerrelyn Sparks. This one read like it was hard work to write. That's not really a good thing.
The Rogue Hunter (Argeneau Vampires, Book 10) by Lynsay Sands. Sexy vampires at a lake cottage two hours north of Toronto – and possibly the first ever instance of a vampire jet-skiing/sea-doing.
Mysteria Lane by MaryJanice Davidson, Susan Grant, P.C. Cast, and Gena Showalter. Unsurprisingly, this is the sequel to Mysteria (the mythical Colorado town, which "was 'accidentally' founded by a random act of demonic kindness").
Satisfaction by Marianne Stillings. Another completely non-paranormal book of romantic suspense. Not bad. Not great.
Flirting With Danger by Suzanne Enoch. Now this is how romantic suspense should be! Here's hoping that the sequels (Billionaires Prefer Blondes and Don't Look Down) are as good. Please note that Enoch seems to write mostly historical romances, if you're looking for her books. Not my cup of tea, those.
Blood Lite: A Collection of Nerve-Jangling Tales with a Humorous Bite by the Horror Writers Association. The story by Jim Butcher (a Harry Dresden tale) was my favorite. The stories by Charlaine Harries, Sherrilyn Kenyon, and Kelley Armstrong were ok, although not part of their "worlds." Many of the others were disappointing. Please note that a familiarity with the Cthulhu Mythos might help with several of the stories.
Howling at the Moon (Tales of an Urban Werewolf, Book 1) by Karen MacInerney. The surprisingly good story of a fashionista auditor who was born a werewolf. Poor thing – when she transforms, her back legs are all bare from her shaving them as a human…
---
Happy Thanksgiving to those of you in the US! (And happy regular old rest of the week and weekend to everyone else.) SoC will be taking a long holiday weekend – back on Monday!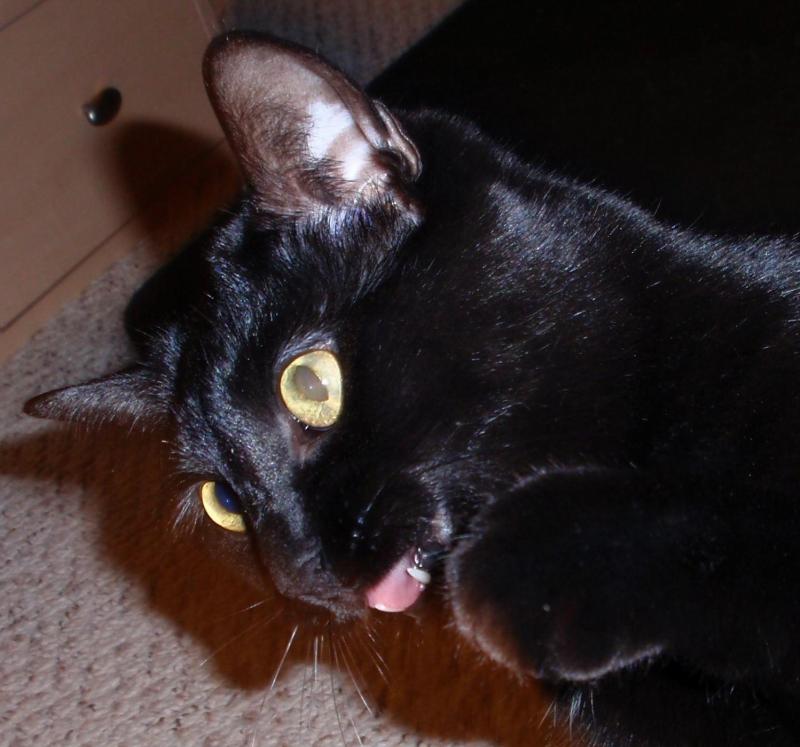 "Mmmm… I hope Mom brings home a turkey for us to catch and eat! I bet that'd be real tasty." -Mayhem