Many thanks to Anna Mayle for donating an ebook copy of her forthcoming paranormal m/m romance, Lullaby for a Stolen Child (Stolen Child #2), for a lucky commenter to win! Lullaby for a Stolen Child will be released by Resplendence Publishing on August 31.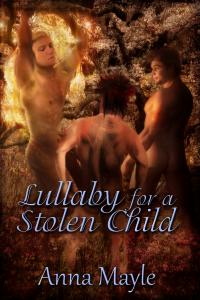 They steal them away as children, drawn to their short but vibrant lives. They use them as dolls, slaves, entertainment of every kind, tasting the fierce brevity of human life through their captives. But there are times when a taste is not enough…

Where is the boundary between hate and love, love and lust, love and hate? Where do you draw the line between jealousy and longing? Is the passion of a killer the same as that of a lover?

And how can a human man hope to understand the ways of the two Fae who have turned his captivity upside down?
Also by Anna
About Anna
I grew up in the woods and wild, in a place almost forgotten by time, I learned that the best moments in our existence are the ones filled with the spirit of the earth when you are surrounded by family. Even now, thirty years into my life, I find there is nothing more important than family and nothing more soothing than a quiet forest and softly flowing water.

Currently I make my home in Lansing in a place surrounded by trees and gardens and affectionately called The Nest. While work, writing and family take up much of my days, I also enjoy a variety of pastimes. Some are as mundane as reading, video games, working in the gardens, singing, dancing, sketching and swimming. Others such as medieval reenactments and various other forms of live role play might seem more exciting.

All in all, I'm a geek with a love of words surrounded by the comfort and affection of a close family and a tight knit group of friends. Life hasn't always been easy, it never will be, but it is the adversity, as well as the caring in our days, that shapes who we are and will be.

In the end…no worries.

You can find out more about Anna at her website, her blog, and on Facebook.
Contest Rules
To enter, leave a comment below stating that you are entering the contest. Leave your comments by 7 pm CDT, Tuesday, August 30.
By entering the contest, you're confirming that you are at least 18 years old.
If you haven't commented before, your comment will not be visible until after I moderate it. Please do not leave a second comment because your first doesn't show up! The blog gnomes will decide your comments are spam and then only luck and counterintuitive espionage will salvage your entry…
If your comment is actually an advertisement or if your CommentLuv link turns it into an advertisement, your comment will be deleted. (Most of you do not need to worry – this refers to some pretty clever comment spam.)
Winner will be selected by random number.
You must leave a valid email address in the "Email" portion of the comment form.
Please make sure that your spam filter allows email from stumblingoverchaos.com!
If a winner doesn't respond to my congratulations email within 48 hours, I will select another winner.
If you win, please respect the author's intellectual property and don't make copies of the ebook for anyone else.
This contest is open worldwide!
---
"Have I mentioned how truly wiggly and tasty that spider I caught was?" Mayhem