So the best thing about being the last person reporting in on a vacation trip is that so much has already been written about it by others. 🙂 Please note that some of the links below will have NSFW components!
For some reason we took our group photo after Tracy left – from the left, me, Jen, Tam, and Kris: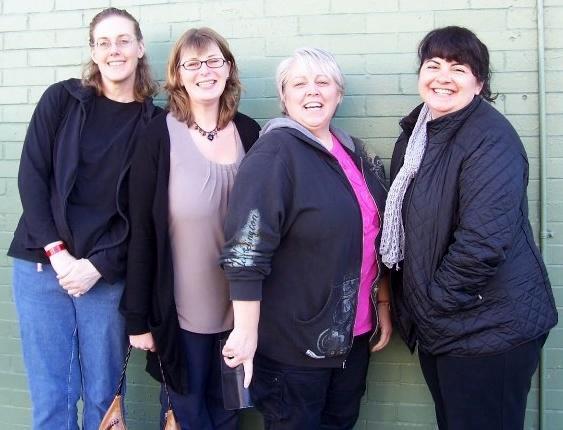 And here's Tracy at Yaoi-Con, with some yaoi clutched in her hand and a mysterious pink-haired person sitting next to her:
Does anyone know what the heck this gelatinous blob, found amongst the washed up seaweed on the beach at Carmel, could be?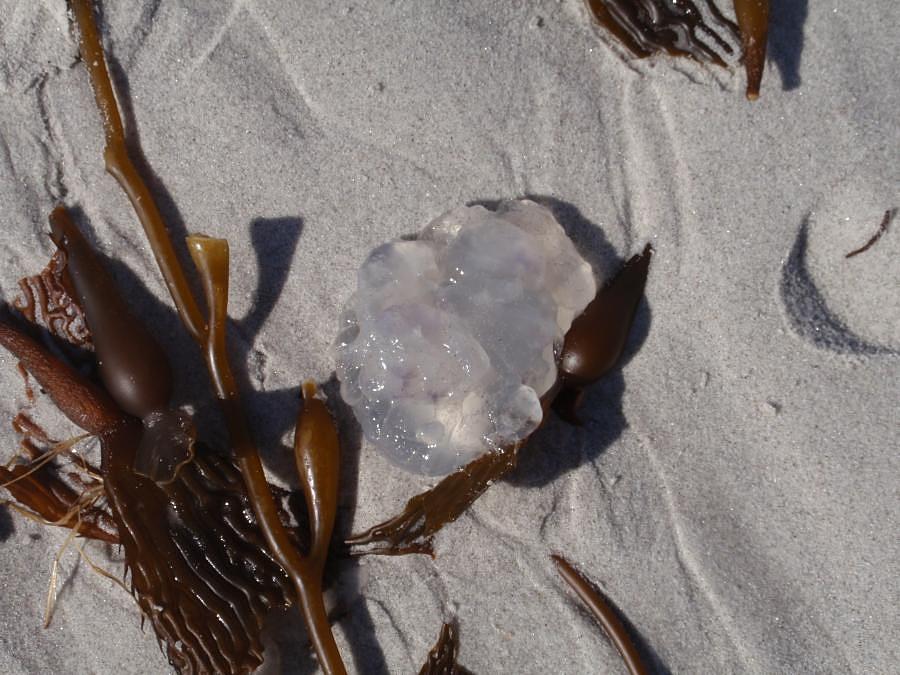 Look at the tasty gf beer in a frosted glass I had at Allegro Gourmet Pizza in Carmel! (Alas, no photos exist of the delicious gf bacon cheeseburger pizza I devoured there.) (And yes, that is CarrieK's arm across the table – I had the chance to hang out with her for a few days, too. I think we knitted together for maybe 20 seconds or so.)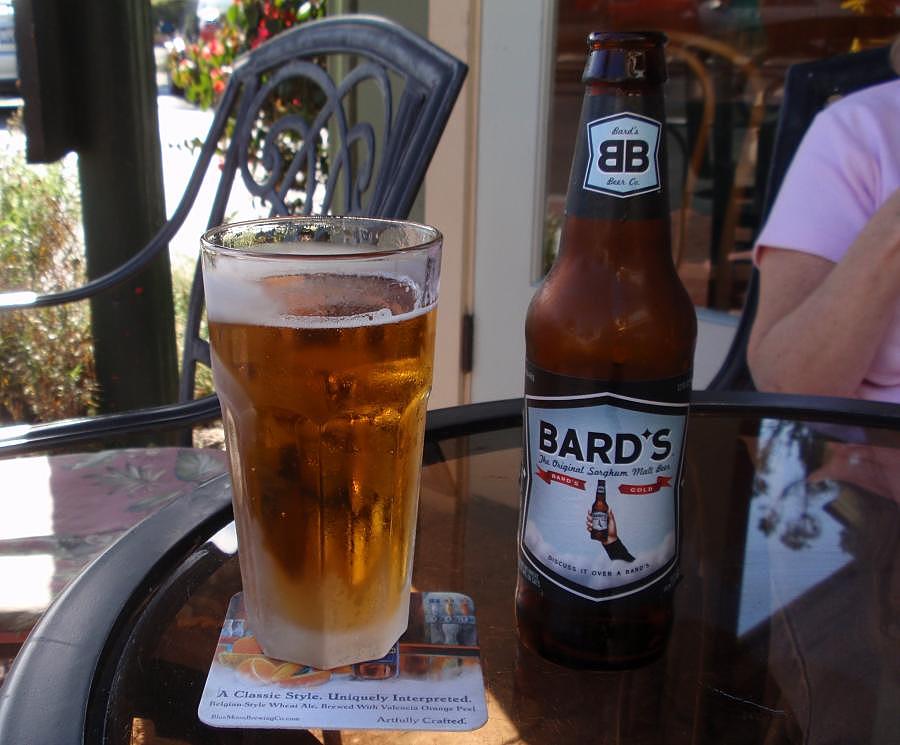 Check out the yummy gf veggie panini and gf red velvet cupcake I ate at Cafe Mariposa!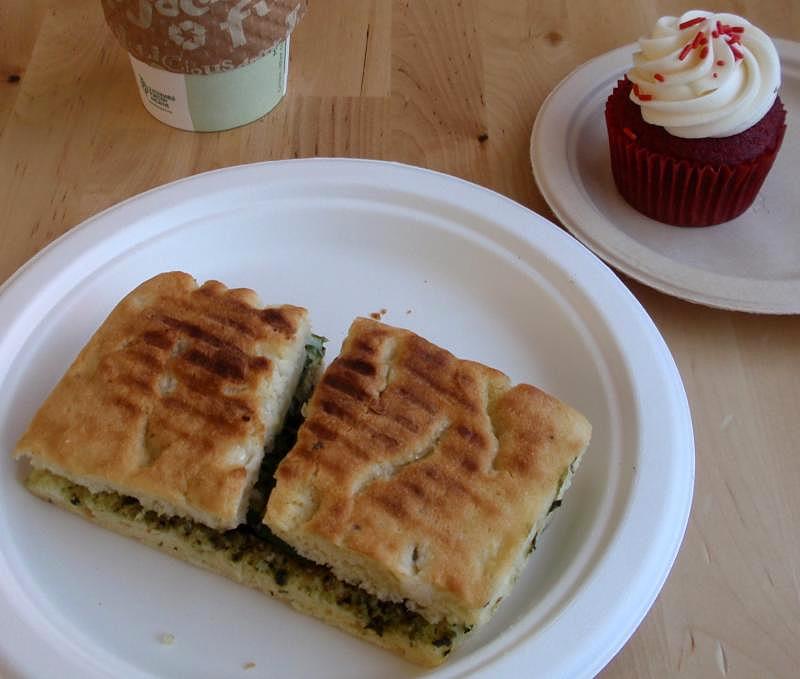 Meeting blog friends is always wonderful. I would go on vacation with them again, should I ever have the chance.
The best part about Yaoi-Con was meeting all the authors! I'm pretty sure I'll miss someone, so please forgive me in advance. I met Clare London, Felicitas Ivey, Marie Sexton, Lynn Flewelling, Andrew Grey, Mary Calmes, Amy Lane, TC Blue, ZA Maxfield, Belinda McBride, EM Lynley, Astrid Amara, Ginn Hale, Nicole Kimberling, Rowan McBride, and… *mind goes blank*
The chocolate-covered macaroons from Hot Cookie were the best I've ever had… and they're even available in less graphic shapes than the video might suggest. 🙂
San Francisco is really, really hilly. You can't properly appreciate that until you've been on a death march with Kris or Tracy.
It's hard to resist the HRC Store – such a great cause, amazing staff, and cool stuff.
I barely get motion sick at all on electric buses. Damn diesel fumes on regular buses!
NaNoBloMo may kill me, compulsive commenter that I am. Alas, NaNoBloMo peeps, I'm not going to be able to comment on all your posts, no matter how much I'd like to. In part, that's because work is going to get progressively more crazy throughout the month.
My beloved car experienced brain death while I was on vacation. It is currently awaiting a brain transplant. Please think happy healthy car thoughts for me, 'k? Also, why the heck would you put a woman who begged for a junker loaner into a 2011 BMW?! *takes deep breaths*
Reading Update

Bedtime Story for a Stolen Child by Anna Mayle. ebook. Excellent m/m dark fantasy about a man, stolen by the Fae when he was a child, who returns to the human world to confront the Changeling who took his place. Recommended.

The Trap by Indigo Wren. ebook. Very good m/m romance about two college roommates, best friends, who planned to start a technology company together… until one of them basically flees into the night without a word. And that's all I'm going to say about it, because part of what really drew me into this story was having events unfold for me, without really knowing what was going to happen.

Blacque/Bleu by Belinda McBride. ebook. Very good paranormal m/m romance about a deeply closeted werewolf (because there supposedly aren't any gay werewolves) who gets involved with a vampire… and then his pack responsibilities become more pressing.

The Strength of a Gamma (Pack Discipline, Book 2) by Kim Dare. ebook. Very good kinky paranormal m/m romance about two gamma wolves who are best friends with deeper feelings for each other, but one of them doesn't believe that he's good enough to be the other's mate.

Almost Heaven by Kimberly Gardner. ebook. Very good m/m romance about a guy who's training for the priesthood and teaching at a parochial high school until his reaction to the much older brother of one of his students has him doubting his chosen path. I had a small niggle about this one, which could've been handled with one sentence about how the Ryan situation was resolved. 🙂

Trust Me by Jeff Erno. ebook. This m/m romance was a very mixed read for me. I really liked the base story, about two boys, one extremely religious, growing up in the 80s and trying to come to terms with their attraction to other boys. But I kept feeling as if I were being drawn into the story, only to be shoved out again, perhaps because there was too much telling and not enough showing? Additionally, the story had these odd, very meta-feeling lecturey interludes that did not work for me at all.

Manfred's Curse by Shawn Lane. ebook short. Cute short paranormal m/m romance about a guy getting freaked out by the weird storm he's weathering alone, with only his black cat Manfred to keep him company…

Eat Me by Mia Watts. ebook short. Good short paranormal m/m romance about a man who was cursed 400 years ago to live as domestic lynx belonging to a family of witches. All that remains of the family is a single male descendant, who doesn't seem to have any curse-breaking magic… I wish this story had been just a bit longer, because the ending happened way too fast.

Oliver and Angus (Shifting Perspectives, Book 1) by Nerine Petros. ebook short. Short paranormal m/m romance with lots of potential that wasn't quite realized, primarily because too much story was crammed into too few pages, giving the story a very choppy feel. Hopefully the next story about the dingo shifters who've sought asylum in a wolf shifter-controlled town in the Australian Outback will be longer, or at least have more transitions and exposition.

Unbound (Bonded II) by Jay Lygon. ebook. Good paranormal m/m romance continuing the story of Viking vampire and romance novelist, Brandr, and his vampiric go-go boy housemates. Read the other books first, because in this one, questions are answered and it will make more sense if you know the questions before you get the answers. 🙂

Faerie Bound by Jenna Castille. ebook. Good kinky paranormal m/m romance about an Alpha wolf shifter and pack leader who's been hiding his need to be mastered because other shifters would think him weak and challenge him. How will he balance his needs and those of his pack as he seeks his mate? I'm pretty sure there are additional books planned, based on where part of the storyline was left at the HFN end of the book.

The Horror in Dunwich Hall by Johnny Murdoc. ebook short. Good steamy short Lovecraftian m/m story. I absolutely love the first two lines: "There was a naked jock on my bed and a thing with tentacles coming out of my toilet. One of these things did not belong, and if you tell me that it was the naked jock, you shouldn't be reading this story." You can read it for free online.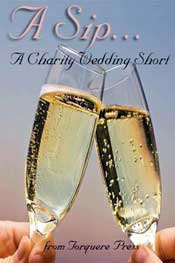 I Take Thee by Zoe Nichols. ebook short. Good short m/m romance about a guy, addicted to E and pot, whose boyfriend has just returned from treatment and is dedicated to staying clean.

Chainbreaker by Kate Roman. ebook short. Very good short m/m romance about a San Francisco bike messenger and his boyfriend.

Someplace in This World, edited by Lee Benoit. ebook collection. Good m/m romance collection about finding the place (or person) where you belong and feel safe and happy.

What You Can't Live Without by Eden Winters. ebook short. Doctors Without Borders Charity Sip Blitz. Sweet m/m romance about a rich doctor who can't understand why the doctor he desires has chosen to return home to El Salvador to help his family, rather than staying to become rich in the US.

Where a Hand Is Always Needed by Kara Larson. ebook short. Doctors Without Borders Charity Sip Blitz. Good short m/m story about a teenager visiting family in the Outback, trying to sort out whether he's gay.

Marked by Sean Michael. ebook. Ok paranormal m/m romance about two werewolves who are mates, but who have been separated for ten years, living half lives, because one can't shift and was cast out from the pack. If the word "mate" had been used half as many times, it would still have been excessive. Unpleasant as this cover image is, it's an actual, unmodified stock photo. Ewww!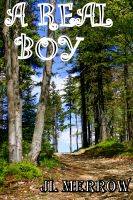 A Real Boy by J.L. Merrow. free ebook short. Enjoyable (and free) twisted m/m retelling of Pinnochio, with a few other stray fairy tales thrown in around the edges.

Pricks and Pragmatism by J.L. Merrow. ebook. Very good m/m romance about a guy who's almost done with his university degree. He has no money, so he's been staying with various guys, basically exchanging sex for food and lodging. But what's up with the nerdy engineer he's just moved in with, who doesn't seem interested in him in that way?

Corruption by Jack Greene. ebook short. Steamy short m/m romance about a straight guy who finds himself unaccountably drawn to a woman dancing in the club Corruption… even after he realizes the woman is actually a twinky boy.

My Girl by Stormy Glenn. ebook. Why do I torture myself so?!? Meh m/m romance about a guy hiding as a woman in witness protection. The weird references to GA Hauser and her books were annoying (rather like a GA Hauser commercial) and the plot holes were classic Stormy Glenn.

Needing Harte (1-800-DOM-help, Book 1) by Marilu Mann. ebook. So-so kinky m/m romance about a closeted cop who's intensely attracted to a submissive stripper during an investigation and is subsequently given the 1-800-DOM-help number to help him learn about bdsm. This would've been much better without the insta-love and an odd bit of woo-woo related to the 800 number.

At Piper's Point by Ethan Day. ebook. Ok m/m romance about a guy who finally returns to the island where he spent his childhood summers with his unorthodox grandmother. He's planning to quietly spread her ashes and set her house in order before he leaves in the fall, but things don't quite go as he'd hoped. I would've enjoyed this book more if it had been a bit shorter and more focused.

Blood Heat (Dangerous Ground, Book 3) by Josh Lanyon. ebook. Good romantic suspense in which our agents try to bring in a suspected terrorist and everything that can go wrong does.

River of Need (Tennessee Cops, Book 4) by Shayla Kersten. ebook. Ok m/m romance about a cop who bails out his ex, who's been picked up for prostitution. I wanted a bit more from this story – a bit more length, a bit more depth.
---
…..zzzzzzzz….. -Mayhem
Apparently May's plan to stake out my suitcase and prevent me from leaving again was more exhausting than she anticipated…