Congrats to Teresa, who won the copy of Gay Best Friend (G-A-Y, Book 10) by Kim Dare! Gay Best Friend was released yesterday by Total-E-Bound.
---
Many thanks to Mickie B. Ashling for donating a copy of her recent m/m romance, Loving Edits, for a lucky commenter to win!
Loving Edits celebrates the joys and sorrows of true love while exploring the human spirit.

When bestselling novelist Mick Henley contacts his editor and former lover, Paul Alcott, after a seven-year absence, hearing Mick's voice reinforces what Paul has known all along – he still loves Mick. The possible reunion entices Paul into considering a dinner invitation, but his hopes are dashed when he learns Mick is in a loving relationship with Spanish Jai alai player Tono Garat.

Paul still accepts the invitation, and Mick asks Paul to help Tono through the final revision of a love story he's written, inspired by his affair with Mick. When Paul refuses, Mick reveals he's been diagnosed with a fatal disease, and the novel is Tono's only means of coping with the eventual outcome.

Paul and Tono resent each other, but they can't deny the strong sexual attraction between them. Can the past blend with the present to ease the way for Mick's inevitable future? Will they overcome their differences to provide the loving support necessary to sustain the man they love or will their collision destroy Mick's final days?
About Mickie
Reading and traveling are my hobbies, but writing is my life. I was introduced to the world of men who love men around the time I discovered Queer as Folk in 2000. The characters on that show intrigued me, and I began to read everything I could find in the m/m genre. Soon after, I found myself writing the kind of stories that I enjoyed reading.

All of my novels are contemporary, and yes, I admit, filled with angst. Drama and emotional upheaval seem to be the ongoing theme so far; I like hurt/comfort stories where my characters work hard for their happy endings. There are usually graphic sex scenes, so if you are uncomfortable with the concept of men loving men, I suggest you move on.

I've had the good fortune to live in many parts of the world, but right now, home is a suburb outside the Windy City where the long winters are very conducive to writing.
You can find out more about Mickie and her books at her website.
Contest Rules
To enter, leave a comment stating that you are entering the contest. Contest closes 7 pm CDT, Monday, August 2.
If you haven't commented before, your comment will not be visible until after I moderate it. Please do not leave a second comment because your first doesn't show up! The blog gnomes will decide your comments are spam and then only ritual dust bunny sacrifice will salvage your entry…
If your comment is actually an advertisement or if your CommentLuv link turns it into an advertisement, your comment will be deleted. (Most of you do not need to worry – this refers to some pretty clever comment spam.)
Winners will be selected by random number.
You must leave a valid email address in the "Email" portion of the comment form.
Please make sure that your spam filter allows email from stumblingoverchaos.com!
If a winner doesn't respond to my congratulations email within 48 hours, I will select another winner.
If you win, please respect the author's intellectual property and don't make copies of the ebook for anyone else.
This contest is open worldwide!
---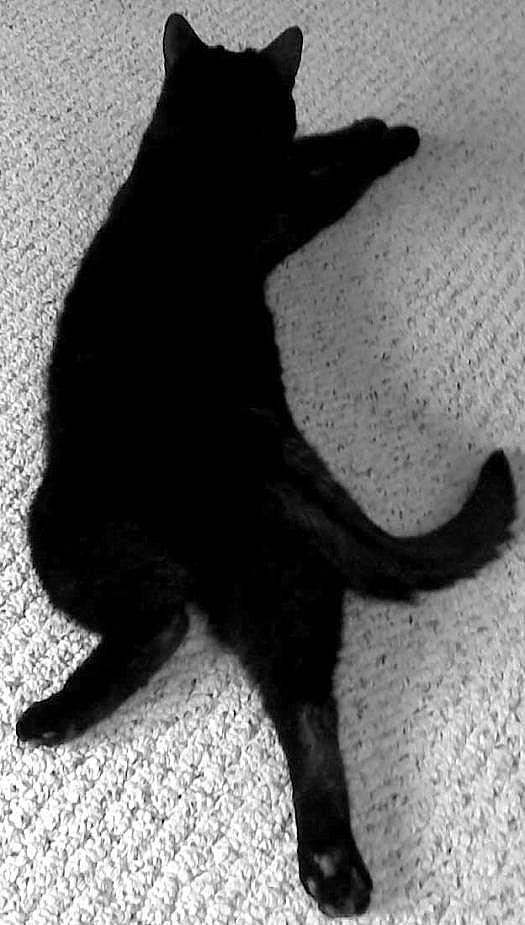 "I am a fierce Panther Princess Shark, swimming across the carpet in search of my prey, the elusive furry pink mousefish!" -Mayhem