Many thanks to Kim Dare for donating a copy of her freshly released kinky paranormal m/m/m romance, Marrick's Promise (Thrown to the Lions, Book 2)!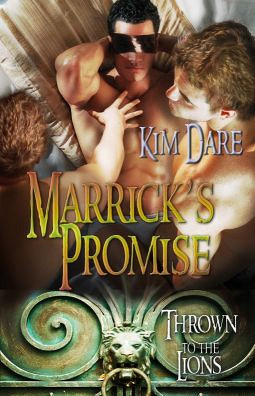 Marrick thinks that being thrown to the lions will be the ultimate adrenaline rush, and he's not disappointed. But his plan is to try everything life has to offer once. He has no intention of visiting the lions again.

Blaine and Luther don't expect to give any of the human sacrifices they share another thought once they leave the den. This man's different. They have no intention of letting this one go. The only question is, while they are willing to share Marrick with each other, are they willing to share each other with a human who could become as important to each of them as they are to each other?
About Kim
26 years old, from Wales, UK, Kim writes about kink, love and happy endings. If a story doesn't have those three things, it's not going to be written – at least not by this writer!

Apart from that, Kim likes to write a little bit of everything. So far that list includes Male/Male, Male/Female, a few different varies of menage, shifters, vampires, fairytales, time-travel and ghosts. It's anyone's guess what will come next…

A firm believer that there is no "One True Way" for people to kink, Kim likes to let the characters in each book pick their own ways to dominate and submit to each other. As long as they stay safe, sane and consensual, Kim's happy to let them live their lifestyle 24/7, or just open the toy box on weekends – whatever's right for them.

Published since 2008, Kim also writes BDSM erotic romances for Total-e-bound and Resplendence.
You can visit Kim at her website and her blog.
Contest Rules
To enter, leave a comment stating that you are entering the contest. Contest closes 7 pm CDT, Wednesday, June 30
If you haven't commented before, your comment will not be visible until after I moderate it. Please do not leave a second comment because your first doesn't show up! The blog gnomes will decide your comments are spam and then only ritual dust bunny sacrifice will salvage your entry…
If your comment is actually an advertisement or if your CommentLuv link turns it into an advertisement, your comment will be deleted. (Most of you do not need to worry – this refers to some pretty clever comment spam.)
Winners will be selected by random number.
You must leave a valid email address in the "Email" portion of the comment form.
Please make sure that your spam filter allows email from stumblingoverchaos.com!
If a winner doesn't respond to my congratulations email within 48 hours, I will select another winner.
If you win, please respect the author's intellectual property and don't make copies of the ebook for anyone else.
This contest is open worldwide!
---
"The noble and beautiful Panther Princess surveys her territory…" -Mayhem