Many thanks to Jordan Castillo Price for donating an ebook copy of her forthcoming m/m thriller, Sleepwalker, for a lucky reader to win! Sleepwalker will be released by JCP Books on June 20.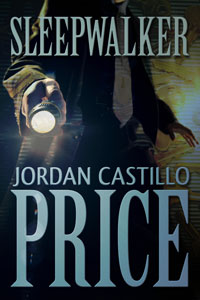 Daniel Weber ("Web" to his friends) was a promising young biology student on the fast track to a prestigious grad program. That was a year and a half ago. Now he's working a dead-end security job and living in his cousin's two-flat. Thanks to the mysterious George, he's got gaps in his memory too big for his pocket notebook to fill.

Jesse Ray Jones is the taxidermist who's trying to help the Faris Natural Sciences Center secure the MAHPS Grant, a funding that would keep the foundering organization afloat for a few more years. He looks like a skatepunk and talks like a science major, which pushes Web's every last hot-button.

It's lust at first sight…but hooking up proves difficult when a supervisor at the Center is found bludgeoned to death in the petroglyph alcove – and Jesse and Web are the primary suspects.
Some of the research that Jordan did for Sleepwalker
About Jordan
Jordan Castillo Price grew up in Western New York, spent her formative drinking years in inner city Chicago, and is now writing paranormal thrillers from her home in small-town rural Wisconsin. Jordan is best known as the author of the PsyCop series, an unfolding tale of paranormal mystery and suspense starring Victor Bayne, a gay medium who's plagued by ghostly visitations.

You can visit Jordan all over the place! Beyond her blog and main website, she also has websites devoted to PsyCop and to Chaneling Morpheus. She has a long-running free serialized story, Zero Hour, which will be released in paper and ebook later this year. She's been doing the podcast, Packing Heat, since 2007. And Jordan has her own (recently incorporated) direct ebook store, JCP Books.
Contest Rules
To enter, leave a comment stating that you are entering the contest. Contest closes 7 pm CDT, Monday, June 21.
If you haven't commented before, your comment will not be visible until after I moderate it. Please do not leave a second comment because your first doesn't show up! The blog gnomes will decide your comments are spam and then only ritual dust bunny sacrifice will salvage your entry…
If your comment is actually an advertisement or if your CommentLuv link turns it into an advertisement, your comment will be deleted. (Most of you do not need to worry – this refers to some pretty clever comment spam.)
Winners will be selected by random number.
You must leave a valid email address in the "Email" portion of the comment form.
Please make sure that your spam filter allows email from stumblingoverchaos.com!
If a winner doesn't respond to my congratulations email within 48 hours, I will select another winner.
If you win, please respect the author's intellectual property and don't make copies of the ebook for anyone else.
This contest is open worldwide!
---
"Clean foot, clean foot, my foot's going to be cleaner than May's foot!" -Chaos