Many thanks to Luisa Prieto for donating both a print (US only) and an ebook (worldwide) copy of her recent dark fantasy m/m release, Dark Designs (Half Lives, Book 1)! Rest assured that I have already started pestering her about the sequel. 🙂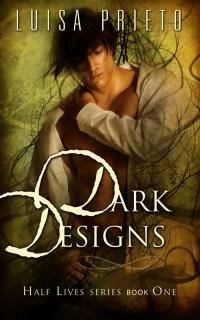 Ebook via Aspen Mountain Press
The Dark is coming… Moments after an enigmatic tattooed woman approached him, freelance journalist Kyler Withers began remembering a past life. Once known as Etherwolf, Kyler was a mage-knight serving a sentient evil known as the Darkness. The knights are rising… Since the time when humanity crouched around trembling fires, the Darkness has watched, growing hungry. Angry. Now, its knights have all been reborn, and Kyler is the first to wake. The Dark is waiting for him. In another life, Kyler gloried in his power. Now, he was horrified. As he struggled to escape both his past and his former allies, he realized that the Darkness' time had come. Soon, the rest of the knights will gather and begin the last battle. If he can't resist the Darkness, Kyler knows he'll help it destroy everything, starting with the former lover he'd once hoped to seduce to the Dark.
Reviews
Says Luisa About Herself…
Dark fantasy writer by day, dark fantasy writer by night. I'm charmingly dull that way. 😉
You can visit Luisa at her website and her blog. Also, please note that the book has been approved by Luisa's cat, Darian!
Contest Rules
To enter, leave a comment stating that you are entering the contest. Make sure you state which format (or either) you prefer! Contest closes 9 pm CDT, Wednesday, June 9.
If you haven't commented before, your comment will not be visible until after I moderate it. Please do not leave a second comment because your first doesn't show up! The blog gnomes will decide your comments are spam and then only ritual dust bunny sacrifice will salvage your entry…
If your comment is actually an advertisement or if your CommentLuv link turns it into an advertisement, your comment will be deleted. (Most of you do not need to worry – this refers to some pretty clever comment spam.)
Winners will be selected by random number.
You must leave a valid email address in the "Email" portion of the comment form.
Please make sure that your spam filter allows email from stumblingoverchaos.com!
If a winner doesn't respond to my congratulations email within 48 hours, I will select another winner.
If you win, please respect the author's intellectual property and don't make copies of the ebook for anyone else.
The ebook contest is open worldwide! The print book contest is US only.

---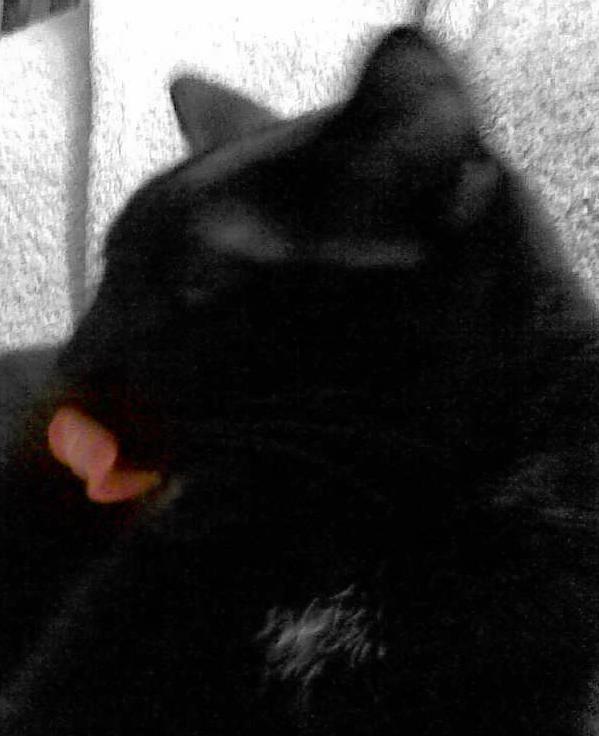 "I know that you're all jealous you can't lick your noses clean." -Chaos
Um, no, not so much… O_o