Stop by and wish Carole a happy blogiversary! If you leave a comment on her blogiversary post by 8 pm EST, February 1, you could win brownies.
Kerry nicely summed up our local weather right now. We aren't getting the blizzards that other parts of the state are getting, but the windchill is -41°F as I type this. As Kerry noted, when your home goes from the +41°F of Monday to this, it makes very startling booming noises as it contracts.
I've been working on another pair of Kristi's Flatiron Socks from Great Adirondack Silky Sock (color Nightshades). Please ignore that furry bit wandering through my first photo. It wasn't there when I started taking the shot… This sock was going better (as in I was turning the heel) before I took these photos and realized the sock is a bit too short for my foot – and now the sock is a bit shorter, waiting for me to reknit the foot back to the heel!
"What random furry bit?! That's me! Hmph." -Chaos
"I'll random furry bit you!" -Chaos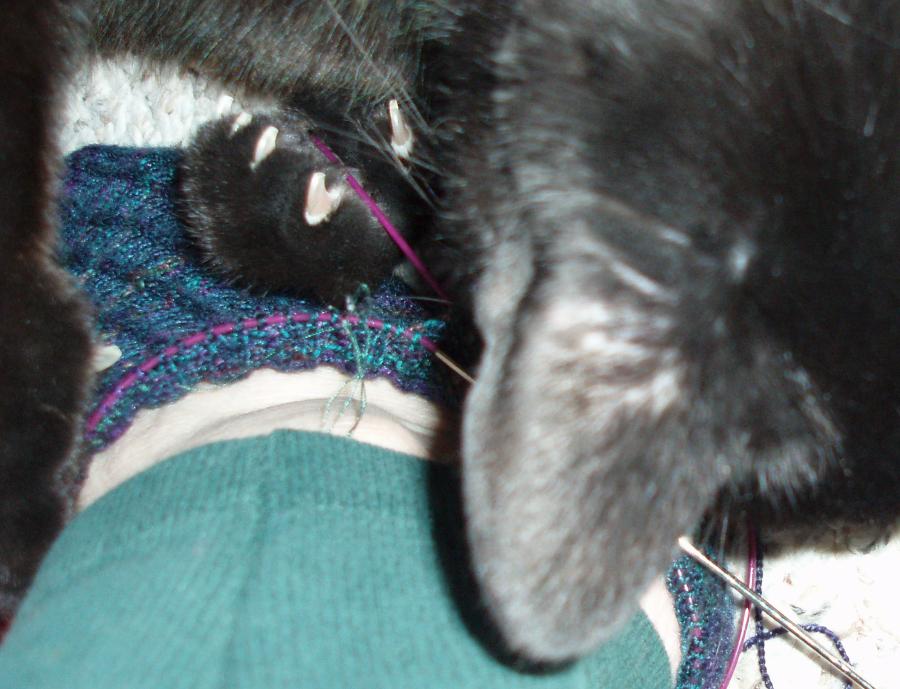 "Hey, this is a new needle flavor, not the usual Addi flavor…" -Chaos