Kristi has blogged about her visit to Minnesota. She got some fun pictures of Mayhem and the MGWT, and a very nice picture of Chaos with the baleful stare. Um, sorry about May staring at you 2″ away from your face while you were sleeping, Kristi…
The iPod meme's been going around again. I did that one a while ago – if you're interested, you can check it out.
On Christmas Eve, I'll be baking some gluten-free cookies to take along to the festivities. Here's one of our family's traditional cookie recipes, with gluten-free modifications:
Candy Cane Cookies
1/2 c soft shortening
1/2 c butter
1 egg
1 t vanilla
1 1/2 t almond extract
1 c sifted powdered sugar
2 1/2 c sifted gluten-free flour blend (I use Bob's Red Mill GF Flour Blend)
3 tsp xanthan gum (not required if you're making these as gluteny cookies)
dash of salt
———
Topping: 1/2 c white sugar & 1/2 c crushed peppermint stick candy

Mix shortening, butter, sugar, egg, and extracts. Mix in flour & xanthan gum. Stir for at least a few minutes so that the xanthan gum develops. Chill dough. Roll into balls and press flat with your hand. Bake on ungreased cookie sheet about 9 minutes at 375F. Remove from cookie sheet, and while still hot, sprinkle with topping mixture. You can also split dough in half, color half with red food coloring, roll strips of each color out, and shape candy canes; however, I haven't tried that with the gf version of the cookies. I highly recommend using parchment paper – it helps contain the crushed candy cane and sugar mixture.

A note from the last time I made these cookies: Seemed a little dry (I used butter & margarine, no shortening) – maybe try 2 eggs?? Or would the shortening make that much difference?? Definitely don't add the full amount of flour at once. (I'll experiment on the recipe a bit next week and will update this.)
I wrapped a few packages Friday afternoon. Over the weekend, I noticed that one of them was sort of gnawed. Hmm. I wonder who did that?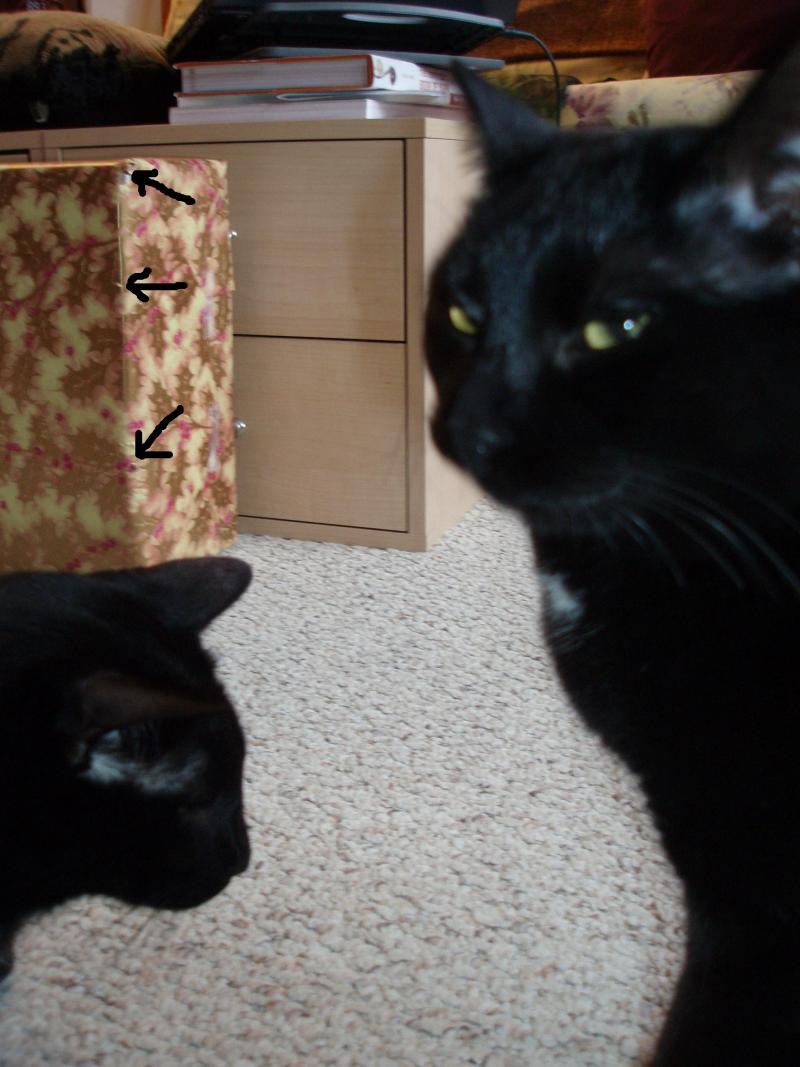 "It was totally the big kitty! There is precedent that he gnaws presents!" -Mayhem
"Sheesh, May, that's low, blaming me when you are a notorious gnawer of everything." -Chaos