Amy and Miss T came over to knit on Tuesday and brought me Chipotle! They got party favors. 😉
Reading Update
Twilight by Stephenie Meyer. This is the first book of the Twilight Saga and after reading it, I'm itching to read the next two! This is a young adult vampire story with a few twists, set in the Pacific Northwest. I couldn't put it down.
Me and Mr. Darcy by Alexandra Potter. I know there are a few *a-hem* P&P fans out there… I picked this up because of the title and brought it home because of the intriguing premise outlined on the back cover. Most chicklit is just "ho-hum," but this was quite good – if you're a P&P fan, I recommend it!
Nerd Gone Wild by Vicki Lewis Thompson. Totally trashy romance, picked up for $0.25 at the "withdrawn" shelf at the library. It was silly, it was fun, it was trashy – and I might pick up another one or two of her other Nerd novels.
Wish You Were Here: A Mrs. Murphy Mystery by Rita Mae Brown and Sneaky Pie Brown. Actually, I believe this was the first Mrs. Murphy mystery. It took me a while to get into the book, but it turned out to be a decent read. I'm told that the series sort of falls apart after a certain point…
24 Declassified: Vanishing Point by Marc Cerasini and 24 Declassified: Chaos Theory by John Whitman. I read these not expecting much, but Chaos Theory was darn good (and not just because of the title). It would actually make a really good episode of 24.
The Fourth Bear: A Nursery Crime by Jasper Fforde. This is the second book in the Nursery Crimes series, which spun off from the Thursday Next novel The Well of Lost Plots. A different cast of characters, but I'm enjoying this series as much as I do the Thursday Next novels.
Good Omens: The Nice and Accurate Prophecies of Agness Nutter, Witch by Neil Gaiman and Terry Pratchett. This was laugh out loud funny – I can't believe I hadn't read it before!
Knitting Update
For all the relaxing I'm doing, I sure don't seem to be accomplishing much knitting. Puzzling, that. Anyway, I finally finished a pair of 9-to-5 Socks using Trekking 167 (a new color).
"Hmph. They aren't a MGWT, that's for sure!" -Mayhem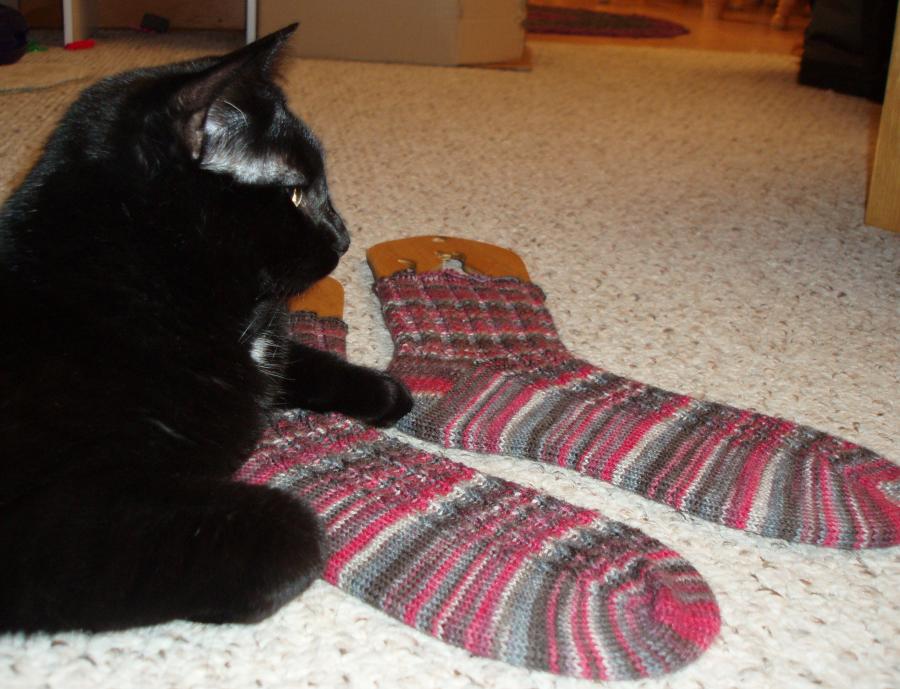 "But I suppose they are acceptable as a cat bed." -Mayhem