Jackie's giving away two Ravelry invites – check out the details on her blog. She'll select two lucky participants at noon EDT, July 27.
Speaking of which, the Knitty Professor needs help naming her new Delft "puking cow" creamer. Submit your name ideas by the end of the Tour (July 29) and you could win some yarn and your very own "puking animal" creamer!
Well, I was going to have pictures of the yarn I dyed with Deb and Jeanne on Saturday. However, now that the yarn is finally dry, it's been very cloudy and too dark to photograph well. Maybe tomorrow! For knitting, I continue to plod away on my Sockamania Serpentine Socks (1.2 completed), which are also my TDF KAL project. Likelihood of completing my Tour is very low, especially since I'm heading "up nord to da cabin" on Friday for the weekend. But hey, at least I haven't resorted to doping, right?!
Chaos has long considered the top of the refrigerator and adjoining cabinet as his Fortress of Solitude, because Mayhem wasn't able to get up there. All of that changed recently…
"La la la la la la, I can't see her!" -Chaos
"Hey, this is my Fortress of Solitude, Mayhem! Mine!" -Chaos
*whistling innocently* -Mayhem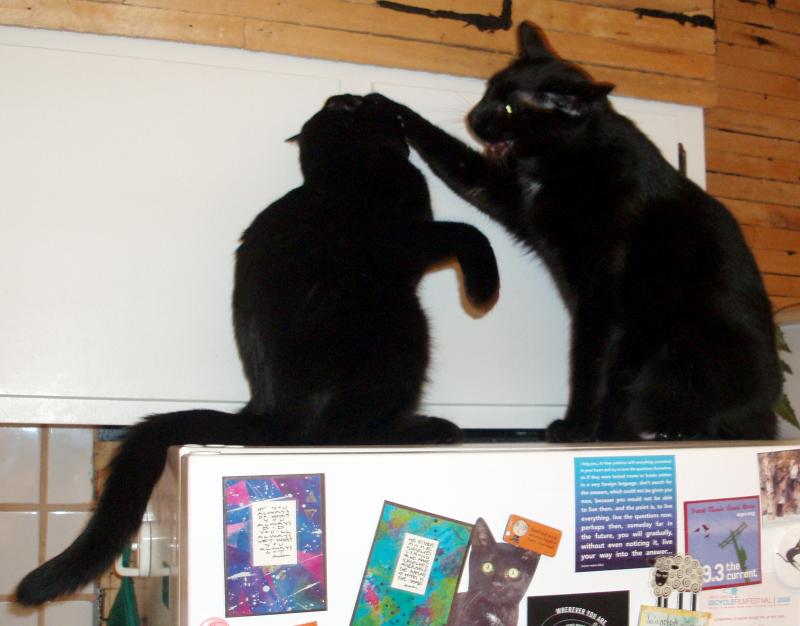 "Go away! My Fortress! Mine!" -Chaos
"Hey!" -Mayhem
"Take that, big kitty!" -Mayhem
"Eeeeek! Run away!" -Chaos
"I rock." -Mayhem
"Hmph." -Chaos
"I didn't want to sit on that stinky old refrigerator anyway, so there!" -Chaos